RSS
Condividi
Feb 6 2008, 20:21
Actually I am starting to read a book. It's called "
Love is a mixtape
" (english version
here
) by Rob Sheffield. I only read the first page, which are 8 sentences so far.
These 8 sentences are about a cassette the author found in the things he got left from his wife.
At that point I had to stop. Cause I remember how I made Mixtapes for my car, cause I could not play CD's, or even mp3. These mixtapes all made sense. There was a reason for every song. Sometimes I did not get the sense, but either I made that mixtape, or someone else made it for me, it was made with care.
Sooo... is anyone up for a mixtape exchange on cassette? I have no idea where to find these small things, and I hope I get them at Saturn or somewhere else.
If you are interested, just leave a comment here. One person would be enough. If there are more, I would make pairs, depending on how many are interested.
Deadline is Sunday 12:00pm. London time (13:00 Uhr deutsche Zeit/german time).
Have a great week everyone!
xx
And here the results:
Katha and Claudia
Frédéric and Anika
Cathrin and Me
Pfloriana and Dieter
And a proof that I did NOT cheat: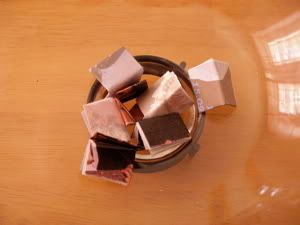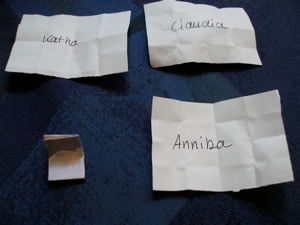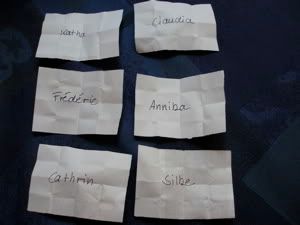 Sorry Anika! I wrote you with two N! But only because one of my collegues has the same name, but with two N XD
Best would be if you guys switch addresses, and talk about if you will or are able to do a tape or maybe a CD. Tape would be better though. You can also decide if you wanna send it later as data in a zip/rar file, just so you guys can listen to them on your PC or Apple.
The other thing, as we are talking about tapes: 90 minutes of running time would be great, and a small note why you chose this song, or something else that is kind of a little personal about that song.
Deadline to send off your Mixtape is 9th of March. If you did not get your tape, tell me, and I'll kick some arses XD
So, a sunny Sunday to you all! :)
Commenti