sen, 31, Femmina, Germania
rockjournal.deUltimo accesso: Maggio 2014
9

6

2

7

4

ascolti dal 13 Mag 2007
1.932 brani preferiti | 49 messaggi nei forum | 5 playlist |

515 messaggi in bacheca
Aggiorna |


Feed
| | | | | |
| --- | --- | --- | --- | --- |
| 1 | | | | |
| 2 | | | | |
| 3 | | | | |
| 4 | | | | |
| 5 | | | | |
| 6 | | | | |
| 7 | | | | |
| 8 | | | | |
| 9 | | | | |
| 10 | | | | |
| 11 | | | | |
| 12 | | | | |
| 13 | | | | |
| 14 | | | | |
| 15 | | | | |
| 16 | | | | |
| 17 | | | | |
| 18 | | | | |
| 19 | | | | |
| 20 | | | | |
| 21 | | | | |
| 22 | | | | |
| 23 | | | | |
| 24 | | | | |
| 25 | | | | |
| 26 | | | | |
| 27 | | | | |
| 28 | | | | |
| 29 | | | | |
| 30 | | | | |
| 31 | | | | |
| 32 | | | | |
| 33 | | | | |
| 34 | | | | |
| 35 | | | | |
| 36 | | | | |
| 37 | | | | |
| 38 | | | | |
| 39 | | | | |
| 40 | | | | |
| 41 | | | | |
| 42 | | | | |
| 43 | | | | |
| 44 | | | | |
| 45 | | | | |
| 46 | | | | |
| 47 | | | | |
| 48 | | | | |
| 49 | | | | |
| 50 | | | | |

Feed
| | | | | | |
| --- | --- | --- | --- | --- | --- |
| 1 | | | | | |
| 2 | | | | | |
| 3 | | | | | |
| 4 | | | | | |
| 5 | | | | | |
| 6 | | | | | |
| 7 | | | | | |
| 8 | | | | | |
| 8 | | | | | |
| 10 | | | | | |
| 11 | | | | | |
| 12 | | | | | |
| 13 | | | | | |
| 14 | | | | | |
| 15 | | | | | |
| 16 | | | | | |
| 17 | | | | | |
| 18 | | | | | |
| 19 | | | | | |
| 20 | | | | | |
| 21 | | | | | |
| 22 | | | | | |
| 22 | | | | | |
| 24 | | | | | |
| 25 | | | | | |
| 26 | | | | | |
| 26 | | | | | |
| 28 | | | | | |
| 28 | | | | | |
| 30 | | | | | |
| 30 | | | | | |
| 32 | | | | | |
| 33 | | | | | |
| 33 | | | | | |
| 35 | | | | | |
| 36 | | | | | |
| 36 | | | | | |
| 36 | | | | | |
| 39 | | | | | |
| 40 | | | | | |
| 41 | | | | | |
| 42 | | | | | |
| 42 | | | | | |
| 44 | | | | | |
| 44 | | | | | |
| 46 | | | | | |
| 46 | | | | | |
| 48 | | | | | |
| 48 | | | | | |
| 50 | | | | | |
Descrizione
Rockkonzertreisesüchtige Tierliebhaberin! Das auf dem Foto is mein Hund Bailey ;)


SentaCS's latest tweets


I'm a rockconcertjourneyaddict - there is nothing better than live music and travelling!
Bands I've seen live the most:
Donots: 40 x
Mando Diao: 33 x
Bosse: 17 x
Johnossi: 17 x
Beatsteaks: 15 x
Placebo: 15 x
Sugarplum Fairy: 15 x
Muff Potter: 14 x
Itchy Poopzkid: 14 x
Turbostaat: 14 x
Fettes Brot: min. 12 x
Mad Caddies: 11 x
4lyn: min. 10 x
Die Ärzte: 10 x
Wohlstandskinder: 10 x
Sportfreunde Stiller: 9 x
The (International) Noise Conspiracy: 9 x
Slut: 8 x
Starsailor: 8 x
(that doesn't mean that they are all my faves ;))
Best concerts of my life:
Manic Street Preachers (Hamburg 2001)
David Bowie (Hurricane 2004)
Silverchair (Hamburg 2003)
Starsailor (every time, 5 x between 2001-2005)
Babyshambles (Rock am Ring 2008)
Richard Ashcroft (Hamburg 2006)
The Verve (Rock am Ring 2008)
Manic Street Preachers (Rock am Ring 2008)
Rage Against The Machine (Berlin + RaR 2008)
Marilyn Manson (Hurricane 2007)
Black Rebel Motorcycle Club (Hamburg 2007)
Nada Surf (Hurricane 2008, Hamburg acoustic 2008)
Stereophonics (Rock am Ring 2008)
Rock am Ring Festival 2008
Bizarre Festival 2001
Rock am Ring Festival 2007
My most fun (pogo) live bands:
1. The Wohlstandskinder (10 times total)
2. Donots (40 times so far)
3. Mando Diao (31 times so far)
4. Mad Caddies (11 times so far)
5. Muff Potter (14 total)
6. Turbostaat (13 times so far)
...
My favorite venues:
Markthalle, Hamburg (esp. for true listening concerts)
Molotow, Hamburg
Grüner Jäger, Hamburg
Knust, Hamburg (only for true listening concerts)
Tower, Bremen
Grünspan, Hamburg (only for true listening concerts)
Logo, Hamburg
...
Konzerte sind für mich genau so:

Ich balle meine Fäuste
Ich tanze Pogo im Chaos
Und ich schreie, wenn ich auf den Boden pralle
Doch das Gefühl ist das selbe
Als machte ich die Augen zu
Unter der Sonne in Sant Tropez
Ziehn die Wolken genauso vorbei
Wie die Stiefel der Punks in diesem Augenblick

Die komplexesten Bilder
Kommen an den unglaublichsten Orten
Mit den unglaublichsten Menschen
Schnell auch die unglaublichsten Worte
Und ich mische dann automatisch
Alles was ich liebe
Um in 1000 Bildern zu leben
Ist da ein neuer Kick in jedem Augenblick

Und sie zieht mich dann sicher
Inspiration
Sie zieht mich dann rüber ins Irgendwo

Sie ist alles was ich brauche
Ist alles was ich bin
Ist alles was ich wollte
Ist alles was ich habe
(Bosse / Inspiration)
Strict vegetarian! Love animals!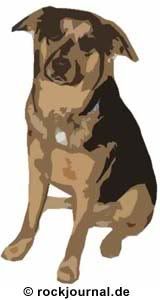 Love my dog Bailey!

music is my obsession! ! !

*never seen the light of day* (Mando Diao)
"tomorrow will be another part of yesterday
and yesterday will be another part of the day before -
I stay awake for days
but I'd sit awake in daze anyway
I'm a maze of chains"
(silverchair / insomnia)
"this is animal liberation - eight billion killed for human pleasure" (silverchair / spawn again)
Hier wird regelmäßig über Aktionen und Petitionen zum Tierschutz informiert:
Tierschutz - Tiere brauchen deine Hilfe
*sit on a train, reading a book
same damn planet every time I look
try to relax and slow my heartbeat
only works when I'm dead asleep
been thinking and drinking all over the town
must be gearing up for some kind of melt-down
all i am is a body floating down-wind
as the express train passes the local
it moves by just like a paper boat
although it weighs a million pounds
I swear it almost seems to float* (Nada Surf / Paper Boats)
*von Reisen hat man mir gesagt, kommt nie der selbe Mensch zurück* (Ton / Von Hier Bis In Die Welt)
*someone said 'home is where the heart is', well I wanna know where to find this place 'cause nothing seems familiar* (Donots / Suitcase Life)
"the most perfect act of love is sacrifice" (One Tree Hill)
*the moon is closer to the sun than I am to anyone* (Nada Surf / 80 Windows)

*I know the last page so well I can't read the first
So i just don't start It's getting worse* (Nada Surf / Inside Of Love)
*i'm going from strange to stranger every year
i'm going from strange to stranger every year
i take it back you're panicking
i take it back i just don't know
i really thought i wanted to go
but when you're close
you look through me just like a ghost
i like sleeping
i'm only safe when i'm dreaming
i need a new heart
this one's hollow always scheming
you wait for summer
and then you wait for winter
but there's a total lack of splendor
zen brain throw away your crushes
all your childhood crutches away
super brain never scared of nothing
violence or loving my way, today* (Nada Surf / Zen Brain)
"It's always better on holiday, so much better on holiday
That's why we only work when we need the money" (Franz Ferdinand / Jacqueline)

"Life's a bitch and life's a beach - hauptsache es ist nicht egal" (Bosse / Die Kunst des Verlierens)

"was heisst hier leben?
Ich mach das nur, weils
mein Job is Mensch zu sein
und diese kurze Spanne hier is bedeutungslos
in Anbetracht der Tatsache, dass man keine Erinnerungsfotos mitnehmen kann und mitnehmen wird.
Er war halt Klischee
das tat ihm zwar nicht weh
doch irgendwie hats ihm zu schaffen gemacht.
Jedenfalls scheint es mehr zu geben, für das sich das Leben lohnt, umgeben von jedem einzelnen und mittendrin steht eigentlich jeder" (Wohlstandskinder / Klischee)
*so ist es wohl, so ist das!* (Turbostaat / Ja Roducheln)

"the only thing you can rely on is that you can't rely on anything - don't forget to be the way you are" (placebo / plasticine)
"...all they ever need is what you give them -
They only put you down if you give them permission -
People gonna see you
How they wanna see you
People gonna rate you
People gonna hate you
People gonna shove you
People gonna love you
People gonna do whatever
Makes them feel they own you better -
everyone knows we're strange
So why do you feel ashamed
Everyone knows we're different..." (The Feeling / Strange)
"you are a cheap and nasty fake and I am the bones you couldn't break" (Placebo / Battle For The Sun)

"Can the leopard change his spots?" (E.M. Forster / Maurice) - [btw the best book and film ever!]
"I'm medicated - how are you?"
(placebo / follow the cops...)
*It feels so good to be an outlaw in your perfect world* (Mando DIao)
I

alternative and punk rock music the most! But I also like independent and other rock genres. As long as it's genuine music with meaning.
I'm obsessed with Silverchair and Placebo and the Manic Street Preachers and Nada Surf - they're all genius - the best lyrics and music ever!

Other bands I love enough to have them specially mentioned are Starsailor and The Wohlstandskinder and Donots and Babyshambles, Turbostaat, Mando Diao, Stereophonics...! Just the top of my favorites!

"Kann mir bitte mal einer erklären warum wir 50 verschiedene Klopapiersorten brauchen, mit Noppen, geriffelt, doppellagig, zum Schiffen, zum Scheißen oder einfach zum Zerreißen und so viele Menschen noch nichtmals ein Essen haben, aber das ist ihr Problem, ich hab schon genug damit zu tun, zu überlegen, welche der 50 ich denn nehm" (Wohlstandskinder / Die Welt von Mitteleuropa Aus)
"Heal the world, make it a better place
For you and for me and the entire human race
There are people dying, if you care enough for the living
Make a better place for you and for me." (Michael Jackson / Heal The World)
"ich fühl mich wie Altpapier
beschrieben und doch nicht mehr
für irgendetwas gut
so zieht der Tag dahin und ich stehe mittendrin
auf irgendeiner Restmülldeponie
ich bin bereit wenn etwas passiert
wenn sich etwas ändert
der Moment eskaliert
ich bin bereit für alles was geht
für einen neuen Anfang ist es niemals zu spät
ich bin bereit" (Ton / Ich bin bereit)
Attività recenti