RSS
Condividi
Ago 6 2010, 3:37
I just finished watching
People Are Strange
, a documentary on
The Doors
. Wow, what an AMAZING trip through the craziness that was the Doors. I wrote about a greatest hits of the doors album a while ago, and feel the need put it somewhere so I can release the love I feel for this band :) So here we go:
Greatest Hits
--The Doors
Two years ago over the summer a typical day at work went a little like this:
1) Get coffee (duh).
2) Log onto computer.
3) Listen to "Back in Black."
4) Listen to "LA Woman" and try not to start singing or bopping head obviously.
I listened to "Back in Black" first just because I need a loud power cord to wake me up in the morning . Then came "LA Woman" by the Doors. It was the song of the Summer of '08.
The first time I heard the Doors was during a car ride to Toledo. Mom was listening to the oldies station WMJI, and "Light My Fire" started to play. I was pretty young at the time, and my instincts told me the song was naughty. The man singing sounded like he was up to something rebellious. Then the chorus "Come on baby light my fire," played. I thought to myself in my youthful innocence, "Hm. That sounds like something bad." I asked Mom cautiously, "What does he mean 'light my fire?'" Mom just shifted in her seat and said, "Oh, nothing." Good save, Mom.
Truth be told, I don't remember what brought the Doors back in my life, or exactly when they arrived. I do recall that it was in high school, and that the album was
The Door's Greatest Hits
. I have the album in my possession now, but I'm not quite sure if Greatest Hits is mine, or my father's. Who knows. The key point here is that somehow I got the album, and thankfully I listened to it.
The Doors is probably one of the most interesting groups I've ever known. As the years go by, I find out a little something else about them that just blows my mind. Their sound is totally unique. You cannot find another singer who sounds like Jim Morrison. Let's pause for discussion, and talk about good ol' Mr. Mojo Risin'. That man had an amazing voice. I don't find him terribly attractive, unlike many other girls, but I have to admit he's pretty nice to look at on the occasions where his hair is combed and he looks relatively clean. I can't deny that he always has a strange, magnetic charisma floating around him, making you watch him in fascination. One of my favorite clips ever from the 60s is the one where the police are taking Morrison off the stage for disturbing the peace. You Doors fans know the one. The one where he looks back at the camera, raises his hands to the sky, and gives the viewers a disgusted, "Wha?" look. I, love it :D
The behemoth personality that was Jim Morrison unfortunately tends to cast a huge shadow on the three other incredibly crucial members of the group. Without Robby Krieger, Ray Manzarek, and John Densmore the Doors could not have existed. They have to be the three most patient individuals on this planet. While Jim is clearly off his rocket on drunks or alcohol or what have you during a show or in the recording studio, the other three are like the musicians on the Titanic--just playing away while the ship goes down! They don't look mad, they don't even look annoyed. They just play away until Jim finds his bearings again.
Manzarek did all the bass work with his left hand while playing melody with his right hand. That's pretty incredible in my book. How someone manages to play a bass line while playing a complicated keyboard part is a mystery to me. John Densmore is one of the members of the group who keeps on surprising me with little new facts. He too was extremely important to keeping the beat to the Doors' songs without a bass, needing to make up for it with powerful drum playing. Densmore also had the idea of slowing down the middle of "LA Woman," which is GENIUS.
As for Robby Krieger, I owe him an apology. Until two summers ago, I was under the impression that Jim Morrison was the sole writer for the Doors. I had no idea that it was Krieger that wrote a lot of my favorite Doors songs, including "Love Me Two Times," "Love Her Madly," part of "Light My Fire," and "Touch Me." Thanks to a visit to the Rock and Roll Hall of Fame, I was set right on that one. He's also a great guitarist, number 91 on Rolling Stone's 100 greatest guitarist of all time list. His impressive guitar playing came from his training in flamingo guitar playing. As a result, he played lead and rhythm guitar at once without using a pick. That's pretty damn cool in my book! Sorry Robby for thinking you were just a guitarist who played guitar well!
The Doors are like a fine wine to me--they just keep getting better the longer I know them. They still sell 1,000,000 records a year to this day. There isn't one group that sounds even remotely like the Doors, and there never should be. Jim, Ray, Robby, and John, I salute you for being one of the most amazing groups the 60s birthed, and for creating music that has inspired, awed, and just plain entertained people for over 40 years now :)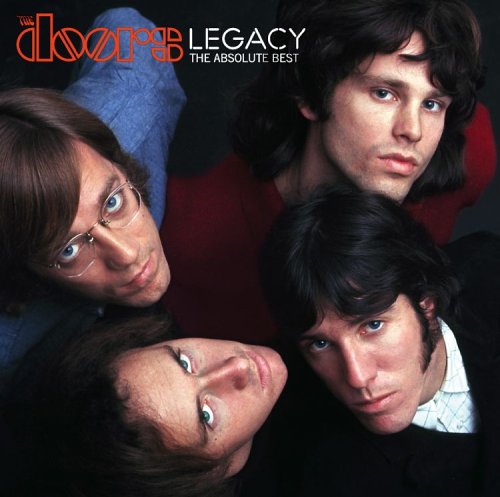 "But I tell you this, man, I tell you this: I don't know what's gonna happen, man, but I wanna have my kicks before the whole shit house goes up in flames. Alright!" -Jim Morrison
Commenti