Ellen, 25, Femmina, Paesi Bassi
www.30secondstomars.nlUltimo accesso: Gennaio 2014
1

8

0

9

0

0

ascolti dal 27 Giu 2005
85 brani preferiti | 184 messaggi nei forum | 0 playlist |

1.033 messaggi in bacheca
Aggiorna |


Feed
| | | | | |
| --- | --- | --- | --- | --- |
| 1 | | | | |
| 2 | | | | |
| 3 | | | | |
| 4 | | | | |
| 5 | | | | |
| 6 | | | | |
| 7 | | | | |
| 8 | | | | |
| 9 | | | | |
| 10 | | | | |
| 11 | | | | |
| 12 | | | | |
| 13 | | | | |
| 14 | | | | |
| 15 | | | | |
| 16 | | | | |
| 17 | | | | |
| 18 | | | | |
| 19 | | | | |
| 20 | | | | |

Feed
| | | | | | |
| --- | --- | --- | --- | --- | --- |
| 1 | | | | | |
| 1 | | | | | |
| 3 | | | | | |
| 3 | | | | | |
| 5 | | | | | |
| 6 | | | | | |
| 6 | | | | | |
| 6 | | | | | |
| 6 | | | | | |
| 6 | | | | | |
| 6 | | | | | |
| 6 | | | | | |
| 6 | | | | | |
| 6 | | | | | |
| 6 | | | | | |
| 6 | | | | | |
| 6 | | | | | |
| 6 | | | | | |
| 6 | | | | | |
| 20 | | | | | |
Descrizione
My name's Ellen and that's the most important thing you need to know about me. I'm 21 years old, but you could have read that a couple of lines above.
Oh yeah. About my username.. yeahhh I know. I don't like it anymore but I refuse to sign up under a different name to start all over again. :P So I'll have to deal with my own 'mistakes' :)
30 Seconds to Mars
is my favourite band. Although I don't listen that much to them anymore as I used to. They're still my favourite band. Been so for over 5 years already. Seen 30 SECONDS TO MARS 14 times by now. Been to Scotland, Wales, England, France and my own country to see them.
Oh. And I wouldn't call you a fan of a band if you don't even buy their CD's. Why would you call yourself a fan if you don't even support a band/musician by buying a CD?
personal portfolio ; llnk.nl
Get in touch
SKYPE: ellenatmars
MSN:
ellen@30secondstomars.nl
LAST BAND SEEN LIVE
30 Seconds to Mars, Street Drum Corps, LostAlone @ HMH, Amsterdam
NEXT GIG?
30 Seconds to Mars @ 013, Tilburg
Macintosh user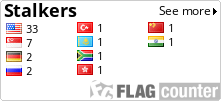 Attività recenti