Dan, 25, Maschio, Stati Uniti
teaminfiltrate.com/Ultimo accesso: Domenica mattina
1

8

3

7

3

5

ascolti dal 13 Ago 2006
918 brani preferiti | 5 messaggi nei forum | 0 playlist |

31 messaggi in bacheca
Aggiorna |


Feed
| | | | | |
| --- | --- | --- | --- | --- |
| 1 | | | | |
| 2 | | | | |
| 3 | | | | |
| 4 | | | | |
| 5 | | | | |
| 6 | | | | |
| 7 | | | | |
| 8 | | | | |
| 9 | | | | |
| 10 | | | | |
| 11 | | | | |
| 12 | | | | |
| 13 | | | | |
| 14 | | | | |
| 15 | | | | |
| 16 | | | | |
| 17 | | | | |
| 18 | | | | |
| 19 | | | | |
| 19 | | | | |

Feed
| | | | | | |
| --- | --- | --- | --- | --- | --- |
| 1 | | | | | |
| 1 | | | | | |
| 1 | | | | | |
| 1 | | | | | |
| 1 | | | | | |
| 1 | | | | | |
| 1 | | | | | |
| 8 | | | | | |
| 8 | | | | | |
| 10 | | | | | |
Descrizione
"Drug misuse is not a disease, it is a decision, like the decision to step out in front of a moving car. You would call that not a disease but an error in judgement. When a bunch of people begin to do it, it is a social error, a life-style. In this particular life-style the motto is "Be happy now because tomorrow you are dying," but the dying begins almost at once, and the happiness is a memory."
― Philip K. Dick
"The unconscious is selective, when it learns what to listen for."
― Philip K. Dick
"Western civilization is a loaded gun pointed at the head of this planet."
―Terence McKenna
"Reality is that which, when you stop believing in it, doesn't go away."
― Philip K. Dick
"I have a theory that the truth is never told during the nine-to-five hours."
― Hunter S. Thompson
"Man has an innate capacity for violence, but can only justify it in the name of justice."
―Ralph Steadman
"Life should not be a journey to the grave with the intention of arriving safely in a pretty and well preserved body, but rather to skid in broadside in a cloud of smoke, thoroughly used up, totally worn out, and loudly proclaiming "Wow! What a Ride!"
― Hunter S. Thompson
'All energy flows according to the whims of the Great Magnet.'
― Hunter S. Thompson, Fear and Loathing In Las Vegas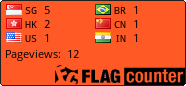 "Slayer sucks" - Said No One. Ever
Audiophile.. Audio Engineer...Production Audio.... just a general Audio Fella'
Attività recenti