Maschio, Stati Uniti
www.youtube.com/watch?v=_V…Ultimo accesso: ieri sera
1

3

1

7

2

5

ascolti dal 28 Mar 2009
844 brani preferiti | 23 messaggi nei forum | 7 playlist |

2.765 messaggi in bacheca
Aggiorna |


Feed

Feed
| | | | | | |
| --- | --- | --- | --- | --- | --- |
| 1 | | | | | |
| 2 | | | | | |
| 3 | | | | | |
| 4 | | | | | |
| 4 | | | | | |
| 6 | | | | | |
| 6 | | | | | |
| 8 | | | | | |
| 9 | | | | | |
| 10 | | | | | |
| 11 | | | | | |
| 11 | | | | | |
| 11 | | | | | |
| 11 | | | | | |
| 15 | | | | | |
Descrizione
"I hate to inform you, but I have my own fucking plan."
Amanda Palmer
Want To Sit Back and
Listen to How Angels Sing?
May I Introduce Priscilla Ahn


♫ Enjoy ♫





~ ~ ~ ~ ~ ~ ~ ~ ~ ~ ~ ~ ~ ~ ~ ~ ~ ~ ~ ~ ~ ~ ~ ~

I'm a Big Neil Young Fan
So When He Endorsed Rapper
Redlight King


To Sing a Personalized Version
Of "Old Man" ~ I Bought It!





~ ~ ~ ~ ~ ~ ~ ~ ~ ~ ~ ~ ~ ~ ~ ~ ~ ~ ~ ~ ~ ~ ~ ~

How About A Good
Summer Album?
Peter Bjorn and John


May Do It For Ya
Pass the Suntan Lotion Please




Every once in awhile, Sweden puts out some talent that I actually listen to. I'm not putting Sweden down, but you just don't hear much about Swedish rockers. Well this may change with the new album entitled, "album" by Peter Bjorn and John. The name of the band is the first names of Peter Moren, Bjorn Yttling, and John Eriksson. These boys have been around since high school and released their first album in 2002 so they're not strangers. They could have become a "one hit wonder" with the popular song, "Young Folks" in 2006, but their last album that just released this past March 2011 has some rather "catchy" tunes. Out of the 10 tracks, I give this release a 4/5 stars and the first five songs keep my restless leg bouncing up and down. I'd say this is one of those summer albums that makes the sun tan oil mix well with the music. I bought the album for $5 from Amazon and those first 4 or 5 songs were worth the discount.

Click Here for Peter Bjorn and John Full Stream of the album "Gimme Some".



Samples of Best Songs:

1

Tomorrow Has To Wait

2

Dig A Little Deeper

3

Second Chance

4

Eyes

5

Down Like MeClick Here for HIghly Recommended Video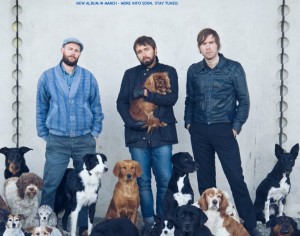 ~ ~ ~ ~ ~ ~ ~ ~ ~ ~ ~ ~ ~ ~ ~ ~ ~ ~ ~ ~ ~ ~ ~ ~
Mark Your Calendars - June 28
Rave On Buddy Holly


Covers by Great Artists


Sample a She & HIm Cover Below





Well the LAST album I thought I'd be looking for this summer is a

COVER ALBUM

! I mean, come on, who the hell wants to hear a bunch of wannabes play songs by other people! Right? Think again my friends. When I hear the following artists:

She & Him, The Black Keys, My Morning Jacket, Paul McCartney, Cee Lo Green, Nick Lowe, Justin Townes Earle, Julian Casablancas, (and on and on and on) gathered to record the covers of the late/great Buddy Holly, it got my attention! And unless you live under a rock, you may want to circle the date of June 28th on your music calendar, body clock, or whatever makes you tick 'cause the album, "Rave On Buddy Holly" will drop in our laps that day. And here's your first sampling of She & Him singing Buddy's song "Oh Boy."



Click hear for She & Him Sample of Buddy Holly's "Oh Boy"

Enjoy friends and guests ~ and let me know what you think ~ you know, in that shout thing over there on the left. And If you don't like the song, then just

Gawk @ ZOEY Here

for while. (HEY! I didn't force you to go there)! Long live Buddy Holly's Music! ~Lance
~ ~ ~ ~ ~ ~ ~ ~ ~ ~ ~ ~ ~ ~ ~ ~ ~ ~ ~ ~ ~ ~ ~ ~
Full Plays & Free Downloads Below
The Rosebuds


Their New Album: Loud Planes Fly Low
Released June 7, 2011



Play Sample >>>> Life Like
Free Download >>Rosebuds: Life Like

Play Sample >>>> Get Up Get Out
Free Download >>Rosebuds: Get Up Get Out

Play Sample >>>> Second Bird Of Paradise
Free Download >>Rosebuds: Second Bird of Paradise

The Rosebuds have been spinning music since 2003. The samples and downloads above are from 3 different albums. "Life Like" is from the self-titled album (2003), "Get Up Get Out" was released on the album

The Night of the Furies

(2007) and finally, "Second Bird of Paradise" is from their latest release

Loud Planes Fly Low

(2011). The Indie couple met in college and have been putting out some pretty good music since. You may like 'em.




* - * - * - * - * - * - * - * - * - * - * - * - * - *



New Album DropsJune 7 2011
The Cults


Dreamy & Mesmorizing Vocals
Takes You Back to The 60's
....but in a good way....


Stream The Cults Here ~ Enjoy

* - * - * - * - * - * - * - * - * - * - * - * - * - *



New Album Release June 1 2011
My Morning Jacket


For a Full Stream Sampling

CLICK HERE MY FRIEND


One of My FAVORITES
Sick Puppies


Give a Very Personal
Acoustic Concert ~ It's Worth Your Time
* Enjoy *

Click Here for Sick Puppies Concert


You Have to at Least
Give This Artist/Album a Try
Art Brut


Releases the Album
"Brilliant! Tragic!" ~ may 23 release ~


FULL STREAM THE ALBUM 'Brilliant! Tragic!
Get Some Culture!
Project Jenny, Project Jan


Just Some Clever Art + Music





After a Rather blah
Album Release in 2006
The Donkeys


May Be Onto Something Here
With New Album: Born With Stripes




Full Play of > I Like the Way You Walk



Genevieve Schatz's Voice
Lures You In...
Company of Thieves


New Album Release
Scheduled for March 17, 2011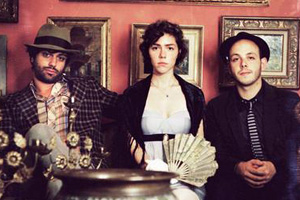 Let's face it, this band IS Genevieve Schatz. If you like female vocals that have that somewhat dreamy but not boring sound, then check out
Company of Thieves
. You have to go back to 2009 for their first album release "Ordinary Riches" and the award winning song,
Oscar Wilde
. This blog is just in time to give you an advance notice that they are releasing a new album on May 17 entitled,
Running From a Gamble
. I give this group 3.5 stars out of 5. Good to listen to, but I find myself moving on to another artist rather quickly.
It's About Time This Band
Is Gaining Popularity!
Silversun Pickups


Re-releasing 2 Albums in 2011





Working Hard to
Polish Her Musical Art
Ashelyn Summers


Deserves a little EarTime


Although most artists don't really like to be compared to others as they try to carve their own unique niche in the music buisness, being compared to Amy Lee of
Evanescence
can't hurt Ashelyn Summers. I find listening to Ashelyn takes me to the brink of gothic, then pulls me back from the edge as the instrumentals, especially piano, keeps me from completely taking the plunge. And Ashelyn is marketing her craft with free downloads right here on LastFM. I took some time and downloaded her gifts. If you care to join me, go to
Ashelyn's LastFM Page
and accept her gifts as well.
I Usually Don't Do Much
Electronic or Dubstep ~ but....
Jason Falkner- Only You
(Zeds Dead Remix)


Is Excellent ~ I Go Nutz @ 1:15...





***************************************************************

I'm Always Looking
For that "Unrecognized" Talent ~ I Recommend:
The Shivers


And there's some free stuff down there!


As usual, I stumbled onto this group surfing the ♫ blogs out there. At first I was a bit skeptical 'cause this band has reinvented itself multiple times. So when you listen to an album from earlier years, you hear a band trying to find itself. Or maybe that what intrigues me about them? Let this song,
♫ The Shivers - Used To Be
be an introduction to your ears. it's from their new album to be released in May 2011. After that, enjoy and even download the following freebies. "Dark of the Moon" and "Cry of Love" tend to be my favorites.



Dark Of The Moon

Follow the Rain

Cry Of Love

House Of The Spirits

You can download the above songs by the Shivers from LastFM FREE MP3's HERE



* * * * * * * * * * * * * * * * * * * *

This New Album
Is Growing on Me ~ How 'bout you?
Cold War Kids


I've not been a big Cold War Kids fan to this point. I really don't have a reason ~ probably just didn't catch my "ear attention". But this album caught my curiosity. I've played it 'bout three times now, and each time it lures me in a bit more; enough to pursue some of their earlier stuff. I also give them an "A+" for creativity. I recommend you CLICK THIS SITE and play around a bit with the band members as they play the song, "I've Seen Enough." You control each band members' involvment in the song, and you can change the way they play the song as well. Go ahead ~ have a little fun with this.



►◄►◄►◄►◄►◄

so when my life seems to be drifting afar,
i pick up my hollow body guitar.
and begin to play a song loved only by a few,
Jesus Christ by Brand New




and i feel whole again....

►◄►◄►◄►◄►◄



What do you get when you
bring back the 50's, add some U2, a bit of KOL,
and a raw rock sound? Yep you saw it here first!
Mona



You decide...Play It / Own It



Compared to T-Rex
Talented Young Men on the Rise
Smith Westerns




Sample Smith Westerns

►◄►◄►◄►◄►◄


VISITORS

Revised May 6, 2010


~ music is love in search of a word ~

~ music can change the soul ~
~ the mood ~ the urge ~
~ the reason ~ the confusion ~

~ i get lost in the noise ~
~ find myself in the lyrics ~
~ empty my mind in the rythms~
Generated on 18 Jan 2010
Get yours here