RSS
Condividi
Gen 2 2012, 1:43
Whenever another year breaks off and fades into the next one, those in the position to know are eager to keep track of those tongue-tied remnants of the immediate past to fill up our virtual museums for the next 500 terabytes and counting.
Be it just to edge your self-penned random identity or to namecheck those destined for fame before anyone else does, gathering lists will always remain a helpless practice to negotiate the fact that things keep passing us by, that we have little influence on how to shape our surroundings, that the space we live in slowly returns to dust. In a year so heavily imbued with tragedy and banality, further drifting towards outer and inner collapse, music replied in a new language of adamant heaviness, a recurrence of the dark and dismal and a reawakened sense of decay and depression. From Andy Stott's menacing burial of techno traditions to Daniel Bejar's burnt-out 'Kaputt' clad in soft-rock disguise, from Peaking Lights' endlessly crunching dubstreams to the poetry of absence and negativity forged by the young Nicolas Jaar, a greater part of 2011's most interesting records were exploring new dimensions of depth and inner earth spaces. As if we would finally press our ears up against the ground and tunnel into the ever pulsating liturgies of the underworld. Here then is a baker's dozen of jewels I brought home from this cave:
13. Robedoor - "Too Down To Die" (Not Not Fun, US)
Exchanging the boneyard mud for a more kosmische hexensülze, the murky Eagle Rock trio unfolds its sci-fi drone opera again in heavy air.
No matter how many kids were operating in the same musical field in recent years, the Robedoor emissions are transmitted from a whole different galaxy.
And they reach further into our cells with every dash of pitchblack vinyl they send down to earth.
12. Wooden Wand & the Briarwood Virgins - "Briarwood" (Fire Records, UK)
James is easily the most brilliant songwriter of his generation.
He must have written 500+ songs in the last 15 years and you got to be hard pressed to find a single bad lyric within this huge cauldron of wisdom and romantic irony.
"Briarwood" is what seems to be Toth's twisted take on southern rock, wholly electrified and brimming with a strange kind of charme and dignity.
11. Nicolas Jaar - "Space Is Only Noise" (Circus Company, F)
Seldomly has contemporary electronic music been so deeply inspired with the poetic qualities of pause and accent.
Jaar's signature is that of arranging the traces of rhythm once they blurred out, putting ultimate emphasize on the spaces between sound.
From out of these spaces grow fragments of songs sketched with pure elegance and wit.
10. Trembling Bells - "The Constant Pageant" (Honest Jon's, UK)
Probably the last true folk-rock band in the 21st century. Their third longplayer sees them at their most guitar-heavy rollicking heights, backed with a full string and horn section and fronted by Britain's finest female vocalist.
With a set of songs that sound like coming fresh out of 1974, when production and analogue recording skills were at a certain peak, they forge a new, distinctively British nostalgia for the future.
The venerable Joe Boyd said he loves them and he does well doing so.
9. The Haxan Cloak - self-titled (Aurora Borealis, UK)
Skillfully performed deconstruction and re-defiinition of the long malaised 'dark ambient' formula.
An angst-ridden, fully irrational suite that emerges from the alchemy of processed strings, chants and subtle electronics.
Like fog patches drifting past the barren fields of a paranoid post-witchcraft Albion or having late night dinner on Pendle Hill.
8. Ô Paradis - "El Mismo Hombre" (Disques de Lapin, US)
Forgive me for I am biased when speaking about the works of this Catalan wizard.
Forging a distinctive brand of loop-based mediterranean psychedelic pop for about 12 years, Ô Paradis has now arrived at the point of a stripped-down yet complex accoustic minimalism.
The splintered midnight melancholia of "El Mismo Hombre" will remain one of the most sombre and well-executed entries in his discography.
7. Burial Hex - "Book Of Delusions" (Brave Mysteries, US)
The long awaited, often delayed and allegedly cursed "Book Of Delusions" is clearly a testament to Clay Ruby's immense understanding of shaping the occult into sound.
In a doomed marriage of minimal techno, Bianchi-/Schnitzler-esque electronics, post-industrial and devotional song, the two LP sides condense every aspect of the project's recording cycle.
The work of an obsessed, highly gifted genius.
6. Cut Hands - "Afro Noise I" (Susan Lawly, UK)
The sound of bushwhackers sharpening. William Bennett is literally living through his best years impelling his Cut Hands project, being mostly an exercise in polyrhythmic percussion, passed through a vast palette of in-dub-strial noise, reverb and delay effects.
With a timbre rather menacing and oppressive than 'liberating' or 'ecstatic', Bennett also turns the table on the majority of half-arsed 'ethno'-inspired attempts at so-called 'African drumming'.
5. Water Borders - "Harbored Mantras" (Tri Angle, US)
Use your imagination and replace Coil's unholy "Horse Rotorvator" into the early 90ies, getting hollowed out by the Bristol triphop mafia and then replenished with the 808s of a dozen warehouse raves.
The Frisco duo Water Borders were dwelling heavily on that kind of fantasy when recording their debut lp.
A highly inventive and refreshing sound drenched in an atmosphere and attitude that bears much resemblance to the mid-80ies UK post-industrial cosmos.
4. Peaking Lights - "936" (Not Not Fun, US)
Aaron and Indra are going from strength to strength with their sophomore "936", getting them even signed with the ever cormorant Domino Records.
By plunging further into the deep sea of dub and reggae traditions they began creating a totally idiosyncratic sound rising from their self-built oscillators.
Locked on a psychic bassline that just goes and goes, this is the record to stagger or dance your way through the night on cotton wool.
3. Shalants - self-titled (American Dust, US)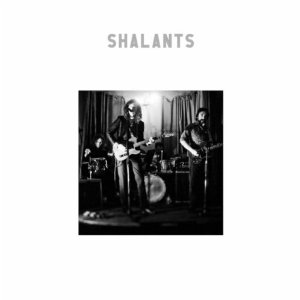 I kept this cd spinning on infinite repeat for months. I have not remotely felt so obsessive about a single album since my teenage days.
"Shalants" is basically old-fashioned music, so well written and well arranged, recorded with so much care that it almost breaks your heart to see it barely recognised by the public.
It's an album that feels its roots reaching deep in the history of Californian music but grows strange fruit on its wide entangled branches.
A rare masterpiece of dark psych-tinged chamber pop.
2. Ela Orleans - "Double Feature" split w/ Dirty Beaches / "Mars Is Heaven" (La Station Radar, F)
Wondrous woman and artist of Polish descent, known to a few as a member of Hassle Hound. She builds up songs from loops, processed strings, piano and other small sounds.
She does that in such a stunning, heart-stoppingly beautiful way, it's almost hilarious to try and write something down about it. Go and open up your ears for her singing "Neverend".
It's the voice of a hundred white nights spent in vain and you will know deep in your heart the true nature of longing.
1. Andy Stott - "Passed Me By" / "We Stay Together" (Modern Love, UK)
2011 will be remembered as the year when Andy Stott altered the term "underground techno" to a new dimension.
Stott takes the faintest echoes of pulsating 4/4s from outside the club and buries them so deep beneath a myriad of layers of dirt and earth and pure dark matter, that sometimes only the pressure of bass and subbass remains.
A statement of meditative militancy for the new dark age, that was carefully prepared last year by Demdike Stare's ovewhelming "Tryptich" and is now executed without remorse, opening a new chapter in electronic music.
Honourable mentions (in no particular order):
King Creosote & Jon Hopkins
- Diamond Mine
Matana Roberts
- Coin Coin Chapter One: Gens de Couleur Libres
HTRK
- Work (Work, Work)
Sleep ∞ Over
- Forever
Chelsea Wolfe
- Άποκάλυψις
Timber Timbre
- Creep On Creepin' On
Byetone
- Symeta
Weyes Blood And The Dark Juices
- The Outside Room
Julia Holter
- Tragedy
Love Inks
- E.S.P.
Bodies of Water
- Twist Again
Cliffie Swan
- Memories Come True
The Dreams
- Morbido
Twin Sister
- In Heaven
Tim Hecker
- Ravedeath 1972
Meg Baird
- Seasons On Earth
Charalambides
- Exile
Sølyst
- self-titled
Pumajaw
- Demonmeowmeow
Darkness Falls
- Alive In Us
Marissa Nadler
- self-titled
Religious Knives
- Smokescreen
My Brightest Diamond
- All Things Will Unwind
Destroyer
- Kaputt
Wet Hair
- In Vogue Spirit
Maria Minerva
- Cabaret Cixous
Jah Wobble & Julie Campbell
- Psychic Life
The Necks
- Mindset
Pure X
- Pleasure
The Weeknd
- House Of Balloons
Emptyset
- Demiurge
Roly Porter
- Aftertime
Ödland
- Sankta Lucia
Laurel Halo
- Hour Logic
High Places
- Original Colors
Nový Svět
- Into Your Skies
Jonathan Wilson
- Gentle Spirit
Dirty Beaches
- Badlands
Bronze
- Copper
Kreng
- Grimoire
Singles, 12"s, EPs
Pulp Disco & the Outcasts
- Overnight To Düsseldorf 12"
Young Hunting
- Night Of The Burning EP
...recommended for fans of Contrastate, Nocturnal Emissions etc.
Ghost Eyes
- Phantom Mountain 7"
Raime
- Hennail 12"
Steve Gunn
/
Ilyas Ahmed
- split 7"
Nite Jewel
- It Goes Through Your Head 12"
Husband
- Love Song 12"
...ultra-recommended tribal disco shot!!!
Snow Ghosts
- Lost At Sea EP
The Haxan Cloak
- Observatory 12"
Regis
- In A Syrian Tongue 12"
...Karl O'Connor going strong on a heavy duty Muslimgauze trip!!!
Tropic of Cancer
- Be Brave 10"
b/w remix by Richard H. Kirk
Factory Floor
- Two Different Ways 12"
Angel Olsen
- Strange Cacti EP
Covergirl
- Paris Burns 7"

Videoclips
Ghost Eyes: Phantom Mountain
Aesthetically shot variation on the theme of the
dance plague
, also known as "the dead can dance", to accompany one of 2011's most intriguing songs.
Holy Ghost! - Wait & See
Today's hottest 80ies revivalists/nostalgists being mimed by their own fathers. When history fights back...
Dirty Beaches - Lone Runner
Coldblooded Mary-Jane packing her things while Alex grinds off with that riff into deepspace oblivion. Intense!
That's it folks. You can close the book now on 2011.
Peace be with Trish and Bert, sorely missed on earth.
Dogstar wishes to all of you,
Margot
Commenti