hey Jo, let's go!, 30, Femmina, PortogalloUltimo accesso: Novembre 2014
8

4

5

8

ascolti dal 28 Giu 2011
186 brani preferiti | 168 messaggi nei forum | 0 playlist |

97 messaggi in bacheca
Aggiorna |


Feed

Feed
| | | | | | |
| --- | --- | --- | --- | --- | --- |
| 1 | | | | | |
| 2 | | | | | |
| 2 | | | | | |
| 4 | | | | | |
| 5 | | | | | |
| 6 | | | | | |
| 6 | | | | | |
| 8 | | | | | |
| 9 | | | | | |
| 10 | | | | | |
| 10 | | | | | |
| 12 | | | | | |
| 13 | | | | | |
| 13 | | | | | |
| 13 | | | | | |
Descrizione
"The mind has a thousand eyes,
And the heart but one;
Yet the light of a whole life dies
When love is done."
Music Lover, and an eclectic one
Life Enthusiast
Adrenaline Junkie (when my friends are around)
Coffee...Coffee!!!
Inclined to live abroad and/or like a modern gypsy
Metaphoric is my middle name
Love a good laugh
Love music festivals
Love to hang out with my friends
Consider myself a writer
Peace maker... just don't royally piss me off.
Love monochromatics
Speak/wants to speak as many languages as humanly possible to memorize
Yay for History, Arts and Philosophy
Love cold temperature countries
Bazinga!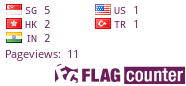 Last.FM Milestones
1st track: (28 Jun 2011)
Opeth - Harvest

10th track: (28 Jun 2011)
Insomnium - Weighed Down With Sorrow

100th track: (30 Jun 2011)
Antimatter - Legions

1000th track: (29 Jul 2011)
Poisonblack - Only You Can Tear Me Apart

Generated on 18 Aug 2011
Get yours here