100.
Diamond Rings
-
Special Affections
99.
Superchunk
-
Majesty Shredding
98.
Balam Acab
-
See Birds EP
97.
Viernes
-
Sinister Devices
96.
Autre Ne Veut
-
Autre Ne Veut
95.
Glasser
-
Ring
94.
Magnetic Man
-
Magnetic Man
93.
Best Coast
-
Crazy for You
92.
Shabazz Palaces
-
Of Light
91.
Small Black
-
Small Black EP
90.
Twin Sister
-
Color Your Life
89.
Forest Swords
-
Dagger Paths
88.
Summer Camp
-
Young EP
87.
The Diogenes Club
-
Versailles EP
86.
Various Artists
-
Tri Angle Records Presents: Let Me Shine For You
85.
The Chemical Brothers
-
Further
84.
Dom
-
Sun Bronzed Greek Gods
83.
Gorillaz
-
Plastic Beach
82.
The Radio Dept.
-
Clinging to a Scheme
81.
Shabazz Palaces
-
Shabazz Palaces
80.
Toro y Moi
-
Causers of This
79.
Memoryhouse
-
The Years EP
78.
No Age
-
Everything in Between
77.
Scuba
-
Triangulation
76.
White Ring
-
Black Earth That Made Me
75.
✝ DE△D VIRGIN ✝
-
anxieties
74.
Cloud Nothings
-
Turning On
73.
Oneohtrix Point Never
-
Returnal
72.
Mount Kimbie
-
Crooks & Lovers
71.
Delorean
-
Subiza
70.
Gold Panda
-
Lucky Shiner
69.
James Blake
-
CMYK EP
68.
Jaill
-
That's How We Burn
67.
Teebs
-
Ardour
66.
MillionYoung
-
Be So True EP
65.
Swans
-
My Father Will Guide Me Up a Rope to the Sky
64.
Perfume Genius
-
Learning
63.
Dum Dum Girls
-
I Will Be
62.
Les Savy Fav
-
Root for Ruin
61.
Rick Ross
-
Teflon Don
60.
Actress
-
Splazsh
59.
U.S. Girls
-
Go Grey
58.
Drake
-
Thank Me Later
57.
Sufjan Stevens
-
All Delighted People EP
56.
Women
-
Public Strain
55.
Gonjasufi
-
A Sufi and a Killer
54.
Warpaint
-
The Fool
53.
Twin Shadow
-
Forget
52.
Wavves
-
King Of The Beach
51.
oOoOO
-
oOoOO EP
50.
Jon Lemmon
-
Kindling EP
49.
Gil Scott-Heron
-
I'm New Here
48.
Local Natives
-
Gorilla Manor
47.
Baths
-
Cerulean
46.
Curren$y
-
Pilot Talk
45.
Cloud Nothings
-
Leave You Forever EP
44.
Zola Jesus
-
Stridulum II
43.
Ariel Pink's Haunted Graffiti
-
Before Today
42.
Four Tet
-
There Is Love in You
41.
†‡†
-
CDR
40.
Salem
-
King Night
39.
These New Puritans
-
Hidden
38.
How to Dress Well
-
Love Remains
37.
Foals
-
Total Life Forever
36.
Belle and Sebastian
-
Write About Love
35.
Vampire Weekend
-
Contra
34.
Caribou
-
Swim
33.
Curren$y
-
Pilot Talk 2
32.
Flying Lotus
-
Cosmogramma
31.
Janelle Monáe
-
The ArchAndroid
30.
Ellen Allien
-
Dust
29.
Hot Chip
-
One Life Stand
28.
Male Bonding
-
Nothing Hurts
27.
Ceo
-
White Magic
26.
The Roots
-
How I Got Over
25.
Titus Andronicus
-
The Monitor
24.
Pantha du Prince
-
Black Noise
23.
Wild Nothing
-
Gemini
22.
The-Dream
-
Love King
21.
Das Racist
-
Shut Up, Dude
20.
The National
-
High Violet
Matt Berninger once agains shows, that no one on this planet can sing sad songs like him. His voice is really depressing and the lyrics could turn an optimist into the mind infected by Weltschmerz. But hey, who wouldn't enjoy that with such beautiful songs?
19.
The Walkmen
-
Lisbon
The Walkmen has shown once again that they are one of the most important independent rock bands of our generation. On their sixth album, a tribute to the capital of Portugal, they're showing their even-minded face. You won't be hearing guitar anthems on this record, like for example 'The Rat', but still, you'll enjoy Hamilton's Leithaser's voice hovering over the calm orchestral rhytms.
18.
James Blake
-
Klavierwerke EP
Musical hero of the year? I think many people would agree, that over this year James Blake has become one of the most important electronic producers. Young londoner came out of nowhere with two amazing EP's: ''The Bell's Sketch'' and ''Cmyk'' and acknowledged his status with the third EP, Klavierwerke, on which he is mixing 2-step sounds with modern rnb tunes. Soon we'll be able to listen to his debut, which is being released via Atlas/A&M on 7th February.
17.
Big Boi
-
Sir Lucious Left Foot: The Son of Chico Dusty
Big Boi's new album had been developing for three years. In 2010 we could finally listen to it and what can I say – Sir Lucious Left Foot is produced to perfection. The heavy synth beats neatly cooperate with Big Boi's laid back lyrics. Antwan Patton once again has shown, that he isn't just a part of Outkast – he really is one of the best rappers on earth.
16.
Emeralds
-
Does It Look Like I'm Here?
Do you like krautrock? This german, experimental version of progressive rock has gained the recognition in the 70's and began the fusion of rock and electronic music. Forty years later bands like Oneothrix Point Never and Emeralds record music, which is truly inspired by these times. However, they are replacing guitars with noise effects, that could be surely used in the soundtracks for science-fiction movies. Oneohtrix's new cd is just good, but Emeralds' ,,Does It Look Like I'm Here?'' totally blew my mind. All the songs are perfect and cooperate with each other. If you are spending a night in the forest don't forget to take this CD – it won't let you sleep for a while.
15.
Crystal Castles
-
Crystal Castles (II)
Second album of Toronto based band – Crystal Castles is much better, mainly because of the mature production. Their debut album began a revolution in electronic music and with ,,Crystal Castles II'' they acknowledged their position. The songs (in opposite to the debut) are composed well and have melody, which wasn't their strength earlier. Time will tell if we are dealing with another electronic band, or legends.
14.
Menomena
-
Mines
Well, I have to admit, that I began my musical journey with Menomena from their latest album, and I really want more. This is just a amazing rock album, but we don't have them that many in these times, do we?
13.
Jaill
-
There's No Sky (Oh My My)
Before signing to Sub Pop, these indie rockers have put a huge part of the music world to shame by releasing this spontanic and wonderful cd. ,,There's no sky (Oh My Oh My)'' is filled with tunes that would even put a smile on Hurts' face (they're ALWAYS sad, aren't they?). If you are looking for a record that doesn't demand you to be focused, that is the best option.
12.
Das Racist
-
Sit Down, Man
Das Racist released this year two amazing mixtapes on which they show, that clever and funny lyrics doesn't have to mean heavy humor presented by Weird Al Jankovic. These dudes play with music and rap about such various things like Joe Pesci and Neutral Milk Hotel. Second mixtape is better produced, mainly because the production was taken care of by the best, for example Diplo. Himanshu Suri and the rest showed, that the sense of humour hasn't tapered off at all in music industry.
11.
Robyn
-
Body Talk
Robyn is one of the biggest pop stars on the planet. Last year she came back with three releases, and the last one is the best. On ,,Body Talk'', Robyn presents the chosen tracks from the first two parts of Body Talk, and new songs, which are being released in few countries as Body Talk pt. 3. Haven't heard in a while such good pop album filled with hits that would wake a dead man.
10.
Joanna Newsom
-
Have One on Me
Joanna Newsom's new album may scare away some people. In 21st century no one is used to albums, that last more than two hours, but the wonderful thing is that ,,Have One On Me'' doesn't bore for even one track. I could listen to this album for weeks and I still wouldn't be bored by her voice and harp. Definitely the most important woman in indie music these days.
9.
Deerhunter
-
Halcyon Digest
Deerhunter's new album is, as everyone expected more influented by Bradford Cox's solo work under the moniker Atlas Sound. The ambient sound of the album culminates in the single Helicopter, which I just can't describe in words. It's not as good as Microcastle, but still it's one of the best records released in 2010.
8.
Yeasayer
-
Odd Blood
Yeasayer's new album differs from the debut, it's more pop oriented, and it was a very good decision. The band evolved, from poor cousins of Animal Collective, to the band that mixes psychedelic music with popular. Odd Blood is inspired by 80's pop music, but isn't cheesy and kitschy, it's an album , that every fan of the infiltration of experimental and popular tunes should have.
7.
Sleigh Bells
-
Treats
When I first heard Crown On The Ground, I felt like my ears would begin to bleed, but on the other hand I was amazed by the noise that I am hearing. After few months Sleigh Bells released their debut album – Treats, on which all songs are as noisy as their most known single. Simon Cowell wouldn't enjoy this cd - but you surely can.
6.
LCD Soundsystem
-
This Is Happening
James Murphy is the icon of the 21st century. His third album is as excellent as the others, and I don't believe that this is the end of his project. All the songs on ,,This Is Happening'' are amazingly mixed and will make you dance within a second. By the way, he is resigning, because he is depressed that people no longer appreciate music, and download it instead of even thinking of buying. So please, go to the nearest music store, and buy this CD. Support him - this could be your dad.
5.
Fang Island
-
Fang Island
Fang Island's debut is the most underrated release I've ever seen. I find that really weird, that only Pitchfork praised their ability to record guitar anthems, that are obviously made for stadiums. Fast rhytms and vocals that could tear the world apart by their lofty sound is what you'll find on this record.
4.
Arcade Fire
-
The Suburbs
Ok I really tried to be objective, but Arcade Fire is my favourite band. I think that no one on this planet can build the atmosphere on the record like Win Butler. The Suburbs let the band gain the always deserved recognition, but for me this album is to pompous to be the record of the year. Of course, it is amazing, but sorry – it isn't Funeral
3.
Kanye West
-
My Beautiful Dark Twisted Fantasy
Kanye West is a genius and I think that everyone agrees on that opinion. He is a dick of course, but many artists are, he is just most exposed to public view. ,,My Beautiful Dark Twisted Fantasy'' is definitely hip hop album of the year, and time will tell if it isn't hip hop album of the decade. Forget about 808s & Heartbreak – it was just a misunderstanding
2.
Beach House
-
Teen Dream
Teen Dream is definitely the best album by Beach House. Every time I hear Victoria Legrand's voice I'm beginning to melt, and I'm sure that this isn't just my feeling. Their capability of writing sweet and wonderful songs is just indescribable, this album is the cutest thing since hoverball cat
1.
Sufjan Stevens
-
The Age of Adz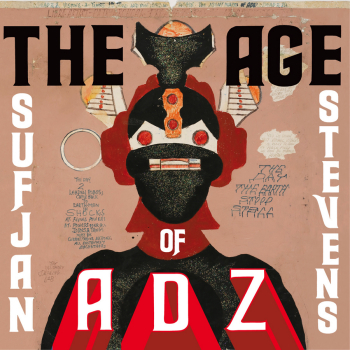 Sufjan Stevens is back with EP, and new album that I couldn't be able to disengage from. This record is more personal, than other albums, and that's what makes it so good. During this album we can actually feel the intimacy of the songs. It have been five years since ,,Illinoise'', and once again whole world is on it's knees because of this modest musician.