comeback kid, 22, Femmina, Stati Uniti
www.myspace.com/brainwashe…Ultimo accesso: Marzo 2014
7

7

7

3

5

ascolti dal 13 Feb 2008
148 brani preferiti | 61 messaggi nei forum | 1 playlist |

206 messaggi in bacheca
Aggiorna |


Feed

Feed
| | | | | | |
| --- | --- | --- | --- | --- | --- |
| 1 | | | | | |
| 1 | | | | | |
| 3 | | | | | |
| 3 | | | | | |
| 3 | | | | | |
| 3 | | | | | |
| 3 | | | | | |
| 3 | | | | | |
| 3 | | | | | |
| 3 | | | | | |
| 3 | | | | | |
| 3 | | | | | |
| 3 | | | | | |
| 3 | | | | | |
| 3 | | | | | |
| 3 | | | | | |
| 3 | | | | | |
| 3 | | | | | |
| 3 | | | | | |
| 3 | | | | | |
| 3 | | | | | |
| 3 | | | | | |
| 3 | | | | | |
| 3 | | | | | |
| 3 | | | | | |
| 3 | | | | | |
| 3 | | | | | |
Descrizione
the names farah.
hey hey hey.
fave songs:
punk rock love-the casualties
sex and candy-marcy playground
and some others...<3
gotta fight for your right to partay!
you looked better on myspace.
i dont like your mainstream, government approved attempts at music.
televison! television!
i was raped by the FCC.
music makes me feel good.
thats why im on last fm.
im a warrior poet.
im a transcendentalist.
im the comeback kid.
chucks 4 life <3
=]
I havent been on last.fm probably for a good couple of years. My music taste has changed quite a bit, but I still enjoy all the things I used to listen to as well. I am constantly changing, but I still identify with my roots.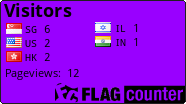 Attività recenti