C. Bowie, 44, Maschio, CanadaUltimo accesso: Settembre 2012
6

6

6

5

9

ascolti dal 6 Set 2005
1.134 brani preferiti | 4 messaggi nei forum | 3 playlist |

326 messaggi in bacheca
Aggiorna |

| | | | | | |
| --- | --- | --- | --- | --- | --- |
| | | Frightened Rabbit – Fuck This Place (Featuring Tracyanne Campbell From Camera Obscura) | | | 4 Feb 1:03 |
| | | The Moth & The Mirror – Oceans & Waves | | | 4 Feb 1:00 |
| | | Damien Jurado – Cloudy Shoes | | | 4 Feb 0:38 |
| | | Cults – You Know What I Mean | | | 4 Feb 0:32 |
| | | Sharon Van Etten – Warsaw | | | 4 Feb 0:30 |
| | | Dive – How Long Have You Known | | | 4 Feb 0:26 |
| | | Yo La Tengo – Stupid Things | | | 4 Feb 0:21 |
| | | The National – I'll See You In My Dreams | | | 4 Feb 0:19 |
| | | Vic Chesnutt & Liz Durrett – Somewhere | | | 4 Feb 0:13 |
| | | Dunebuggy – Humdinger | | | 4 Giu 2012 |
| | | The Dudes – Dropkick Queen of the Weekend | | | 4 Giu 2012 |
| | | Norah Jones – Out on the Road | | | 4 Giu 2012 |
| | | Neil Young & Crazy Horse – Love and Only Love | | | 4 Giu 2012 |
| | | The Asteroids Galaxy Tour – Arrival of the Empress (Prelude) | | | 4 Giu 2012 |
| | | Ry Cooder – Going Back to Okinawa | | | 4 Giu 2012 |
| | | White Denim – Anvil Everything | | | 20 Mag 2012 |
| | | R.E.M. – Hairshirt | | | 20 Mag 2012 |
| | | Joe Pug – Hymn #76 | | | 20 Mag 2012 |
| | | Sarah Jaffe – Glorified High | | | 20 Mag 2012 |
| | | Sting – The Dream Of The Blue Turtles | | | 20 Mag 2012 |
Visualizza altro

Feed
| | | | | |
| --- | --- | --- | --- | --- |
| 1 | | | | |
| 2 | | | | |
| 3 | | | | |
| 4 | | | | |
| 5 | | | | |
| 6 | | | | |
| 7 | | | | |
| 8 | | | | |
| 9 | | | | |
| 10 | | | | |
| 11 | | | | |
| 12 | | | | |
| 13 | | | | |
| 14 | | | | |
| 15 | | | | |

Feed
| | | | | | |
| --- | --- | --- | --- | --- | --- |
| 1 | | | | | |
| 1 | | | | | |
| 1 | | | | | |
| 1 | | | | | |
| 1 | | | | | |
| 1 | | | | | |
| 1 | | | | | |
| 1 | | | | | |
| 1 | | | | | |
Descrizione
http://twitter.com/wayoutosphere
http://blip.fm/wayoutosphere
http://radio3.cbc.ca/#/profile/wayoutosphere
http://8tracks.com/wayoutosphere
As a kid, I used to spend my money on batteries for my Sears ghetto blaster, records and cassettes. Staying up past my bedtime to record new music and live concerts from the radio and making mix tapes on my brother's stereo.
Now, I get music from everywhere imaginable. Spending a good amount of my free time all over the web, I find more music than can be fully digested. Thank gawd for places like Last.fm to aggregate and filter some of the content.
Friend me if you like. I value your input.
I've just listened
update my seen-live-list
|
get your own list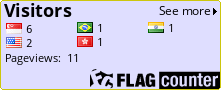 Attività recenti
canfoo ha lasciato un gruppo che è stato eliminato.

Febbraio 2013

uh_huh_her_ e canfoo sono diventati amici.

Febbraio 2013