RSS
Condividi
Dic 16 2008, 18:01
Right here we go with the song, as Turbonegro would say:
Best Album of 2008:
Laura Marling's Alas I Cannot Swim
Quite an easy choice in the end, has the most plays in my library in the past 12 months. Don't get me wrong, there was a lot of good stuff out there this year, but for me this was the only exceptional record. I don't know what's more exciting about this, that Alas I cannot Swim is a debut or that something of worth has actually arisen out of Eversley. It's almost where we live, right?
Honourable mentions:
2.Metallica Death Magnetic
3.Isobell Campbell and Mark Lanegan Isobell Campbell and Mark Lanegan Sunday at Devil Dirt
4.Mystery Jets Twenty One
5.Be Your Own Pet Get Awkward
6.The Gutter Twins The Gutter Twins Saturnalia
Worst Album of 2008
:
MGMT's Oracular Spectacular
Hmm, tough decision this. I'm sure MGMT haven't actually produced the worst album of the year but you have to give it to something massively overhyped. I was considering the Mercury-winning Elbow or some of the other things I'll mention later but well, MGMT can fuck off and die. Seriously, it really pisses me off when stuff like this gets massive when it warrants no attention whatsoever.
Best Song of 2008
:
British Sea Power's Waving Flags
As soon as I heard this track I knew I was going to go out and get British Sea Power's Do You Like Rock Music. Bittersweet moment really...Waving Flags is a great song, the album is pretty shaft. Other than one other decent track most of it sounded like an Arcade Fire b-side collection. It's a shame really because ten or so mini-epics akin to Waving Flags' obscure tale of immigration and czech beer could have been something really special. Hey, it still got a Mercury Music Prize nomination so what do I know. The track didn't have the most plays in my library in the past year, the two following L. Marling tracks I played more plus the Smiths' This Night Has Opened My Eyes, of all things.
Honourable Mentions:
2.Mystery Jets - Half in Love with Elizabeth
3.Laura Marling - Cross Your Fingers
4.British Sea Power - No Lucifer
5.Laura Marling - The Captain and the Hourglass
Worst Song of 2008
:
Kings of Leon's Sex On Fire
Absolute twat. You may think it's a bit stupid to immediately disregard a song in a method that's borderline ungrammatical and makes absolutely no sense. Well, I've had the mispleasure of hearing this song absolutely everywhere this year and as of yet I've still to come across two better words to describe it.
There used to be something at least interesting about KOL. I've never been much of a fan so don't ask me to detail exactly what that was but Sex on Fire is just, well bland. It's like they were trying to write something in their usual quirky vein and then just thought fuck it, lets write a big poppy chorus. Two things really bother me though, one this track seems incredibly rushed, like they couldn't really be bothered putting any effort in; it has that, 'oh this will do' feel. It's an empty, vacuous, piece of trash. Secondly, what the hell is it that everyone likes about the song? If this was some filler track that would be resigned to the back pages of 2008's musical history, fine, but as it stands this is the song that's probably going to wind-up getting KOL festival headline spots next year. Now we all know how crap Glastonbury's 08 lineup was, mainly due to their presence...I just hope any festival I wind up at won't have these Nashville tossheads playing.
You know give this
Worst Lyrics of 2008
while we're at it too. I can't be arsed putting all it's filth onto this journal but I think you get the gist from the first verse and chorus that this isn't exactly T.S Elliot
Lay where you're laying, don't make a sound
I know they're watching, they're watching
All the commotion, the kiddie like play
Has people talking, talking

You, your sex is on fire
Best Lyrics of 2008
:
Be Your Own Pet's Black Hole
Now this may seem a little contradictory to my previous vehemence against Kings Of Leon, but Be Your Own Pet's lyrics were the most gloriously adolescent stanza to be heard in 2008. Mainly detailing drunken nights spent smashing glass bottles and engaging in general riotous behaviour, which is something I think we can all relate to in our formative years, Be Your Own Pet's Get Awkward album was full of interesting little homages to teenage chaos. What sets BYOP's somewhat puerile wordsmanship apart from that of Kings of Leon, is that it's all done firmly tongue-in-cheek. The music's meant to be light and fun; not everyone took it that way though. You may have noticed I posted the picture to the U.S ep Get Damaged instead of the album Get Awkward. Stateside, Universal removed the tracks Becky, Black Hole and Blow Yr Mind (must have been a 'B' thing), judging them to be too violent for general release. This, from the label who home Eminem and Marilyn Manson among others, is frankly laughable.
Anyway, I chose the track Black Hole, simply for one line. I think it sums up the stupidity of Universal records for removing it and the irony that courses throughout the album.
Eating pizza is really great.
So is destroying everything you hate
At this point I should add that Be Your Own Pet are
The band I'm most disappointed to see spilt up in 2008
. Gutting as it is, at least I got to see them live for a second time and I'm sure Jemina Pearl's solo stuff if it ever materializes will sound pretty similar.
Best Artist to have back in 2008
:
Brody Dalle - Spinnerette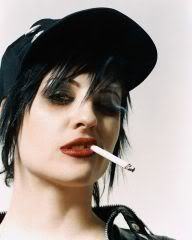 Ahhh the woman with the unhealthiest looking complextion in the world returns. Heroin's a helluva drug. I'll be the first to admit that I wasn't a big fan of the Distillers' early stuff yet I loved Coral Fang, despite most of their fanbase hating it. Well, now that she realised there's more to life than having children, Brody Dalle is back with her new band Spinnerette. It's hardly the biggest mutation in musical sound you'll ever hear but this is no Coral Fang redux. I guess f***ing Josh Homme enough times can have an impact on your songwriting (let's hope they were going through a rough patch when he was writing Era Vulgaris).
Artists I didn't care to have back in 2008
:
Portishead
Portishead, did we need this? Trip-hop? Really? Well I'll probably be lambasted for this one but this seemed a pretty pointless reunion. Bristol's time has come and gone. As for calling their third album, third, who do they think they are Soulfly or something?
Here's some more little things that there isn't a lot to expand upon:
Best Cover of 2008
:
We Are Scientists covering Ace of Base's All that she wants at Reading Festival. Terrible really, but I'm glad that someone is still flying the flag for Scandanavia's finest pop act. What...Abba...who are they?
Best duet of 2008
:
Isobell Campbell and Mark Lanegan. Total cop-out I know, but I could have said Lanegan and Greg Dulli's The Gutter Twins
Best purchase of non-2008 origin
:
Mastodon's Blood Mountain. Metal Hammer called this an early contender for album of the decade upon it its release, similar hype followed from elsewhere, I'm not too sure why it took me so long to grab a copy. It's very good, bloody excellent in places but Mastodon just don't seem to write very good songs amongst all these amazing riffs.
Worst purchase of non-2008 origin
:
Hole's Celebrity Skin. Always, and I mean always avoid albums where the title track is first up and is released as the first single from the record. It usually means the rest is a load of filler s**t. Well I forgot my own advice here and guess what I ended up with, a shaft cd to add to my collection.
Best Live Performance of 2008
:
Metallica @ Reading Festival 2008.
Yeah there was no banjo action to be seen unfortunately, but it was an awesome set. It's always great when you see a festival headliner who's willing to chuck some money at their performance like Metallica did with some brilliant lighting, flamethrowers, a multi-levelled stage and a big f*** off screen. Funilly enough the stage and screen were up all Sunday but no one else was able to use them. That's Metallica for you, corporate asses. It was probably nowhere near an objectively judged best live performance of the year but I've waited ages for an opportunity to see Metallica at a festival where I wouldn't have to fork out 40 quid plus to see them on their own.
Honourable Mentions:
2.Amplifier @ Manchester Academy 3 13/12/08
3.Florence and the Machine @ Reading Fest
4.Amplifier @ Manchester Academy 3 02/02/08
5.Manic Street Preachers @ Reading Fest
Worst Live performance of 2008
:
Tenacious D @ Reading Festival 2008
I guess it's all about the juxtaposition...utter, unbrindled sh*t. Seriously, their spot in 2007 was graced by the brilliant Nine Inch Nails. It is an atrocity of the highest order that there ever be a comparison between these two bands. Tenacious D are meant to be funny, I wasn't expecting great sound quality or anything, maybe just one or two comical moments. I have never been so annoyed in my life. How much were these two f***wits paid to bring on some costumed characters and twat about like retards? I mean where was the effort...Mr Black and Glass deserve to be lynched for this and even then I'm thinking it's letting them off easy.
It's about here that I want to mention Coldplay. Long time battlers with Snow Patrol for most sanctimoniously, sentimentally dire act, they charged 50 quid for a ticket to their Viva La Vida tour at the M.E.N. I know some people who went, who then couldn't afford to go see someone else the next day for a fifth of the price. And that ladies and gentlemen is why the likes of Chris Martin must be eradicated off the face of the earth.
Best Demo of 2008
:
Charlie Barness No Offenkk
Now upto three weeks ago, I'd never heard of Charlie Barnes. Then of course Amplifier, despite previously having stated they had plans for their December support act, announced they were accepting demos off anyone willing to play. Que alleged Amplifier fan Mr Barnes.
Now his stuff won't be everyone's liking and I can imagine people may find it quite dull. For some however, this will truly be aural magnificence. Imagine Rufus Wainwright covering Imogen Heap, add in some beatboxing over the vocodering and you're starting to get the idea of what this sounds like. It's epic...he doesn't have any stuff on lastfm yet so get yer' hinds down to myspace and check out his stuff.
Honourable Mentions:
1.The Jessie Rose Trip
2.Broadcast Radio
Saw both these bands at In the City 2008, at the same gig incidently and they were the only two out of the 15 or so I managed to catch across the three days that had any lasting impact on me (well honestly, I was drunk at one gig and couldn't remember any of it the next day). The Jessie Rose Trip you would expect to become successful, kind of bouncy soul stuff that would garner critical and commercial acclaim but I think they've only just started out so who knows. There are some rather obvious vocal comparisons to be drawn but well, check them out for yourselves.
[Edit - The Jessie Rose Trip got the coveted support act slot when a certain Joss Stone rolled into town for a small show at the Ruby Lounge, so presumably big things on their horizon]
Broadcast Radio on the other hand are all the way from Canada. Their stuff on lastfm, was the last time I checked, all old stuff. They've recorded their second album Hallways of the Twenty-First floor, which is on myspace. Is this really a demo? Not exactly, I mean it's a full length of professional quality and the band are signed. It was recorded at the Hotel 2 Tango which Arcade Fire and British Sea Power have used which tells you a lot about BR's sonic direction. I'm only including it here because they don't have a UK distribution deal as far as I'm aware and the it seems the album was done mostly off their own backs. Oh and it's f****ing great.
Best New Band of 2008
:
Florence and the Machine
Haha, that picture makes me laugh. There aren't many artists who'd leave something like that in one of their videos but I think it's suffice to say Florence Welch is a little bit special. I discovered Florence and the Machine for the first time when she was supporting Pete Doherty in Manchester. I didn't actually watch any of her set other than their duet cover of Johnny Cash's Folsom Prison Blues, the reason being I was 'flyering' (this is probably the only time in my life so far where something good other than money has come about from working). I heard the bloody awful cover of the Cash song and abandoned where I was meant to be handing out gig-guides to go have look. At that point I thought she was terrible and went back to work. However, the name F&TM stuck and a few months later I was seeing Flo at Reading Festival armed with a full knowledge of her back-catalogue.
Any of you who were lucky enough to catch Florence in 2008 should consider yourself very fortunate. What with the debut album dropping potentially next May and the BBC sound of 2009 nod, the NME tour, the Brit award nomination it's all quite obvious that Florence and the Machine are going to explode next year. I caught Flo's PJ Harvey/Patti Smith/Kate Nash (teacher stroke nurse whatever - haha) salmagundi again at the Manchester Warehouse Project and it's clear you won't ever see her playing these kinds of intimate gigs ever again.
Onwards to 2009
:
Okay so that was all a bit epic...but 2009's could potentially be so much bigger. Here's some things I'm looking forward to:
New Morrissey album
Ok, so Years of Refusal will probably be rubbish...it's probably a bad omen that the producer Jerry Finn died shortly after it's completion.
Emmy the Great's debut
Well this hits stores as well in February, I'm not expecting a classic but should be fairly decent
Florence + the Machine's's debut
I'm hoping this is more of Dog Days are over rather than tracks of the Kiss with a fist ilk. Could be brilliant.
Arctic Monkeys @ the Rancho de la Luna
I can't wait to hear any recordings the AMs did whilst out in Dave Catching's desert studio. Yeah sure Fred Drake's sadly been dead for awhile and Joshua Homme's magic touch seems to be fading if you ask me, but all bands who record there seem to come out with something special. I mean even The Eighties Matchbox B-line disaster produced some pretty awesome stuff.
New Mark Lanegan stuff
Yeah sure, Soulsavers, The Gutter Twins, guesting on Isobell Campbell, Queens of the Stone Age stuff, we love all that. But Bubblegum was such along time ago. We need some more Waits-esque crooning solo material.
Other potential artists with releases to look forward to:
Oceansize
Slayer
Our Lady Peace
Snot
Alice in Chains
Imogen Heap
Spinnerette
But most importantly
, The Octopus by Amplifier
Amplifier spent a great deal of 2007 and all of 2008 in the studio, at first announcing 1 double-album to be followed by a further release, then changing this to just a single release: The Octopus. Despite the quite frankly, s*** title this could well be the best album, well, ever. From what I've heard so far I would bet my life on it being the best release of 2009.
[Final edit - Just to note I've only just realised I didn't mention the Bronx anywhere on this journal, perhaps at the time I was a little disappointed with III, and even now the jury's still out on that one, but odd that they don't feature at all]
Commenti