Asli, 34, Femmina, Finlandia
mydearkitcheninhelsinki.wo…Ultimo accesso: Marzo 2014
1

2

9

6

3

6

ascolti dal 25 Mar 2006
957 brani preferiti | 119 messaggi nei forum | 1 playlist |

248 messaggi in bacheca
Aggiorna |


Feed
| | | | | |
| --- | --- | --- | --- | --- |
| 1 | | | | |
| 2 | | | | |
| 3 | | | | |
| 4 | | | | |
| 5 | | | | |
| 6 | | | | |
| 7 | | | | |
| 8 | | | | |
| 9 | | | | |
| 10 | | | | |
| 11 | | | | |
| 12 | | | | |
| 13 | | | | |
| 14 | | | | |
| 15 | | | | |

Feed
| | | | | | |
| --- | --- | --- | --- | --- | --- |
| 1 | | | | | |
| 2 | | | | | |
| 3 | | | | | |
| 4 | | | | | |
| 5 | | | | | |
| 6 | | | | | |
| 7 | | | | | |
| 8 | | | | | |
| 9 | | | | | |
| 10 | | | | | |
| 11 | | | | | |
| 12 | | | | | |
| 13 | | | | | |
| 13 | | | | | |
| 15 | | | | | |
Descrizione
I am of old and young, of the foolish as much as the wise,
Regardless of others, ever regardful of others,
Maternal as well as paternal, a child as well as a man,
Stuff'd with the stuff that is coarse and stuff'd with the stuff that is fine,
One of the Nation of many nations, the smallest the same and the largest the same.
I depart as air, I shake my white locks at the runaway sun,
I effuse my flesh in eddies, and drift it in lacy jags.
I bequeath myself to the dirt to grow from the grass I love,
If you want me again look for me under your boot-soles.
You will hardly know who I am or what I mean,
But I shall be good health to you nevertheless,
And filter and fibre your blood.
Failing to fetch me at first keep encouraged,
Missing me one place search another,
I stop somewhere waiting for you.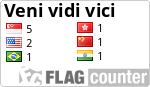 Attività recenti