RSS
Condividi
Feb 18 2009, 9:32
Every year, the music critics around the globe sift through their piles of CDs and concoct their list of top albums of the year. While I cannot boast such a musical knowledge, dissect each chord progression so accurately, or spend countless hours examining each genre, I have compiled my tentative Top 10 Albums for 2008. However lackluster this musical year may have been, or incomplete my knowledge may be, let the kudos begin.
#10:
Ra Ra Riot
-
The Rhumb Line
Sometimes the greatest creations spawn from one's greatest losses. Such is the case for
Ra Ra Riot
's debut album,
The Rhumb Line
. The Syracuse sextet garnered quick praise and fellowship from their acclaimed
Ra Ra Riot EP
and genuine live performances. In 2007, however, the band suffered tragedy as their drummer drowned following a show afterparty. It is this incident, though, which imbues
The Rhumb Line
with life. Each song springs to life in a semi-somber celebration of life - or rather the loss of it. An audience can simultaneously dance to the spiky indie-dance drum beats and stream tears (of sorrow or joy?) at the delicate, tasteful string work.
Ghost Under Rocks
,
Oh, La
, and
Run My Mouth
exemplify the band's ability to manipulate both the listener's feelings and their feet.
The Rhumb Line
is a joyous celebration of our lives - a dance in the dark dedicated to what we've kept and have lost.
#9:
Coldplay
-
Viva La Vida Or Death And All Of His Friends
Let's get the initial concerns out of the way. Yes, this album is overplayed. Yes, every single person on planet Earth probably owns it. Yes,
Parachutes
and
A Rush of Blood to the Head
are better. And yes, if I hear the single
Viva la Vida
one more time, I will be forced to unleash my fists of fury upon the closest individual (that one's for you, Nick). Given all this, however, the quality and caliber of
Coldplay
's 4th album cannot be disputed. From start to finish,
Viva la Vida
is a creative, polished work of art. The album has produced 4 chart-topping hits. The simple "soft rock" underpinnings of albums past remain, but edginess and growth are omnipresent. The beefier song lengths of
Lovers in Japan/Reign of Love
and
Yes
, may deter casual listeners, but patience and a general affinity for good music will attract any fan. The instrumental sections may be the best, as
Life in Technicolor
may just be the best intro song of 2008, with Chris Martin himself saying he didn't want to "spoil" the song with lyrics. The recurring passages of
Life in Technicolor
and
Death and all of his friends
serve as bookends, providing a sense of unity and maturity to the album. In all,
Viva la Vida
provides another solid sequel in the
Coldplay
discography. Once the hype dies down, serious listeners will begin to truly appreciate the genius and relevance of this album.
#8:
The Verve
-
Forth
Forth
forever etches
The Verve
as the best later-Britpop era band. While
Blur
has explored its famously eclectic tastes (no disrespect to
Blur
,
Damon Albarn
, or his side projects),
The Verve
has managed to remain rooted in their style while simultaneously evolving. Compared to
Oasis
? The Gallaghers' 2008 counterpart
Dig Out Your Soul
feels bloated, lackluster and over-digitalized compared to
Forth
. Their first album since 1998's smash
Urban Hymns
, the downsized quartet picks up flawlessly where they left off. Listeners will be greeted by the similar soundscapes of
Sit And Wonder
and
Rather Be
. Several songs hearken back to the more psychedelic days of
A Storm In Heaven
, while
Noise Epic
,
Columbo
, and
Appalachian Springs
are bound to be stoner favorites. Only the lead single
Love Is Noise
disappoints, with an annoying hook and less-than-genuine lyrics. All in all, however,
Forth
fails to disappoint the
Verve
listener: a solid album with all the stoner spaciness and late-driving car tunes a listener could want.
#7:
Bloc Party
-
Intimacy
I am at once hesitant and confident to reveal
Intimacy
as a key album of 2008. Following the footsteps of fellow Brits
Radiohead
,
Bloc Party
opted for minimal advertising and publicity for their album. In fact, the album was announced only a few short days before the online release. Just as they have opted for this mainstream skittishness in business, their music hardly resembles the BP of years past. The whirlwind of
Silent Alarm
and pensiveness of
A Weekend In The City
are replaced by a more spiky and punctuated Intimacy. On many songs, traditional instruments are replaced with electronics and beats. In perhaps the best song,
Signs
, Gordon Moakes trades his bass for a glockenspiel, and Matt Tong programs big beat into a drum machine. On
Halo
and
Talons
, the band reverts to guitars and bass, producing solid indie-rock reminiscent of
Silent Alarm
. All this change does have its hindrances, though.
Biko
and

Zepherus
endeavor to cross genre lines, but come off as over-indulgent or trying too hard. And
Ares
and
Mercury
are just downright annoying. Given this, it's clear that
Bloc Party
wants to distance itself from the typical structures of indie-rock. While Intimacy is imperfect and at times frustrating, the listener can't help but listen in anticipation of that "perfected" sound. For their indifference to mainstream appeal, desire for progress, and ever-changing album content: cheers to Kele and the gang.
#6:
The Gaslight Anthem
-
The '59 Sound
I've never been a fan of Jersey Shore music.
Bruce Springsteen
.
Bon Jovi
. Never dug them all too much. And I'm from the Jersey shore. With this in mind, enter
The Gaslight Anthem
. This New Brunswick, NJ quartet revives what
Springsteen
and company did back in their heydays.
The '59 Sound
offers little in terms of ground-breaking material: breakups, love songs, all the norms. Their track
Meet Me By The River's Edge
even contains direct references to
Springsteen
works. However, here it is beauty in simplicity that prevails.
Great Expectations
,
The '59 Sound
, and
The Patient Ferris Wheel
are all solid tracks, despite lacking any specific distinguishing features. Even still, its hard to pinpoint why I like
The Gaslight Anthem
. Maybe it's because they started up in the same college town where I now study at Rutgers. Maybe it's because they're played the same bars and locals that my current band does. Maybe it's because they're from here, they're from near to home. Whatever the reason may be,
The Gaslight Anthem
does not disappoint. I've no witty observances to point out, no pun on lyrics, or clever play on words to pull: they are simple, they are fresh, and they're what we all need.
#5:
Omar A. Rodriguez-Lopez
-
Old Money
One of the most prolific artists of the decade,
Omar Rodriguez
is simply...insane. In 2008 alone, Rodriguez released over 7 solo albums, in addition to 1 album with his band. While the majority of his solo work is a jumble of field recordings, abstract musical ideas, and the result of overworking, brilliance shines through on
Old Money
. On the album, Rodriguez is able to mesh soundscape/noise into the workings and limitations of true songs. Unlike his other work, Rodriguez takes a direct approach to the themes through song titles and mood. This is not to say the music is in any way conventional (or at times, digestible).
How to Bill the Bilderberg Group
and
I Like the Rockefeller's First Two Albums but After That...
border on purely nonsensical. Overall though, the balance is maintained. The latin-jazz-prog fusion of
The Power of the Myth
,
Private Fortunes
, and
Family War Funding
achieve a good balance between the noise rock and latin rhythms of Rodriguez's other works. The true genius of
Old Money
shines through on the final song, the title track. The song
Old Money
is far and away Rodriguez's best song as a solo musician, combining clarity, definition, and an atmosphere that draws the listener into his guitar work. Overall, while
Old Money
can be a cacophonous mess, it is the combination of clarity and mayhem which proves that genius is a double-edged sword.
#4:
The Last Shadow Puppets
-
The Age of the Understatement
Had the
Arctic Monkeys
released an album in 2008, it surely would have peaked my top 3. Despite this, Alex Turner's side project is by no means a pushover. Turner and pal Miles Kane experimented with a unique arrangement for this album. In conjunction to a 3-piece band,
The Last Shadow Puppets
employ a 22-piece orchestra led by Owen Pallett (The Arcade Fire, Beirut). The result is a truly grandiose experience for those used to the simple riffs and guitars of Turner's Monkeys. The first song, and title track, is a driving victorious melody lead by the Pallett's orchestra. The most polished track remains the bass-driven
My Mistakes Were Made for You
. In contrast, the final song on the album,
The Time Has Come Again
, features only vocals and an acoustic guitar. All the while, Turner's punchy observant lyrics pepper each song with bite and relevance. The defining nature of this album is not it's orchestra or big production, but the premise.
The Age of the Understatement
cements Alex Turner as one of the premier songwriters of our time, whose credibility stands up to his hype and popularity. Indeed, all the disbelievers' "faces seem to need a slap."
#3:
Foals
-
Antidotes
Like their American counterparts at #10,
Foals
specialize in dance-beat exploitation. Nearly every song, at one point or another, features drum-bass syncopation to drive the song forward. The difference between
Foals
and
Ra Ra Riot
is in the implementation and maturity of their songs. While both
Antidotes
and
The Rhumb Line
are debuts,
Antidotes
proposes a much more focused sound. Nearly every track contains Yannis Philippakis' quirky, nearly-unintelligible vocals juxtaposed against sparky, bright guitars, climbing basslines, subtle keyboard accents, and unrelenting drum beats. Antidotes' main success streams from its manipulation of its environment. On
Red Socks Pugie
and
Olympic Airways
, the guitars and keys conjure an echoing texture similar to the sounds of a cave or atop a mountain peak. This technique is developed further in
Two Steps Twice
, resulting in a blazing fast dance beat bound to tear up the dancefloor. In
Tron
, arguably the album's best song, keyboard builds into guitar which builds upon bass and drum, resulting in a fantastic buildup of energy and tension unlike any other song on the album. The album's only weaknesses are
The French Open
and
Electric Bloom
, two songs that never really reach their full tension or capacity in order to leave any significant impact upon the listener. With these observances in mind, the beauty of
Antidotes
is obvious.
Antidotes
' songs swell with depth and ambiance, creating an atmosphere unlike any other indie band of our time.
#2:
The Kooks
-
Konk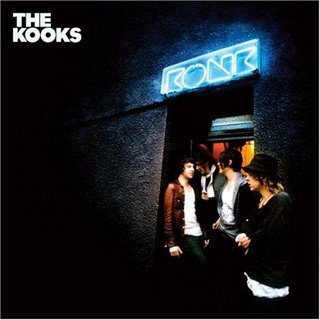 Chords, chords, chords. Such a simple premise, but so well executed. On
The Kooks
sophomore album, Luke Pritchard's rhythm once again forms the basis of each song. The result is overwhelmingly positive.
Gap
and
Sway
, are crowd favorites driven by strong chords, supportive lead, intelligent bass and tasteful drumming. The development, though, is what sets this album apart. While
The Kooks
have avowed to only write love songs, the overall quality of Pritchard's lyrics has improved. The best example of improved songwriting is the first track,
See the Sun
. The lyrics show great signs of improvement in rhyming and metaphor, and the initial chord progression is simply one of the most satisfying moments of any album this year.
The Kooks
thrive under this new environment and employ varying song structures, such as the acoustic-and-drums
One Last Time
. While Konk contains a few typical sappy numbers (
Love It All
,
Shine On
), it overall maintains a serious note. While for some this album may appear mediocre or only a marginal improvement, it is this album's nostalgia that elevates this album to my #2 spot. The album conjures images of high school senior year: the memories of friends, places, and times that cannot be replicated. While
Konk
's love songs may be aimed at some arbitrary long-gone woman, to me the songs are a love for what was - what was had. Times go, and everything changes, and that is to be expected and greeted with open arms. But sometimes, and only sometimes, its good to reminisce.
Konk
not only opens those closed doors of time, but provides a small way to look back and say, Do You Wanna?
#1:
The Mars Volta
-
The Bedlam in Goliath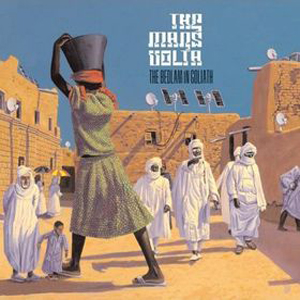 Now, was this even a surprise? My favorite band, honoring the top position of 2008? It's not so simple. The dynamic of this band and the songwriting are unparalleled to any album previously listed.
The Mars Volta
is the only band on this list that has consistently re-invented itself from album to album, while still maintaining some sort of homage to their past.
Omar Rodriguez
, guitarist and mastermind behind
The Mars Volta
, graces my list twice for his sheer persistence and ability to keep an audience's attention from one work to the next. The most recent Volta album is born of a Ouija board-turned-spiritual-terminal that inhibited the band's ability to function and compose music. However strange the story may seem, the resulting album reflects its resistant birth. The chief reason, thus for TBIG's placement at #1 is its relevance to society today - whether intentional or not. TBIG is an amalgam of tight music writing and organized chaos, tearing through its 75+ minutes of material. From start to finish, the album rages through each song.
Aberinkula
,
Askepios
,
Tourniquet Man
, and
Cavalettas
seem to ramble at times, making little to no sense - musically or lyrically. Other songs such as
Goliath
,
Ouroborous
, and
Conjugal Burns
almost burst at the seams with energy and tension. The only moment of respite is
Soothsayer
, the 9+ minute opus. Here, the listener can digest the album: the subtle, haunting instrumentation of strings, background noise from Jerusalem, and clear crisp guitar and vocal work all provide a simultaneously eerie and comforting atmosphere. After listening to
The Bedlam in Goliath
, one begins to understand its meaning. TBIG parallels our current political and socioeconomic situation: the tumbling economy, deteriorating foreign relations, increased hostility from terrorists, and personal insecurity. Whether or not
The Mars Volta
realizes the meaning of this creation, they have crafted an album typifying the chaos and detriment 21st century life has upon our world. A cacophonous masterpiece,
The Bedlam in Goliath
may not be the best album by
The Mars Volta,
but it is certainly one of the most relevant to our world today.
Honorable Mentions
One Day as a Lion
-
One Day As A Lion EP
An unusual combination of Zach de la Rocha (Rage Against the Machine) and Jon Theodore (The Mars Volta) as a political rap/rock duo. One of the most refreshing EPs of 2008.
My Morning Jacket
-
Evil Urges
The follow-up to one of my favorite albums of 2005, Z, Evil Urges is another improvement on the MMJ front.
Dishonorable Mentions
Vampire Weekend
-
Vampire Weekend
Sorry guys, I just could not get into this quartet from Columbia University. I found the songs to be too airy, and felt the songs never really made a point. Maybe I'll get into it some day, but I don't anticipate that anytime soon.
Oasis
-
Dig Out Your Soul
Overproduced, shaky songwriting, and overall poor coordination. Evidence of a band that should have quit while they were ahead. Snide comments and superiority complexes are only entertaining for a while. See entry #8 for more information.
Commenti