RSS
Condividi
Ott 30 2009, 20:50
Bit slow off the mark this time around, so apologies/bad luck to those who miss it.
rage is an Australian music video show. New videos are shown on Friday night. A guest artist hosts the show on Saturday night with a play list of their own. This week, Lamb of God are in the house.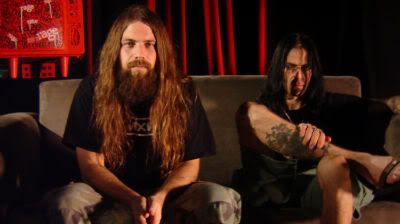 edit: Randy's wearing a
Samhain
shirt. Ultra respect to him.
Playlist:
Gojira
-
To Sirius
Napalm Death
-
Scum
Children of Bodom
-
In Your Face
System of a Down
-
Sugar
Bad Brains
-
I Against I
Hatebreed
-
I Will Be Heard
Madball
-
Heavenhell
Haste
-
Stutter
Descendents
-
I'm the One
The Sisters of Mercy
-
Dominion/Mother Russia
High on Fire
-
Devilution
Big Black
-
Jordan Minnesota
(live)
Hard-Ons
-
She's A Dish
The Jesus Lizard
-
Puss
The Birthday Party
-
Release the Bats
(live)
Radiohead
-
The National Anthem
(live)
Soundgarden
-
Jesus Christ Pose
Screaming Trees
-
Nearly Lost You
Alice in Chains
-
Bleed the Freak
Sonic Youth
-
Sugar Kane
Megadeth
-
Wake Up Dead
Cult of Luna
-
The Watchtower
Led Zeppelin
-
Communication Breakdown
The Black Crowes
-
Kickin' My Heart Around
The Jam
-
That's Entertainment
Talking Heads
-
Once in a Lifetime
The Clash
-
Radio Clash
Stevie Ray Vaughan
-
Cold Shot
Clipse
-
Grindin'
Deltron 3030
-
Virus
DJ Shadow
-
Midnight in a Perfect World
Public Enemy
-
Brothers Gonna Work It Out
Jay-Z
-
99 Problems
N*E*R*D
-
Lapdance
N*E*R*D
-
Rock Star
Outkast
-
Player's Ball
Lamb of God -
As The Palaces Burn
Lamb of God -
Redneck
Lamb of God -
Walk With Me In Hell
Lamb of God -
Set to Fail
Commenti