Zlabathorr
Diario
→

BRUTALLY DECEASED "Dead Lovers' Guide" – vinyl edition out! Album available for free…

RSS
Condividi
Apr 1 2012, 14:39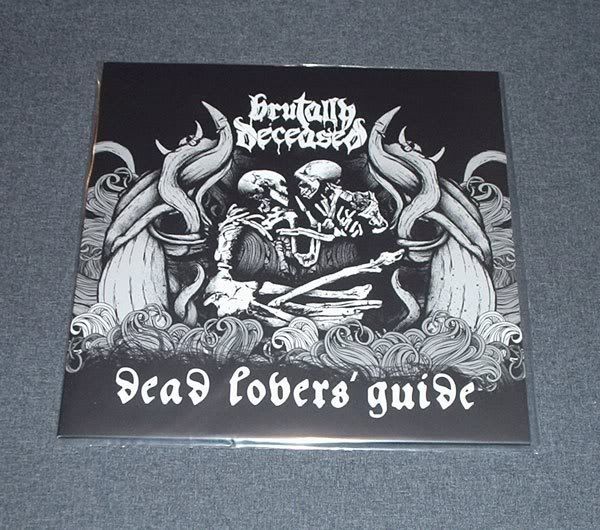 BRUTALLY DECEASED kick into 2012 with a vinyl release of 's "Dead Lovers' Guide" album. Originally released on CD via Lavadome 17 months ago, the album represents an immense death metal outburst in the best, old school Swedish tradition.
Aside of all expectations, the material on "Dead Lovers' Guide" has received great responses from fans and metal media from all over the world. Many thanks to you all.
Prepare to embrace more of the old school tones coming with this vinyl release.
Lustful Sodomy In The House Of God
The vinyl edition – matt laminated cover, matt coated sleeve, inside black prints, 140g wax – is limited to 500 copies (100 pcs splattered vinyl, 400 pcs white vinyl) and can be obtained for €12 + postage from Lavadome store:
http://store.lavadome.org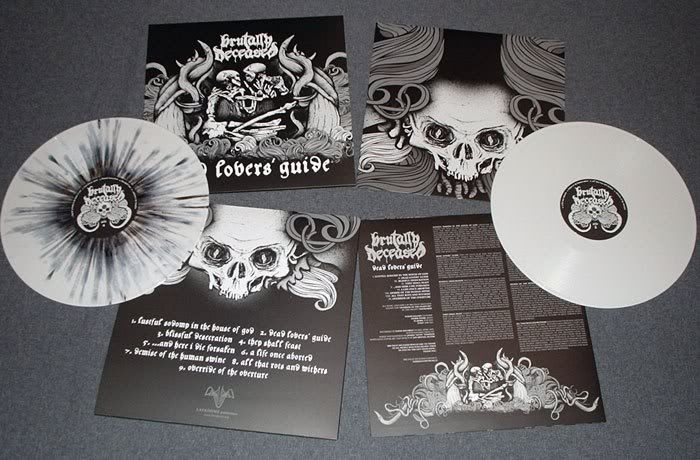 More pictures can be viewed at following link:
photobucket.com/vinylbd
For the very first and also last time, the label and the band have also decided to make "Dead Lovers' Guide" available for free download (e-mail required) from their bandcamp sites.
http://lavadome.bandcamp.com/album/dead-lovers-guide
http://brutallydeceased.bandcamp.com
Thanks for your attention! Keep the old school death metal ball rolling!
Zlababa
http://www.facebook.com/brutallydeceased
www.lavadome.org
http://www.facebook.com/lavadome
Here are some of the reviews Dead Lovers' Guide got over the past months:
These fuckers just pound the living shit out of your face, body, soul and complete BEING! Songs like "Lustful Sodomy in the House of God" and the title track just pulverize the ears. ESSENTIAL! GET IT NOW!!!
– Metal Maniacs –
www.metalmaniacs.com
"Dead Lovers' Guide" is a superb tribute to the beloved works of the Swedish greats.
– Blabbermouth.net
It's got just about everything you could want in a release aimed at capturing an older sound.
– Mouth For War –
www.mouthforwar.net
I can clearly say this is the absolute perfect release for any Swedish death metal maniacs out there!
– Pest webzine –
http://pestwebzine.ucoz.com
This is the debut by Brutally Deceased, having not even released a demo, and that makes it just that much more impressive. To have such a full, dense and intense sound in your first attempt is either a lucky fluke or a sign of great skill. Surely the masterful production helped, but it wouldn't have made a difference if the material wasn't powerful.
– My Last Chapter –
www.mylastchapter.net
What makes BD special is that they speed up pretty often, deliver it tight as fuck...
– Mystical Music –
www.mystical-music.de
In terms of execution, Brutally Deceased is the best old-school death metal tribute act I have heard. What Dead Congregation is to Incantation, Brutally Deceased is to Entombed, Grave and Dismember, only more so. If you have room for one more throw-back death metal album in your collection, make it Dead Lovers' Guide.
– Metal Review –
www.metalreview.com
Notably early Into the Grave and You'll Never See Grave with a hint of Nihilist; raw, with a super down tuned Sunlight buzz, an emphasis on more simple blasting riffs and grooves and some very deep, gruff vocals. The quartet obviously knows the reference material inside and out playing their trade with a simple energy and effective sense of balance between groove and cavernous blasting. RECOMMENDED!
– Teeth Of The Divine –
www.teethofthedivine.com
The songs are lightning quick, well composed, and actually very digestible!
– The Metal Register –
www.themetalregister.com
Many new bands attempt to play 'old-school' Swedish Death Metal but fail miserably, however Brutally Deceased excels in this department very nicely and created 33 minutes of retro-DM that fans of the genre will love.
– Infernal Masquerade –
www.infernalmasquerade.com
DEAD LOVERS' GUIDE is a classic 33 minutes of brutality. They don't really let up for one minute. Well executed, well played, well delivered, Brutally Deceased have a lot of potential.
– Metal Rules –
www.metal-rules.com
It's an up-front tribute to a particular style of metal displayed through some ingeniously constructed songs that generally run rough-shod over your skull at a hot clip, but at just the right moments drop down into sludgy breakdowns or jump sideways into head-snapping rock beats.
– No Clean Singing –
www.nocleansinging.com
It has all elements you'd need in an old school death metal band, it's all there and that is something that not every band can achieve.
– Tyrant Metal webzine –
http://tyrantwebmetal.blogspot.com
Yes, Brutally Deceased will come under fire like so many other bands for their utter lack of originality, and I myself have found myself growing tired of such releases, but Dead Lovers' Guide is so unapologetic in 'getting it right' that I've naught but admiration for what they've accomplished with it. Clearly the band is in love with the tone and structure here, and it shows in the final product.
– From The Dust Returned – autothrall.blogspot.com
Refreshingly uncomplicated and delivered in such a way that it rises above mediocrity.
– Lords Of Metal –
www.lordsofmetal.nl
They have captured what was so great about the Swedish bands spawned during the late eighties, early nineties. That thick, crunchy, guitar sound, the heavy, at times almost Punk-riffing, combined with those all important mournful melodic moments, the insane drumming, the deep guttural vocal assaults, and obscure leads.
– Minacious zine –
www.minacious.org
Commenti accettati
Cannibal Corpse
,
Old School Death Metal
,
Heaving Earth
,
Brutal Death Metal Community
,
True Metal Fans
,
Death Metal Kingdom
,
Death Metal, Grindcore, Goregrind, Cybergrind
,
I Still Buy METAL CDs
,
Altar of the Metal Gods
,
Obituary
,
Death Metal Corner
,
The Extreme Metal Tribe
,
Fans of Swedish Metal
,
Metal-Headz !
,
Swedish Death Metal
,
Death Metal uncut
,
Death Metal Owns Me
Commenti in sospeso
Extreme Death Metal
,
Real Men Have Long Hair
,
Metal-Archives
,
Sweden Fans
,
Alternative punk! (Dis, Crust, D-Beat, Anarcho)
,
Death Metal for all
,
in d-beat we crust
,
Death Metal is not soulless wank!
,
New Old School Death Metal
,
Satanic Death Metal
,
Entombed
,
Death Metal - Only the True!
,
Transcend webzine
Commenti