Edgar Van der Ghast, 24, GuatemalaUltimo accesso: Febbraio 2013
1

0

4

2

8

ascolti dal 27 Set 2010
659 brani preferiti | 473 messaggi nei forum | 1 playlist |

88 messaggi in bacheca
Aggiorna |


Feed
| | | | | |
| --- | --- | --- | --- | --- |
| 1 | | | | |
| 2 | | | | |
| 3 | | | | |
| 4 | | | | |
| 5 | | | | |
| 6 | | | | |
| 7 | | | | |
| 8 | | | | |
| 9 | | | | |
| 10 | | | | |
| 11 | | | | |
| 12 | | | | |
| 13 | | | | |
| 14 | | | | |
| 15 | | | | |

Feed
| | | | | | |
| --- | --- | --- | --- | --- | --- |
| 1 | | | | | |
| 2 | | | | | |
| 3 | | | | | |
| 3 | | | | | |
| 5 | | | | | |
| 5 | | | | | |
| 7 | | | | | |
| 8 | | | | | |
| 8 | | | | | |
| 10 | | | | | |
| 10 | | | | | |
| 10 | | | | | |
| 10 | | | | | |
| 14 | | | | | |
| 14 | | | | | |
Descrizione
Anarchist!! with a big love for good old classic Metal, mostly made in the 70's-80's, I believe that any past time was better... because it really was, at least musically, I don't like the over-elaborated, too messed-up things often made since the end of the glorious Twentieth Century.
Love: Fast, flashy guitar solos or melodic but well made ones, NWOBHM style riffin' n' bass playin' style, mid to hig pitched vocals, old school death growls, consistent and hard hitted drums, good but not excesive keyboards, maybe some piano in a ballad or another, some acoustic or clean guitar in certain songs, mostly songs in english as well as songs made in cool languages, some good 'ol punk and anarcho punk music & attitude.
HATE: PSYCO, majority of opera-like stuff (unless it's Queen or some other exceptions), male screeching and female singin' opera, sad/depressive stuff overall, 'Black Metal', 'NS' stuff, completely acoustic-driven songs, folk instruments playing folk stuff (violin is cool playing nice melodies), most spanish power metal, rap stuff.
What Kind of Metalhead are You?
Your Result:
Heavy Metalhead
You love the old, old school. When thing's were simpler and Birmingham was the centre of the world.
You're favourite bands may include Saxon, Iron Maiden, Judas Priest, Witchfinder General and Mercyful Fate.
Result Breakdown:
86% Heavy Metalhead
79% Thrasher
70% Power Metalhead
57% Prog Metalhead
44% Death Metalhead
31% Black Metalhead
7% Poser
Quiz Created on GoTo Quiz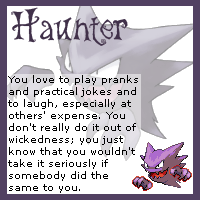 vanderghast's top albums (overall)
1. Alice Cooper - The definitive (76)
2. Dokken - Breaking the Chains (72)
3. Lordi - Get Heavy (68)
4. Osmi Putnik - Glasno, Glasnije (64)
5. Alice Cooper - Trash (60)
6. Judas Priest - Defenders Of The Faith [Remastered] (55)
7. Crashdïet - Rest in Sleaze (53)
8. Ratt - Out of the Cellar (51)
9. Gorky Park - Gorky Park (51)
10. Accept - Metal Heart (48)
Attività recenti