cześć, jestem Tomek, 20, Maschio, PoloniaUltimo accesso: ieri sera
5

2

4

4

9

ascolti dal 18 Ago 2009
147 brani preferiti | 842 messaggi nei forum | 0 playlist |

188 messaggi in bacheca
Aggiorna |


Feed
| | | | | |
| --- | --- | --- | --- | --- |
| 1 | | | | |
| 2 | | | | |
| 3 | | | | |
| 4 | | | | |
| 5 | | | | |
| 6 | | | | |
| 7 | | | | |
| 8 | | | | |
| 9 | | | | |
| 10 | | | | |
| 11 | | | | |
| 12 | | | | |
| 13 | | | | |
| 13 | | | | |
| 15 | | | | |
| 16 | | | | |
| 17 | | | | |
| 18 | | | | |
| 19 | | | | |
| 20 | | | | |
| 21 | | | | |
| 22 | | | | |
| 23 | | | | |
| 24 | | | | |
| 25 | | | | |
| 26 | | | | |
| 27 | | | | |
| 28 | | | | |
| 29 | | | | |
| 29 | | | | |
| 31 | | | | |
| 32 | | | | |
| 32 | | | | |
| 34 | | | | |
| 35 | | | | |
| 36 | | | | |
| 37 | | | | |
| 38 | | | | |
| 39 | | | | |
| 39 | | | | |
| 41 | | | | |
| 42 | | | | |
| 43 | | | | |
| 44 | | | | |
| 45 | | | | |
| 46 | | | | |
| 47 | | | | |
| 48 | | | | |
| 49 | | | | |
| 50 | | | | |

Feed
Descrizione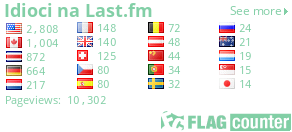 LADY BANG BANG
OH, MY SECRET LOVER!
Walking by myself
Down avenues that reek of time to kill
I love you
+
want
the best
for you
…and at once I knew I was not
magnificent
Why do you have to see your friends so often?
Are they more important than me?
You spend so much time on your computer,
but You shouldn't cause your eyes are getting red!
Or maybe it's the... whatever.
Are you really going to eat that pepperoni pizza?
It looks
SO GREASY
.
And your bathroom? It's worse than disgusting!
You don't believe in monogamy
I'm not jealous!
Scarlett, will You marry me?
If half of what they say is true
Look at me
When
I
ROCK
WITH
YOU
I don't believe in happenstance
So you're gonna give me
YOUR
LAST
DANCE