Stephen, Maschio, Stati UnitiUltimo accesso: 8 ore fa
1

8

0

0

0

5

ascolti dal 8 Gen 2008
225 brani preferiti | 161 messaggi nei forum | 1 playlist |

287 messaggi in bacheca
Aggiorna |


Feed
| | | | | |
| --- | --- | --- | --- | --- |
| 1 | | | | |
| 2 | | | | |
| 3 | | | | |
| 4 | | | | |
| 5 | | | | |
| 6 | | | | |
| 7 | | | | |
| 8 | | | | |
| 9 | | | | |
| 10 | | | | |
| 11 | | | | |
| 12 | | | | |
| 13 | | | | |
| 13 | | | | |
| 15 | | | | |

Feed
| | | | | | |
| --- | --- | --- | --- | --- | --- |
| 1 | | | | | |
| 2 | | | | | |
| 3 | | | | | |
| 4 | | | | | |
| 4 | | | | | |
| 4 | | | | | |
| 7 | | | | | |
| 7 | | | | | |
| 9 | | | | | |
| 9 | | | | | |
| 9 | | | | | |
| 9 | | | | | |
| 9 | | | | | |
| 9 | | | | | |
| 15 | | | | | |
Descrizione

Concert of Birds by Frans Snyders
The Notes of the Birds
(excerpt)
by Isaac McLellan (1806-1899)
And now would'st thou O man! delight the ear
With earth's delicious sounds, or charm the eye
With beautiful creations? Then pass forth
And find them midst those many-colored birds
That fill the glowing woods. The richest hues
Lie in their splendid plumage, and their tones
Are sweeter than the music of the lute,
Or the harp's melody, or the notes that gush
So thrillingly from beauty's ruby lip.
E lucevan le stelle
by William Matthews (1942-1997)
And the stars shone, and the earth unstoppered
its perfumes, the garden gate scrinched
open, footsteps lisped along the path
and they were hers, and she was mine.
And my hand shook the more slowly
I unwrapped and dawdlier I kissed her,
and her aromas rose, and the hour fled,
which is the way with hours.
And I've unveiled myself of any hope,
and death's steps rasp along the path,
and, like any star, I have nothing
to burn but the life I love.
Girl Playing Violin (artist unknown)
Violin
by Sheila Black
You must use the body - its curves,
its hollows, the spring of the sound, which
brings back what is absent, what has
been and is now gone, fading. Cat-gut,
fret, the busy machinery of longing,
which takes its strength from the
presence of absence, the body's darkness,
the wood carved out, thinned and
made to flex. There is a pain at the
source of it - so easily broken, this tree
without a heart, the sap dried to amber
patina. Only in the sound can you
hear it move, the veins in the blood of
the body that is no more. The bow pulled
along the taut strings, a pitch that
is all but unbearable.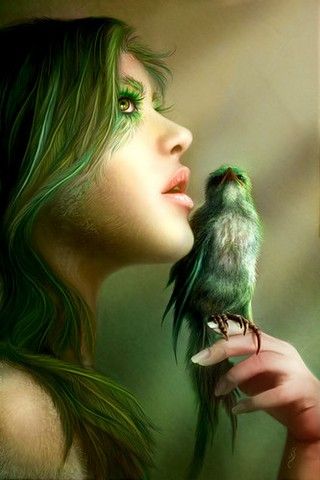 title and artist unknown
Humming Bird Woman
by Carl Sandburg (1878-1967)
from Smoke and Steel, 1920
WHY should I be wondering
How you would look in black velvet and yellow?
in orange and green?
I who cannot remember whether it was a dash of blue
Or a whirr of red under your willow throat—
Why do I wonder how you would look in humming-bird feathers?
My short and long tail are:
Generated on January 3, 2013
Attività recenti