Ltd edition, 20, Maschio, FinlandiaUltimo accesso: settimana scorsa
5

9

8

3

8

ascolti dal 23 Mar 2007
2.151 brani preferiti | 6 messaggi nei forum | 0 playlist |

48 messaggi in bacheca
Aggiorna |


Feed
| | | | | |
| --- | --- | --- | --- | --- |
| 1 | | | | |
| 2 | | | | |
| 3 | | | | |
| 4 | | | | |
| 4 | | | | |
| 6 | | | | |
| 6 | | | | |
| 8 | | | | |
| 9 | | | | |
| 10 | | | | |
| 11 | | | | |
| 12 | | | | |
| 12 | | | | |
| 14 | | | | |
| 15 | | | | |
| 16 | | | | |
| 17 | | | | |
| 18 | | | | |
| 18 | | | | |
| 18 | | | | |
| 18 | | | | |
| 22 | | | | |
| 22 | | | | |
| 24 | | | | |
| 24 | | | | |
| 26 | | | | |
| 27 | | | | |
| 28 | | | | |
| 28 | | | | |
| 28 | | | | |
| 28 | | | | |
| 28 | | | | |
| 33 | | | | |
| 33 | | | | |
| 33 | | | | |
| 33 | | | | |
| 33 | | | | |
| 38 | | | | |
| 38 | | | | |
| 40 | | | | |
| 40 | | | | |
| 40 | | | | |
| 40 | | | | |
| 40 | | | | |
| 45 | | | | |
| 45 | | | | |
| 45 | | | | |
| 45 | | | | |
| 45 | | | | |
| 45 | | | | |

Feed
| | | | | | |
| --- | --- | --- | --- | --- | --- |
| 1 | | | | | |
| 1 | | | | | |
| 3 | | | | | |
| 4 | | | | | |
| 4 | | | | | |
| 6 | | | | | |
| 7 | | | | | |
| 8 | | | | | |
| 8 | | | | | |
| 8 | | | | | |
| 11 | | | | | |
| 12 | | | | | |
| 12 | | | | | |
| 14 | | | | | |
| 14 | | | | | |
| 16 | | | | | |
| 17 | | | | | |
| 17 | | | | | |
| 17 | | | | | |
| 20 | | | | | |
| 20 | | | | | |
| 20 | | | | | |
| 20 | | | | | |
| 20 | | | | | |
| 20 | | | | | |
| 26 | | | | | |
| 26 | | | | | |
| 26 | | | | | |
| 26 | | | | | |
| 30 | | | | | |
| 30 | | | | | |
| 30 | | | | | |
| 30 | | | | | |
| 30 | | | | | |
| 30 | | | | | |
| 30 | | | | | |
| 37 | | | | | |
| 37 | | | | | |
| 37 | | | | | |
| 37 | | | | | |
| 37 | | | | | |
| 42 | | | | | |
| 42 | | | | | |
| 42 | | | | | |
| 45 | | | | | |
| 45 | | | | | |
| 45 | | | | | |
| 45 | | | | | |
| 45 | | | | | |
| 45 | | | | | |
Descrizione
Bizarre shit!
https://soundcloud.com/circle-of-shit
Lady Gaga get out of my cunt
Minä revin aivoni irti ja heitän ne kauas pois,
Sukellan syvälle paniikin mereen ja synnyn uudelleen.
Lohtua tuovat laulujen säkeet tutut ja turvalliset,
Mut minä olen vaarojen lapsi ja luovutan lohdun ystävilleni.
Mitä se mulle kuuluu, mitä mä teen?
We are no ordinary type of group
We are no humble pop musicians
We don't seduce with melodies
And we're not here to please you
We have no answers to your questions
Yet we can question your demands
We don't intend to save your souls
Suspense is our device
We are time
From moses to muhammad,
From kapital to nato
Acropolis to opus dei,
From marx and back to plato
From the golden age to the age of steel,
From the begining to the end
From zero to infinity
The first to the seventh continent
From no solution to revolution,
The red star to star wars
The turning point to the point of no return,
New order to a brave new world
Mechanical to digital
From poltergeist to zeitgeist
From god's will to evil
And from superstars to the anti-christ
We are time
We are the thieves of the lost horizons
We are the mirror of the deadly curse
We shall give you nothing
And in return we'll take even less
But when our beat stops
And the lights go out
And when we leave this place
You will be left here all alone
With a static scream locked on your face
We are time...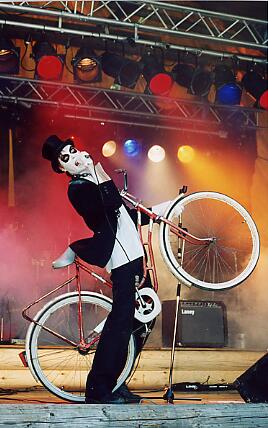 Attività recenti