Lost Soul Wandering the Void, 30, Maschio, Paesi Bassi
haksramblings.blogspot.com/Ultimo accesso: Giugno 2014
1

0

1

2

3

3

ascolti dal 14 Apr 2008
664 brani preferiti | 12 messaggi nei forum | 1 playlist |

2.813 messaggi in bacheca
Aggiorna |


Feed
| | | | | |
| --- | --- | --- | --- | --- |
| 1 | | | | |
| 2 | | | | |
| 3 | | | | |
| 4 | | | | |
| 5 | | | | |
| 6 | | | | |
| 7 | | | | |
| 8 | | | | |
| 9 | | | | |
| 10 | | | | |
| 11 | | | | |
| 12 | | | | |
| 13 | | | | |
| 14 | | | | |
| 15 | | | | |
| 16 | | | | |
| 17 | | | | |
| 18 | | | | |
| 19 | | | | |
| 20 | | | | |
| 21 | | | | |
| 22 | | | | |
| 23 | | | | |
| 24 | | | | |
| 24 | | | | |
| 26 | | | | |
| 27 | | | | |
| 28 | | | | |
| 29 | | | | |
| 30 | | | | |
| 31 | | | | |
| 32 | | | | |
| 33 | | | | |
| 34 | | | | |
| 35 | | | | |
| 36 | | | | |
| 37 | | | | |
| 38 | | | | |
| 39 | | | | |
| 40 | | | | |
| 41 | | | | |
| 42 | | | | |
| 43 | | | | |
| 44 | | | | |
| 45 | | | | |
| 46 | | | | |
| 47 | | | | |
| 48 | | | | |
| 49 | | | | |
| 50 | | | | |

Feed
| | | | | | |
| --- | --- | --- | --- | --- | --- |
| 1 | | | | | |
| 2 | | | | | |
| 3 | | | | | |
| 3 | | | | | |
| 5 | | | | | |
| 6 | | | | | |
| 6 | | | | | |
| 8 | | | | | |
| 9 | | | | | |
| 10 | | | | | |
| 11 | | | | | |
| 12 | | | | | |
| 13 | | | | | |
| 13 | | | | | |
| 15 | | | | | |
| 16 | | | | | |
| 17 | | | | | |
| 17 | | | | | |
| 19 | | | | | |
| 20 | | | | | |
| 20 | | | | | |
| 22 | | | | | |
| 23 | | | | | |
| 23 | | | | | |
| 23 | | | | | |
| 26 | | | | | |
| 27 | | | | | |
| 28 | | | | | |
| 28 | | | | | |
| 28 | | | | | |
Descrizione
Nothing matters.
If metal didn't exist, I wouldn't exist.
"That's the problem with drinking, I thought, as I poured myself a drink. If something bad happens you drink in an attempt to forget; if something good happens you drink in order to celebrate; and if nothing happens you drink to make something happen."
-- Charles Bukowski
"The deepest and most organic death is death in solitude, when even light becomes a principle of death. In such moments you will be severed from life, from love, smiles, friends and even from death. And you will ask yourself if there is anything besides the nothingness of the world and your own nothingness."
-- Emil Cioran
"Those who commit suicide have a pathological attraction for death, which they try to resist consciously but which they cannot totally suppress. Life in them is so unbalanced that no rational argument can set it right. There are no rational suicides, following to a logical conclusion a meditation on nothingness and the futility of life. To meditate on death and on similar dangerous topics is to deal life a mortal blow, for the mind contemplating so many agonising questions must already have been wounded. No one commits suicide for external reasons, only because of inner disequilibrium. To be obsessed with suicide there must be such inner agony that all self-imposed barriers break and nothing is left but a catastrophic dizziness, a strange and powerful whirlwind. Essential to suicide is the belief that you can no longer live, not because of a whim, but because of a terrifying inner tragedy."
-- Emil Cioran
"The feeling for the irreversible and the irrevocable, which always accompanies the awareness of agony, can achieve a painful acceptance mixed with fear, but there is no such thing as love or sympathy for death. The art of dying cannot be learned, because there is no technique, there are no rules. The irrevocability of agony is experienced by each individual alone, through infinite and intense suffering."
-- Emil Cioran
"Once you've negated everything and done away completely with all forms of existence, once nothing can survive in the path of your negativity, who can you turn to, laughing or crying, if not your own self? Once you have witnessed the fall of the entire world, there is nothing left but for you to fall too."
-- Emil Cioran
"To survive moments of extreme organic tension is not a merit but a mark of imbecility. Survive, only to return to the banality of existence? I can't understand why people do not commit suicide during orgasm, why they don't think survival commonplace and vulgar. Such an intense though brief quiver should reduce us to ashes in seconds. But if it does not kill us, we should kill ourselves . . ."
-- Emil Cioran
"As far as I am concerned, I resign from humanity. I no longer want to be, nor can still be, a man. What should I do? Work for a social and political system, make a girl miserable? Hunt for weaknesses in philosophical systems, fight for moral and aesthetic ideals? It's all too little. I renounce my humanity even though I may find myself alone. But am I not already alone in this world from which I no longer expect anything?"
-- Emil Cioran
"I was a man who thrived on solitude; without it I was like another man without food and water. Each day without solitude weakened me. I took no pride in my solitude; but I was dependent on it. The darkness of the room was like sunlight to me."
-- Charles Bukowski
"No one recovers from the disease of being born, a deadly wound if there ever was one."
-- Emil Cioran
"Death is not the greatest loss in life. The greatest loss is what dies inside us while we live."
-- Norman Cousins
"There is in me the bitter taste of death, and nothingness is burning within me like a strong poison. How could I still speak of beauty, and make aesthetic remarks, when I am so sad, sad unto death?"
-- Emil Cioran
"My own affairs were as bad, as dismal, as the day I had been born. The only difference was that now I could drink now and then, though never often enough. Drink was the only thing that kept a man from feeling forever stunned and useless. Everything else just kept picking and picking, hacking away. And nothing was interesting, nothing. The people were restrictive and careful, all alike. And I've got to live with these fuckers for the rest of my life, I thought. God, they all had assholes and sexual organs and their mouths and their armpits. They shit and they chattered and they were dull as horse dung. The girls looked good from a distance, the sun shining through their dresses, their hair. But get up close and listen to their minds running out of their mouths, you felt like digging in under a hill and hiding out with a tommy-gun. I would never be able to be happy, to get married, I could never have children. Hell, I couldn't even get a job as a dish-washer."
-- Charles Bukowski
"Why do men insist on achieving something? Would it not be better if they stood still under the sun in calm and silent immobility? What is there to accomplish? Why so much effort and ambition? Man has forgotten the meaning of silence."
-- Emil Cioran
"I could see the road ahead of me. I was poor and I was going to stay poor. But I didn't particularly want money. I didn't know what I wanted. Yes, I did. I wanted someplace to hide out, someplace where one didn't have to do anything. The thought of being something didn't only appall me, it sickened me. The thought of being a lawyer or a councilman or an engineer, anything like that, seemed impossible to me. To get married, to have children, to get trapped in the family structure. To go someplace to work every day and return. It was impossible. To do things, to be part of family picnics, Christmas, the 4th of July, Labor Day, Mother's Day . . . was a man born just to endure those things and then die? I would rather be a dishwasher, return alone to a tiny room and drink myself to sleep."
-- Charles Bukowski
"Man starts over again every day, in spite of all he knows, against all he knows."
-- Emil Cioran
"I couldn't get myself to read the want ads. The thought of sitting in front of a man behind a desk and telling him that I wanted a job, that I was qualified for a job, was too much for me. Frankly, I was horrified by life, at what a man had to do simply in order to eat, sleep, and keep himself clothed. So I stayed in bed and drank. When you drank the world was still out there, but for the moment it didn't have you by the throat."
-- Charles Bukowski
"How I wish I did not know anything about myself and this world!"
-- Emil Cioran
"Most of the world was mad. And the part that wasn't mad was angry. And the part that wasn't mad or angry was just stupid. I had no chance. I had no choice. Just hang on and wait for the end. It was hard work. It was the hardest work imaginable."
-- Charles Bukowski
"Life is impossible at high temperatures. That's why I have reached the conclusion that anguished people, whose inner dynamism is so intense that it reaches paroxysm, and who cannot accept normal temperatures, are doomed to fall. The destruction of those who live unusual lives is an aspect of life's demonism, but it is also an aspect of its insufficiency, which explains why life is the privilege of mediocre people. Only mediocrities live at life's normal temperature; the others are consumed at temperatures at which life cannot endure, at which they can barely breathe, already one foot beyond life."
-- Emil Cioran
"Never get out of bed before noon."
-- Charles Bukowski
"Hope in reality is the worst of all evils because it prolongs the torments of man."
-- Friedrich Nietzsche
"Death is something disgusting, the only obsession which cannot become voluptuous. Even when you want to die, you do it with an implicit regret for your own desire.
I want to die, but I am sorry that I want to die.
This is the feeling experienced by those who abandon themselves to nothingness. The most perverse feeling is the feeling of death."
-- Emil Cioran
"Everybody was screwed. There were no winners. There were only apparent winners. We were all chasing after a lot of nothing. Day after day. Survival seemed the only necessity. That didn't seem enough. Not when Lady Death is waiting. It drove me crazy when I thought about it."
-- Charles Bukowski
"Forgetfulness is the only salvation. I would like to forget everything; to forget myself and to forget the world."
-- Emil Cioran
"At rare times I'm an artist; at most other times I'm nothing."
-- Charles Bukowski
"The greatest danger, that of losing one's own self, may pass off quietly as if it were nothing; every other loss, that of an arm, a leg, five dollars, a wife, etc., is sure to be noticed."
-- Søren Kierkegaard
"I've lost everything! Flowers are blooming and birds are singing all around me! How distant I am from everything!"
-- Emil Cioran
"I like to pretend I'm alone. Completely alone. Maybe post-apocalypse or plague . . . Whatever. No one left to act normal for. No need to hide who I really am. It would be . . . freeing."
-- Dexter Morgan
"For the man who has cut himself off from life, tragedy is intensely painful because contradictions arise not only inside himself but also between him and the rest of the world."
-- Emil Cioran
"Suffering by nature or chance never seems so painful as suffering inflicted on us by the arbitrary will of another."
-- Arthur Schopenhauer
"Not everybody loses his innocence: therefore not everybody is unhappy."
-- Emil Cioran
"Most people get a fair amount of fun out of their lives, but on balance life is suffering, and only the very young or the very foolish imagine otherwise."
-- George Orwell
"I feel my life cracking within me from too much intensity, from too much disequilibrium. It is like an explosion which cannot be contained, which throws you up in the air along with everything else. At the edge of life you feel that you are no longer master of the life within you, that subjectivity is an illusion, and that uncontrollable forces are seething inside you, evolving with no relation to a personal centre or a definite, individual rhythm. At the edge of life everything is an occasion for death."
-- Emil Cioran
"Loneliness is a sense of being empty, of having nothing, of being extraordinarily uncertain, with no anchorage anywhere. It is not despair, nor hopelessness, but a sense of void, a sense of emptiness and a sense of frustration. It is the sense of real inexhaustible pain, a pain that cannot be covered up, though we do try to cover it up."
-- Jiddu Krishnamurti
"Every man bears with him not only his life but also his death. Life is just a long, drawn-out agony."
-- Emil Cioran
"We all need to escape. The hours are long and need to be filled somehow until our death. And there's just not enough glory and excitement to go around. Things quickly get drab and deadly. We awaken in the morning, kick our feet out from under our sheets, place them on the floor and think, ah, shit, what now?"
-- Charles Bukowski
"Nobody in despair suffers from 'problems,' but from his own inner torment and fire."
-- Emil Cioran
"I hate mankind, for I think myself one of the best of them, and I know how bad I am."
-- Joseph Baretti
"Naïveté is the only road to salvation. But for those who feel and conceive life as a long agony, the question of salvation is a simple one: there is no salvation on their road."
-- Emil Cioran
"It has always seemed strange to me... the things we admire in men, kindness and generosity, openness, honesty, understanding and feeling, are the concomitants of failure in our system. And those traits we detest, sharpness, greed, acquisitiveness, meanness, egotism and self-interest, are the traits of success. And while men admire the quality of the first they love the produce of the second."
-- John Steinbeck
"I do not believe in anything and I have no hope. All forms and expressions that give life its charm seem to me meaningless. I have no feeling either for the future or for the past, while the present seems to me poison."
-- Emil Cioran
"I knew I wasn't entirely sane. I still knew, as I had as a child, that there was something strange about myself. I felt as if I were destined to be a murderer, a bank robber, a saint, a rapist, a monk, a hermit. I needed an isolated place to hide. Skid row was disgusting. The life of the sane, average man was dull, worse than death. There seemed to be no possible alternative. Education also seemed to be a trap. The little education I had allowed myself had made me more suspicious. What were doctors, lawyers, scientists? They were just men who allowed themselves to be deprived of their freedom to think and act as individuals. I went back to my shack and drank . . ."
-- Charles Bukowski
"One of the greatest delusions of the average man is to forget that life is death's prisoner."
-- Emil Cioran
"It is no measure of health to be well adjusted to a profoundly sick society."
-- Jiddu Krishnamurti
"There are questions which, once approached, either isolate you or kill you outright. Afterward you have nothing more to lose."
-- Emil Cioran
"Sanity is not statistical. Being in a minority, even a minority of one, does not make you mad. There is truth and there is untruth, and if you cling to the truth even against the whole world, you are not mad."
-- George Orwell
"The truly awful thing in madness is that we sense a total and irrevocable loss of life while we are still living."
-- Emil Cioran
"The essence of social life is injustice. How, then, should one support any social or political doctrine?"
-- Emil Cioran
"It is because we are all imposters that we endure each other."
-- Emil Cioran
"We are in a state of utter boredom. We have tried so many things, so many sensations, so many amusements, so many experiments, that we have become dull, weary."
-- Jiddu Krishnamurti
"Disjunction from the world through suffering leads to excessive interiorisation and, paradoxically, to such a high level or consciousness that the world, with all its splendours and glooms, becomes exterior and transcendent. Thus deeply sundered from the world, so irredeemably lonely, how can we forget anything? We want to forget what made us suffer. However, through some cruel and paradoxical twist, memories vanish when we want to remember but fix themselves permanently in the mind when we want to forget."
-- Emil Cioran
"That's the whole trouble. You can't ever find a place that's nice and peaceful, because there isn't any. You may think there is, but once you get there, when you're not looking, somebody'll sneak up and write 'Fuck you' right under your nose."
-- J. D. Salinger
"Society is not a disease, it is a disaster. What a stupid miracle that one can live in it."
-- Emil Cioran
"A 'No' uttered from the deepest conviction is better than a 'Yes' merely uttered to please, or worse, to avoid trouble."
-- Mohandas Gandhi
"Forgive me, I guess I am off in the head, but I mean, except for a quickie piece of ass it wouldn't matter to me if all the people in the world died. Yes, I know it's not nice. But I'd be as contented as a snail; it was, after all, the people who had made me unhappy."
-- Charles Bukowski
"When you hate, you don't beg."
-- Charles Bukowski
"When one person suffers from a delusion it is called insanity. When many people suffer from a delusion it is called religion."
-- Robert M. Pirsig
"I am a kind of paranoid in reverse. I suspect people of plotting to make me happy."
-- J. D. Salinger
"There is no greater impotence in all the world like knowing you are right and that the wave of the world is wrong, yet the wave crashes upon you."
-- Norman Mailer
"To be rejected or openly hurt evokes a feeling of anger, but to be betrayed by a false promise from a trusted person arouses a murderous rage."
-- Alexander Lowen
"I wanted a cave in Colorado with three years' worth of foodstuffs and drink. I'd wipe my ass with sand. Anything, anything to stop drowning in this dull, trivial and cowardly existence."
-- Charles Bukowski
"I can picture in my mind a world without war, a world without hate. And I can picture us attacking that world, because they'd never expect it."
-- Jack Handey
"A little knowledge is delightful; a lot, disgusting. The more you know, the less you want to know. He who has not suffered from knowledge has never known anything."
-- Emil Cioran
"The whole problem with the world is that fools and fanatics are always so certain of themselves, and wiser people so full of doubts."
-- Bertrand Russell
"The problem was you had to keep choosing between one evil or another, and no matter what you chose, they sliced a little bit more off you, until there was nothing left. At the age of 25 most people were finished. A whole god-damned nation of assholes driving automobiles, eating, having babies, doing everything in the worst way possible, like voting for the presidential candidates who reminded them most of themselves. I had no interests. I had no interest in anything. I had no idea how I was going to escape. At least the others had some taste for life. They seemed to understand something that I didn't understand. Maybe I was lacking. It was possible. I often felt inferior. I just wanted to get away from them. But there was no place to go."
-- Charles Bukowski
"To live is to suffer, to survive is to find some meaning in the suffering."
-- Friedrich Nietzsche
"For you who no longer possess it, freedom is everything, for us who do, it is merely an illusion."
-- Emil Cioran
"At the innermost core of all loneliness is a deep and powerful yearning for union with one's lost self."
-- Brendan Behan
"Boring damned people. All over the earth. Propagating more boring damned people. What a horror show. The earth swarmed with them."
-- Charles Bukowski
"Nature shows that with the growth of intelligence comes increased capacity for pain."
-- Arthur Schopenhauer
"Better to be a poor servant of a poor master, and to endure anything, rather than think as they do and live after their manner."
-- Plato
"It is not worth an intelligent man's time to be in the majority. By definition, there are already enough people to do that."
-- G.H. Hardy
"I don't make a living, I eke one out. I don't wish to be well off."
-- Emil Cioran
Don't know what to read? Novels with the word 'Rye' in the title are best.
Life is whorable. Do your part! Help destroy humanity.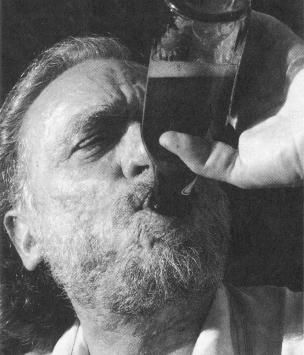 Bukowski.
'My Beerdrunk Soul Is Sadder Than All The Dead Christmas Trees Of The World'