Sneh , 15, Femmina, Stati UnitiUltimo accesso: Domenica pomeriggio
2

9

4

8

ascolti dal 3 Lug 2010 (reimpostato il 5 Lug 2010)
646 brani preferiti | 22 messaggi nei forum | 0 playlist |

36 messaggi in bacheca
Aggiorna |

| | | | | | |
| --- | --- | --- | --- | --- | --- |
| | | George Michael – Cowboys And Angels | | | 8 Dic 13:41 |
| | | George Michael – Kissing a Fool | | | 8 Dic 13:35 |
| | | Aretha Franklin & George Michael – I Knew You Were Waiting (For Me) | | | 8 Dic 13:30 |
| | | Wham! – Wake Me Up Before You Go-Go | | | 8 Dic 13:26 |
| | | Robert the Bruce – Roxanne (Acid Remix) | | | 25 Set 2:04 |
| | | Carter Burwell – Bella's Lullaby | | | 25 Set 2:02 |
| | | George Michael – Careless Whisper | | | 25 Set 1:58 |
| | | Blue October – Into the Ocean | | | 25 Set 1:54 |
| | | Hollywood Undead – This Love, This Hate | | | 25 Set 1:50 |
| | | cornandbeans – Lazy Summer Days | | | 25 Set 1:46 |
| | | Porter Robinson – Vandalism (feat. Amba Shepherd) | | | 25 Set 1:40 |
| | | Demi Lovato – Here We Go Again | | | 25 Set 1:36 |
| | | deadmau5 – Faxing Berlin | | | 25 Set 1:27 |
| | | Bruno Mars – Just the Way You Are | | | 25 Set 1:25 |
| | | Snow Patrol – Just Say Yes | | | 25 Set 1:20 |
| | | Jonas Brothers – Paranoid | | | 24 Set 23:29 |
| | | cornandbeans – Castle Crashers Menu Loop download gratuito | | | 24 Set 23:26 |
| | | Foster the People – Helena Beat | | | 24 Set 23:23 |
| | | Labrinth – Let the Sun Shine | | | 24 Set 23:19 |
| | | Gemini – Intro | | | 24 Set 23:17 |
Visualizza altro

Feed
| | | | | |
| --- | --- | --- | --- | --- |
| 1 | | | | |
| 2 | | | | |
| 3 | | | | |
| 4 | | | | |
| 5 | | | | |
| 6 | | | | |
| 7 | | | | |
| 7 | | | | |
| 9 | | | | |
| 10 | | | | |
| 11 | | | | |
| 12 | | | | |
| 13 | | | | |
| 14 | | | | |
| 15 | | | | |

Feed
| | | | | | |
| --- | --- | --- | --- | --- | --- |
| 1 | | | | | |
| 2 | | | | | |
| 3 | | | | | |
| 4 | | | | | |
| 5 | | | | | |
| 5 | | | | | |
| 7 | | | | | |
| 7 | | | | | |
| 9 | | | | | |
| 9 | | | | | |
| 11 | | | | | |
| 12 | | | | | |
| 13 | | | | | |
| 14 | | | | | |
| 14 | | | | | |
Descrizione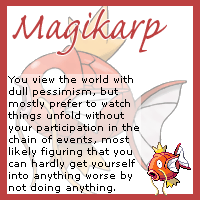 . . . .Hai.
Don't flatter yourself sweetheart, I know what music's what.
I quite frankly couldn't give a porcupine's balls about what you think of my music taste.
I am with a vast variety of musical interests.
Most of what I listen to isn't through last.fm- It's Grooveshark.- therefore you won't see accurate statistics of my recent interests and such.
Follow me on Tumblr-
http://all-thingsrandom.tumblr.com/
Attività recenti