Темный Дракон, 25, Femmina, Trinidad e Tobago
www.youtube.com/user/slaye…Ultimo accesso: settimana scorsa
3

1

4

3

ascolti dal 21 Nov 2010
38 brani preferiti | 266 messaggi nei forum | 1 playlist |

117 messaggi in bacheca
Aggiorna |


Feed
| | | | | |
| --- | --- | --- | --- | --- |
| 1 | | | | |
| 1 | | | | |
| 3 | | | | |
| 4 | | | | |
| 4 | | | | |
| 6 | | | | |
| 6 | | | | |
| 6 | | | | |
| 9 | | | | |
| 9 | | | | |
| 11 | | | | |
| 12 | | | | |
| 13 | | | | |
| 13 | | | | |
| 15 | | | | |
| 16 | | | | |
| 16 | | | | |
| 16 | | | | |
| 16 | | | | |
| 16 | | | | |
| 21 | | | | |
| 21 | | | | |
| 21 | | | | |
| 24 | | | | |
| 24 | | | | |
| 26 | | | | |
| 26 | | | | |
| 26 | | | | |
| 29 | | | | |
| 29 | | | | |

Feed
| | | | | | |
| --- | --- | --- | --- | --- | --- |
| 1 | | | | | |
| 2 | | | | | |
| 2 | | | | | |
| 2 | | | | | |
| 5 | | | | | |
| 5 | | | | | |
| 7 | | | | | |
| 7 | | | | | |
| 7 | | | | | |
| 7 | | | | | |
| 7 | | | | | |
| 7 | | | | | |
| 7 | | | | | |
| 7 | | | | | |
| 7 | | | | | |
| 7 | | | | | |
| 7 | | | | | |
| 7 | | | | | |
| 7 | | | | | |
| 7 | | | | | |
Descrizione
What Kind of Metalhead are You?
Your Result:
Death Metalhead
You love the apocalyptic sound that identifies Death Metal. Whilst your tastes may range from the Thrashy Swedish bands to the Gutteral sounds of Nile or Severe Torture and even Grindcore, despite it being a genre of punk.
Among your favourite bands may be Death, Nocturnus, Carcass, Bolt Thrower, Deicide, Morbid Angel, Dismember and Repulsion.You may still harbour an affection for Thrash, especially Deaththrash.
Result Breakdown:
88% Death Metalhead
62% Thrasher
58% Black Metalhead
51% Heavy Metalhead
42% Power Metalhead
38% Prog Metalhead
14% Poser
You Are a Hunter Soul
You are driven and ambitious - totally self motivated to succeed.
Actively working to achieve what you want, you are skillful in many areas.
You are a natural predator with strong instincts ... and more than a little demanding.
You are creative, energetic, and an extremely powerful force.
An outdoors person, you like animals and relate to them better than people.
You tend to have an explosive personality, but you also have a good sense of humor.
People sometimes see you as arrogant or a know it all.
You tend to be a bit of a loner, though you hate to be alone.
Souls you are most compatible with: Seeker Soul and Peacemaker Soul
What Kind of Soul Are You?
Blogthings: If Quizzes Are Outlawed, Only Outlaws Will Take Quizzes
RachelAn3's top albums (overall)
1. Blood Red Throne - Affiliated With Suffering (14)
2. Veroxity - Ferocious (9)
3. Deed of Grind - Demo '06 (8)
4. Death - Scream Bloody Gore (7)
5. Napalm Death - Scum (7)
6. Propagandhi - How to Clean Everything (6)
7. Anal Cunt - I Like It When You Die (6)
8. Repulsion - Horrified (6)
9. Shemale - 2007 (6)
10. Infernäl Death - Deathcult - The Final Inquisition (6)
blue
blue
Right Brain/ Left Brain Quiz
The higher of these two numbers below indicates which side of your brain has dominance in your life. Realising your right brain/left brain tendancy will help you interact with and to understand others.
Left Brain Dominance:
(16)
Right Brain Dominance:
(16)
Right Brain/ Left Brain Quiz
You May Be a Bit Antisocial...
Antisocial? That may be a bit of an understatement.
You think rules are meant to be broken - and with gusto!
Having no fear, you don't even think about consequences.
But people love you anyway... you've got a boatload of charm.
What Personality Disorder Are You?
Your Inner European is Russian!
Mysterious and exotic.
You've got a great balance of danger and allure.
Who's Your Inner European?
What European Sports Car Are You?
My Results:
Porsche 911 GT3
You are a classy German Porsche with 415 bhp, 0-60 in 4.1 and a top speed of 193 mph, a truly great car!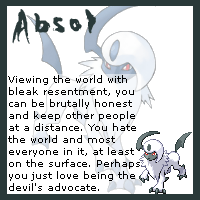 Attività recenti
526

14 Mag 2011

Kov

16 Apr 2011