RSS
Condividi
Apr 29 2008, 20:26
Fri 25 Apr – Bang Face: The Weekender
BANG FACE WEEKENDER has come to a close although in my head it's still going, the last remnants of breakcore and acid funk dribbling out of my earsand my brain is drained of its vital fluids. What a fucking weekend. Seriously amazing! Stunning performances from Kid606, Squarepusher, Venetian Snares, Bogdan Raczynski, Ceephax Acid Crew, Luke Vibert, Beardyman, Vexkiddy and of course Cassetteboy having the crowd in stitches with their hilarious set and even funnier costumes.
More inflatable objects than ravers, glowsticks literally in every nook and cranny you looked, fucking loud horns (and the security ambush that took place wherein the horns were CONFISCATED), pumping gabba hardcore/techno/dub blasting from every chalet, chemical suits and gas masks aplenty, fackin' MENTAL.
Another mad element was most of the artists were staying onsite so I was buying a Solero from the shop and Venetian Snares and Bong-Ra were stood behind me stocking up on commodities, Ceephax Acid Crew drinking beers in the sun.
I hope sincerely to high Heaven that there will be a BANG FACE WEEKENDER 2009 with a bigger bill (is this possible) and even more madness.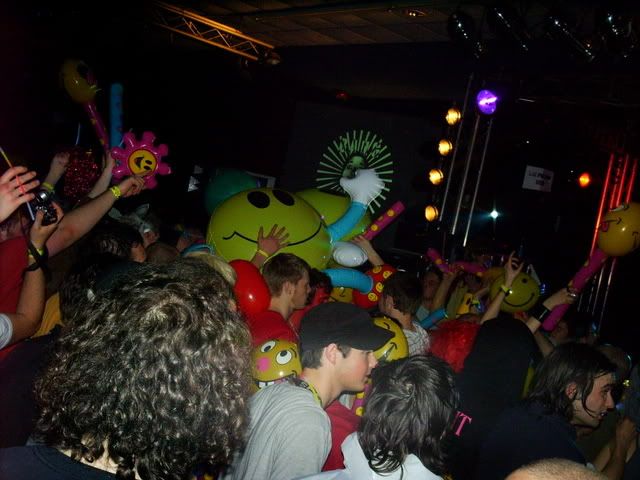 MORE PHOTOS OF BANG FACE WEEKENDER
MORE VIDEOS OF BANG FACE WEEKENDER
Commenti