Michael, 24, Maschio, Stati UnitiUltimo accesso: Lunedì mattina
9

8

3

0

7

ascolti dal 15 Ago 2008
2.505 brani preferiti | 6.525 messaggi nei forum | 0 playlist |

20.408 messaggi in bacheca
Aggiorna |


Feed
| | | | | |
| --- | --- | --- | --- | --- |
| 1 | | | | |
| 2 | | | | |
| 3 | | | | |
| 4 | | | | |
| 5 | | | | |
| 6 | | | | |
| 7 | | | | |
| 8 | | | | |
| 9 | | | | |
| 10 | | | | |
| 11 | | | | |
| 12 | | | | |
| 13 | | | | |
| 14 | | | | |
| 15 | | | | |

Feed
| | | | | | |
| --- | --- | --- | --- | --- | --- |
| 1 | | | | | |
| 2 | | | | | |
| 3 | | | | | |
| 4 | | | | | |
| 5 | | | | | |
| 6 | | | | | |
| 6 | | | | | |
| 8 | | | | | |
| 9 | | | | | |
| 10 | | | | | |
| 10 | | | | | |
| 12 | | | | | |
| 13 | | | | | |
| 14 | | | | | |
| 15 | | | | | |
| 15 | | | | | |
| 17 | | | | | |
| 17 | | | | | |
| 19 | | | | | |
| 20 | | | | | |
| 21 | | | | | |
| 21 | | | | | |
| 23 | | | | | |
| 24 | | | | | |
| 24 | | | | | |
| 26 | | | | | |
| 26 | | | | | |
| 28 | | | | | |
| 29 | | | | | |
| 30 | | | | | |
Descrizione
_________________________________________________________
Ultimate Days of Awesomeness ♥:

7/13/11, 6/7/12, 12/28/12,
2/2/13, 2/17/13, 3/9/13, 3/23/13,
7/11/13, 7/7/14
_________________________________________________________
Just your average 23 year old guy with a vast love of all things music.
I'll always hold a special place for this website in my heart because if it wasn't for last.fm, I wouldn't have met the love of my life,
Emma
. She's my best friend and she knows me better than I know myself. I met her here on October 13th, 2010. We met in person 9 months later on July 13th, 2011 and I had the best two weeks of my life in Finland. I will always cherish those two weeks. I've been back numerous times since and she has come to visit me as well. We've been together for over 3 years now and still going strong :) So thank you, last.fm, for helping me find this amazing person and giving me a new purpose in life. In return, I offer you this cupcake:
Enjoy that cupcake, you've earned it.
Add me if you want, I accept everyone who sends me a request regardless if you speak to me or not, I don't really care. Unless you happen to be a 63 year old man named Benny who sits in front of his computer fapping all day. Then you've got no chance in hell of being accepted so don't even bother trying. I'm on to you, Benny.
_________________________________________________________
Badges/Random Shit No One Cares About:
My eclectic score is currently
89/100
_________________________________________________________
Oh and to all of you random lurkers out there:
If you're going to come to my profile, you could at least say hello. I'm not saying we need to have a conversation, but I'd like the common courtesy of a greeting. I can see when you're on my profile so please don't make me go through the process of wondering why I wasn't good enough for you to grace me with a shout. It's a tiring process that can easily be avoided. But not you, Benny. Don't you dare send a damn thing.
_________________________________________________________
Random user quotation section:
"You just might be the most awesome person I know at the moment." - The wonderfully intriguing Emma (
Emyne
)
"You're so fucking disgusting, Michael." - My pesky Canadian comrade, Erin (
inthecellar
)
"You are the single biggest disappointment I have ever had to face in my life." - Jt (
ArdentePriest
)
"Well, Star Trek is just awesome. Anyone who thinks otherwise is insane." - A very true statement from Maggie (
Zeldadaft96
)
"But like, can't you not help but get a hard-on if you're getting felt up? Because I hear that penises are just kind of like 'oh-ho!' when it gets excited by liek, anything." -The self-titled 'Illustrious' Dana (
LiebeItai
)
"........I'm sorry, I was going to respond but Michael's mention of nearly orgasming over some video game thing has silenced me and potentially scarred me for life." - Anna (
wilderedbird
) expressing her disgust for my alleged statement about almost orgasming whilst holding a 3DS box in my hands >_>
"It is my observation that some degree of laziness is involved in just about every decision that involves MikeCamp." - Jt (
ArdentePriest
)
"I thought they called you that because you were as smooth as a baby's ass? " - Ian (
gregor104
) referring to the reasoning for why I am known to some as 'Mike E. Smooth'
"You has made me all squishy and gooey and dats beeecos you so wuvvvvly ♥" -
Emma
cutely deciding to quote a comic book to convey her feelings towards me :D
"MikeCamp is the coolest mother fucker on the planet"
-
MikeCamp
_________________________________________________________
This is the look she gives before she fucks your shit up.

R.I.P.
_________________________________________________________
Randomness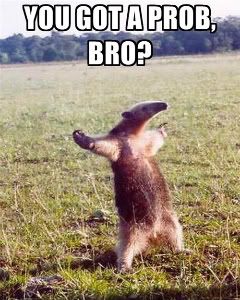 Attività recenti