Maschio, Danimarca
www.last.fm/group/AstronomyUltimo accesso: ieri pomeriggio
7

2

6

2

1

ascolti dal 26 Lug 2007
408 brani preferiti | 1.073 messaggi nei forum | 1 playlist |

813 messaggi in bacheca
Aggiorna |


Feed
| | | | | |
| --- | --- | --- | --- | --- |
| 1 | | | | |
| 2 | | | | |
| 3 | | | | |
| 4 | | | | |
| 5 | | | | |
| 6 | | | | |
| 7 | | | | |
| 8 | | | | |
| 9 | | | | |
| 10 | | | | |
| 11 | | | | |
| 12 | | | | |
| 13 | | | | |
| 14 | | | | |
| 15 | | | | |

Feed
| | | | | | |
| --- | --- | --- | --- | --- | --- |
| 1 | | | | | |
| 2 | | | | | |
| 3 | | | | | |
| 4 | | | | | |
| 5 | | | | | |
| 6 | | | | | |
| 7 | | | | | |
| 8 | | | | | |
| 9 | | | | | |
| 10 | | | | | |
| 11 | | | | | |
| 12 | | | | | |
| 13 | | | | | |
| 14 | | | | | |
| 15 | | | | | |
Descrizione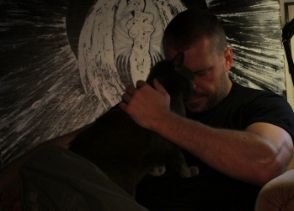 All texts, photos and paintings below are my own :)
Ravenmoonlight
Goodnight, goodnight, sweet Raven moonlight.
Dream of everything under the fold of your wing, this world would not give, but set you in sight, all of this will be yours tonight.
For nor is it lie, an illusion or scheme, what you see and feel, and live in your dream.
Be it glory, love, fright or remorse, where would you find a more reliable source?
Than your own head on its pillow in bed, pondering thoughts of silvery thread.
And think of this before you sleep; What's truly forever yours to keep?
But your thoughts and ideas, emotions and fears, and all you must learn through your living years.
But believe no wisdom to be a final truth, and what you conceive as real, an unbreakable seal.
To these things you must never be bound, for the dream is lost, when nothing new can be found.
© Ulrik Fristed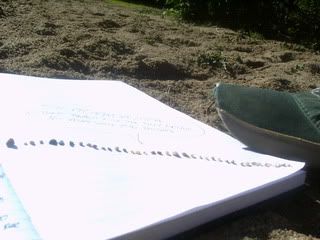 Grains with Brains:
I was on my belly as a stranded whale, soaking up sun as I heard the hail;
"Greetings shrimp, oh tiny one! What's in your head? Are you having fun?"
I looked around but was all alone, and must admit, some fright might have shown
For the voice again called me out, this time close without a doubt
"Hey, we are here! Can't you see us for size? Is something the matter with your human eyes?"
Then my gaze, fell on my page, where I doodled away as I spend my days
Penning lies with a steady hand, scribbling dreams of a fairyland
And there among the lines of ink, a line of sand made me blink
For so magnificent were they all, so different, colourful and yet so small
I smiled and said "Well, hello little grains! Who would have thought sand had brains!?"
This made them laugh and giggle so hard, as though I had made some foolish remark
I was not amused, no not at all, "Hey little punks, can't you see how tall?
Brilliant and strong man must be?! We build this world for all to see!"
Now they jumped and rolled with joy, "Oh please, you pretentious earthling boy!
You are on a ball, made of us, in itself just a flake of cosmic dust
Even your feelings, hopes and woes, are made of nothing more than those
Tiny parts that make up sand, we are all you can ever dream, or touch with your hand.
But if you think it less, that well... this mess
This, that you yourself calls you, is entirely made up through and through
Of sand and brilliant, colourful dust, always remember this you must:
That when you die, you can surely trust, that you won't be gone, but recycled just
So when one day a bigger rock, hits the earth and breaks it up
Don't you worry, you will be, floating through the cosmic sea
And other friendly grains with brains and stuff for which you have no names
Will meet and greet and dance with you, and more will join the party too
And as the fun and dancing grows, when you all have twirled enough, who knows?
A whole new world might see the light, formed by we and you in flight
And maybe on this brand new earth, one day there might be given birth
To silly men with much to learn, as they grow up and we them turn
Through thousands of years, through joys and tears, hope we must keep, through their feats and falls
That at one point, they will one and all, remember to look at something really small
And in that glance not fail to see, their natural link to you and me."
© Ulrik Fristed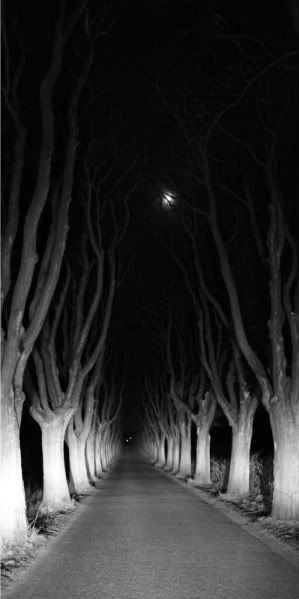 © Ulrik Fristed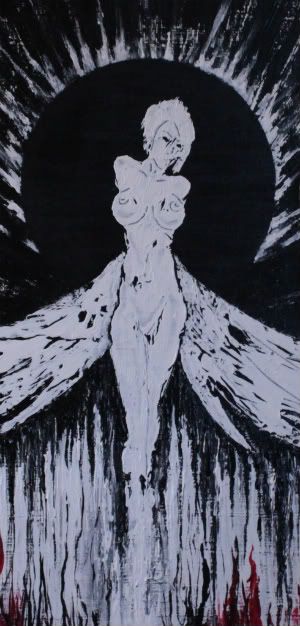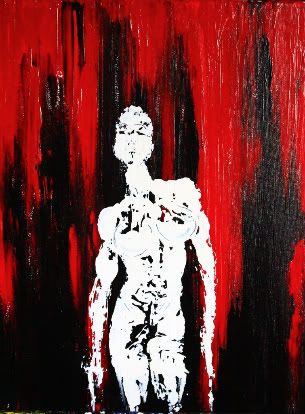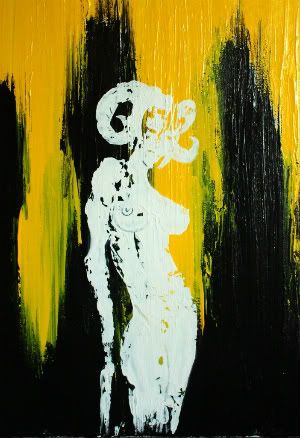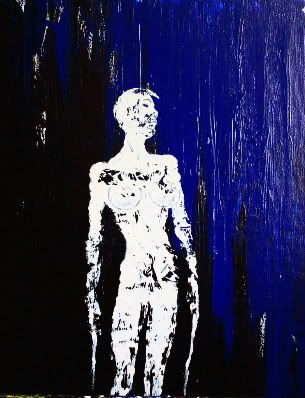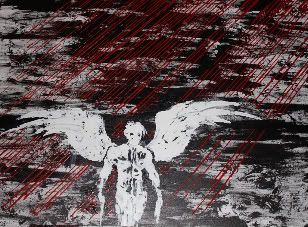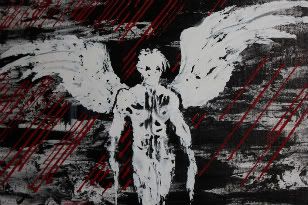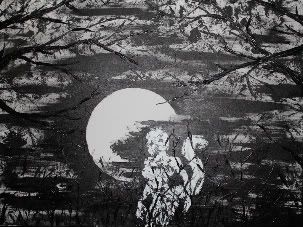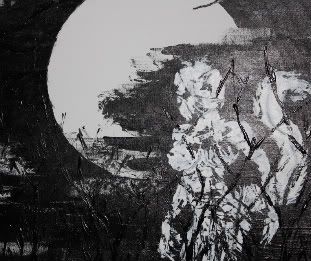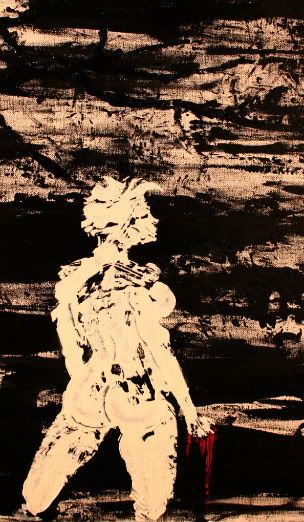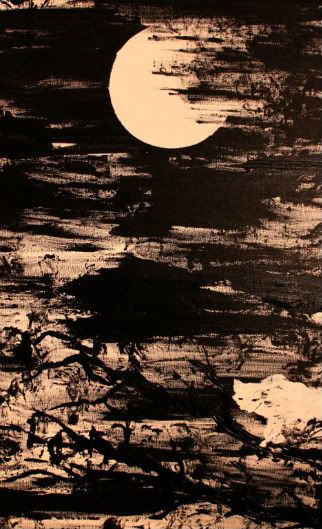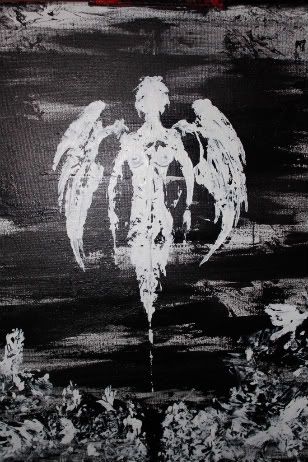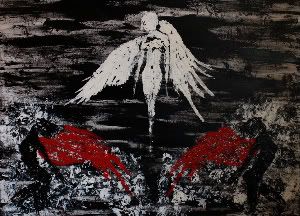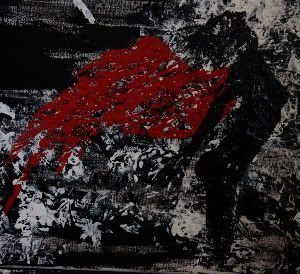 All the astro-shots below are taken through a 250mm Newton telescope with a Canon 550d DSLR. All other shots are just the Canon without the telescope :) I hope you will enjoy them!
Well we got snow... lots of it, which is not approved of by Holmes and Blue Lou.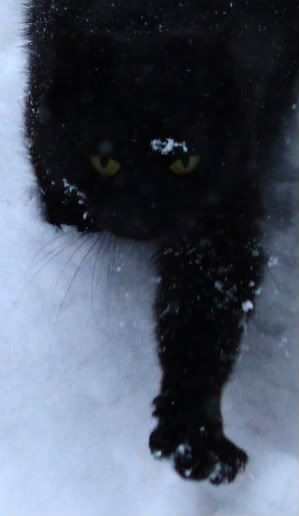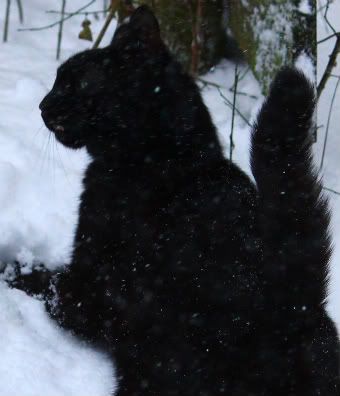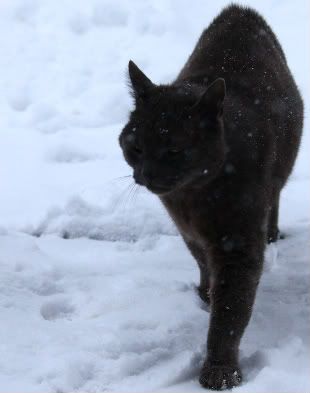 This picture took me ages to get :)
My first attempt at photographing The Orion Nebula (or second actually, the first is further down the page but is just a one second exposure). M42 the giant cloud of dust and gas is about 1.500 light years away from us, and it is a place of massive star forming. A giant star womb if you will. The gas and dust is slowly, over millions and millions of years pulled together by gravity, and at one point these tiny, tiny particles become so dense that fusion is triggered, forcing the dust together into larger atoms, a process that generate enormous and violent heat and radiation, and a star is born. So the dark arears is where the gas and dust is most dense, and where new stars are taking shape, and the bright arears is where stars have already sprung into being, illuminating the leftover gas and dust.
Splattering paint about :)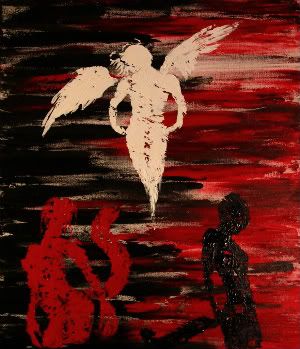 Beautiful comet Hartley-2 cruising through the darkness of space like a green firefly. The picture was taken on oct. 16th, Hartley being only around 20 million km away.
Here you go needmymusictoda, two examples of trying to take pictures of planets (in this case Jupiter) and their moons. Short exposure, give you a bit of planet detail, longer gives you the moons but drowns out the planet. The difference in exposure time between the two shots is under half a second. The four moons visible in the lower shot are (from left to right) Ganymedes, Europa, Io and Callisto on the far right.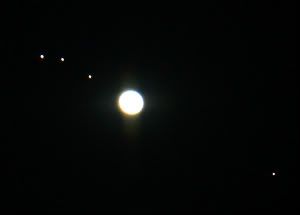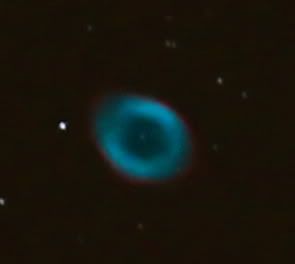 The magnificent Ring Nebula, M57, in the constellation Lyra is a beautiful planetary nebula about 4.000 light years away from us, and spanning over an area roughly 500 times the diameter of our Solar System. Scroll down to NGC1501 to get a short explanation of what a planetary nebula is :)
The massive Eagle Nebula or M16 is a huge gas and dust cloud where star forming is taking place. The dark oblong columns you can make out in the middle of the picture are about 10 lightyears long... so if you were to turn on - a rather big - flashlight at one end, your friend standing at the other end would have to wait 10 years before he saw the light. These columns or as they are also known "Pillars of Creation" (google that and you get some quite more breathtaking shots than my humble attempts) are slowly over millions of years collapsing, and as they do, the gas and dust is compressed into stars, and a tiny handful of it maybe into beings like you and me :) The Eagle Nebula is about 7.000 lightyears away from us.
Ah, I finally got my camera back from the repair shop. So here are a few astro shots from last night.
First the ever so beautiful Vega. That is her real color, I have not photoshopped her or anything :)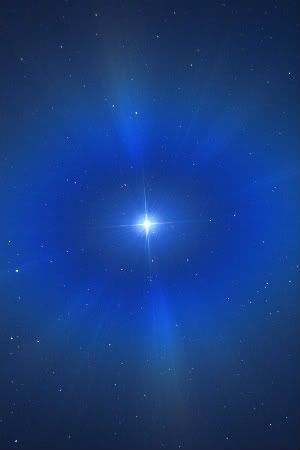 Ok, then I had to try my hand at Andromeda, which I have never done with a camera before. The mighty Andromeda galaxy is really a fall/winter object, at which time it will be visible to the naked eye. Now the sky is waay to bright around here to get all the detail, but still our giant neighbour galaxy containing around one trillion stars, (compared to the Milkyways 400 billion) won't fit in the picture frame :) Andromeda is only about 3 million lightyears away from us, and we - the Milkyway galaxy - will collide with it within a few billion years. You can see it in the picture slightly tilted towards you, with the dust bands of its spiral arms cutting across the picture. The fuzzy spot at the top left corner is a small satellite galaxy to Andromeda.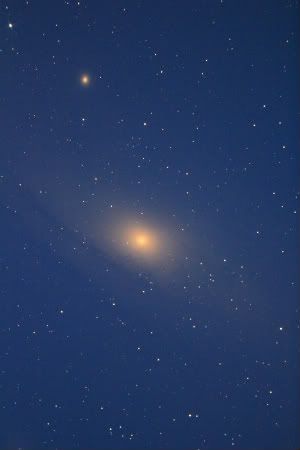 Summer Moon
Blue Lou back due to popular demand :)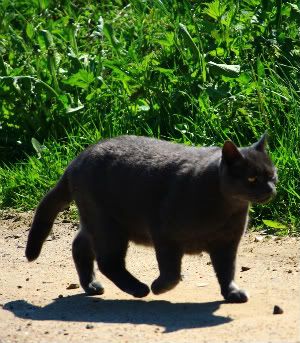 Below are two cases of cosmic impregnation. This is raw life, this is the star dust that you and I, and everything you see, think and feel is made of. We are born or dead stars :)
M1 or The Crab Nebula, is the remnant of a supernova about 6-7.000 lightyears away from earth. The supernova itself was observed and recorded by Chinese and Arab astronomers in the year 1054 and the blast from the distant exploding star was so powerful that it was visible to the naked eye for 23 days, in the midst of summer, and in broad daylight! It remained visible to the unaided eye for 2 years during night, until it faded. Today this is what you see looking at it in a 250mm telescope. The ghostly cloud stretches across some 11 lightyears, and as you are looking at it, this debris field is comming towards you at 1.500 kilometers per second, driven by the massive neutronstar at its center. The core of this dead star has a mass of about 2 times our own sun, but only has a diameter of some 28-30 kilometers, spinning around itself 30 time a second. The picture below is a 60 second exposure - so the star made 1.800 roundtrips in that time, and the cloud came 90.000 kilometers closer :B - it is at ISO 3200, and I took it april 12th.
M1
NGC 1501 is a planetary nebula. It has nothing to do with a planet though, they are just called so because when the first ones were discovered they were thought to be planets due to their round shapes. What it is, is like M1 (above) the remnants of a dead star. When a star runs out of fuel, the outer layers will swell up, while the core of the star subtracts. If it has been a very massive star, with a mass roughly about 9 times our sun, the core will at some point become so dense, that its gravity will pull back the swelled up outer layers with cataclysmic force, creating a supernova explosion, just like M1 above. But, if the star was not so massive, the subtracting core will never become dense enough to pull back the stars outer layers, and at some point they will simply detach themselfs from the core completely, and just keep on drifting outwards. And that is the case of NGC 1501. So what you are seeing is the free floating, cooled off, ever expanding shell of a dead star. It is about 5.000 lightyears away from us, and the shell is some 1.5 lightyears across. The picture is a 3 minut exposure at ISO 800 and I took it april 12th.
NGC 1501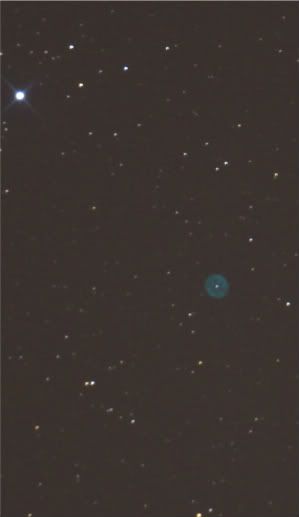 M5 Globular Cluster.... and passing satellite. The picture is a 3 minut exposure at ISO 800, and was taking at 10:55 at night, on the 21st of may. Even though it is dark at that time (well not dark, dark) there is still enough light in the sky to make them bright blue over a 3 minut exposure, looks quite cool :)
M5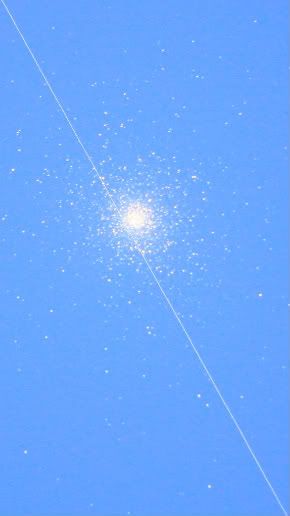 A few of my ten cats:
Blue Lou and Holmes :)
Polynia
Buffy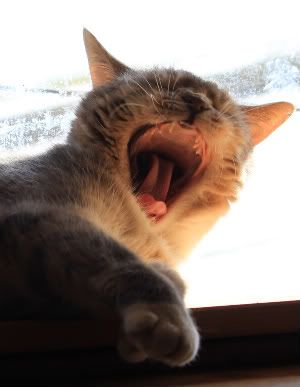 Chliiy
Potter
Holmes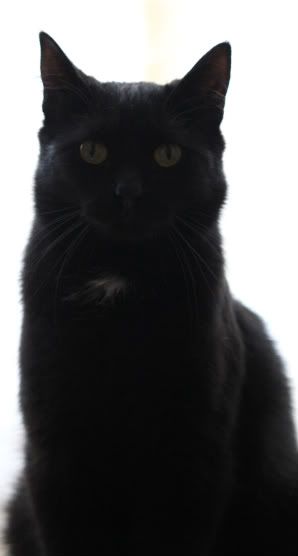 Fie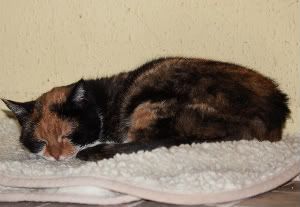 December 23th 2010, sleep warm and tight my sweet little friend. Few have I met who was so joyful of life!
Missy and Blue Lou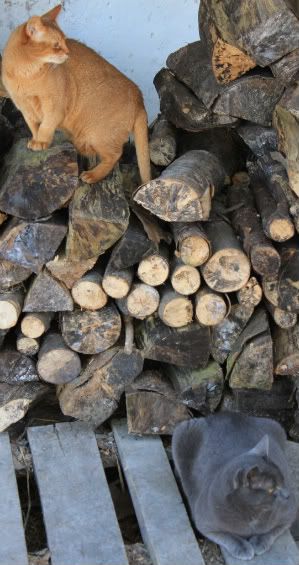 M64 or The Black Eye Galaxy, is a spiral galaxy about 24 million lightyears away from us. The Black Eye is a bit of an enigma, its outer dust layers moving in the opposite direction as the rest of the galaxy.
Single un-stacked image, 1 min. exposure at 6400 ISO.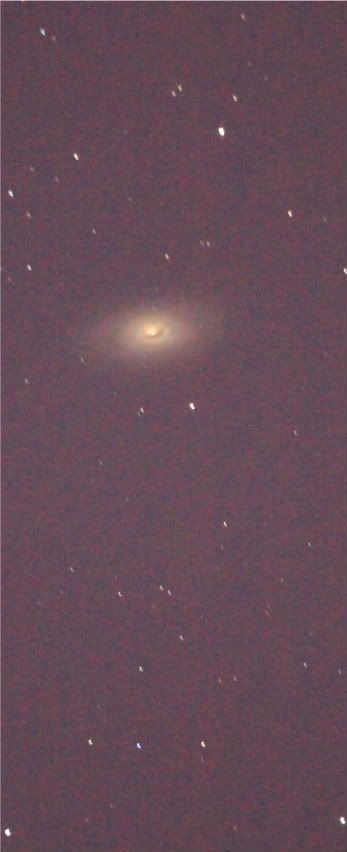 Vega and Capella
Vega shot over 30 sec. at ISO 400 and Capella over 3 min. at ISO 100. Both with a Canon 550D through 250mm Newton scope.
Vega is the fifth brightest star in the nighsky. In the year 12000 BC Vega was the earths northstar, and in the year 13727 it will again have "swapped" places with Polaris, and have become the north star. I love that blue color! :)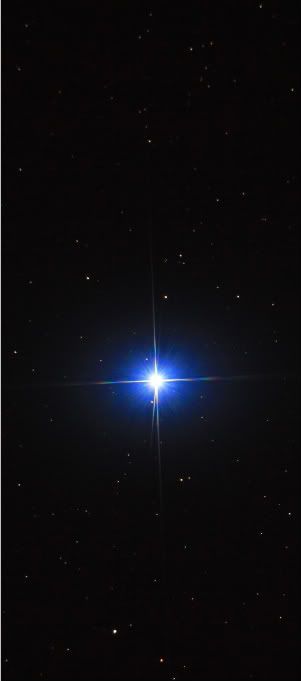 Capella, though looking like a single star, is actually a quadruple starsystem of two binary pairs. Two giants both about ten times the radius of our sun, and a smaller pair. The system is about 42 lightyears from earth.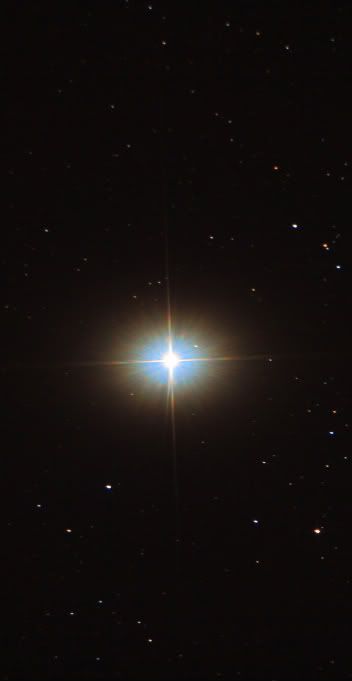 M17, The Omega Nebula or Swan Nebula. It barely creeps above the horizon in the valley where I live, so you see it through alot of light pollution and disturbance. The nebula is about 5000 to 6000 lightyears from earth and has a diameter of roughly 40 lightyears, and a collected mass of about 800 times our sun. There is a small cluster of 35 stras in the nebula that makes the gas glow. The picture is a single image (not stacked) a 3 min. exposure at ISO 3200 with a Canon 550D through a 250mm Newton telescope.
Ok so I finally got around to taking some astro-shots with my Canon 550d on my 10" Newton telescope for the first time mounted on a EQ6 pro mount. The pictures below are all raw, un-stacked or manipulated in any way. Only cropped to fit this page. They are at different ISO levels and exposure time is between 25 seconds to 3 minutes. They are some of my very first attempts at deepsky astrophotography :) Hope you enjoy!
M13, The Great Globular Cluster in Hercules. Consists of several hundred thousand stars bound together in a tight 150 light year wide cluster. Distance to earth, around 27.000 lightyears.
The beautiful Sunflower Galaxy, distance 37 million light years.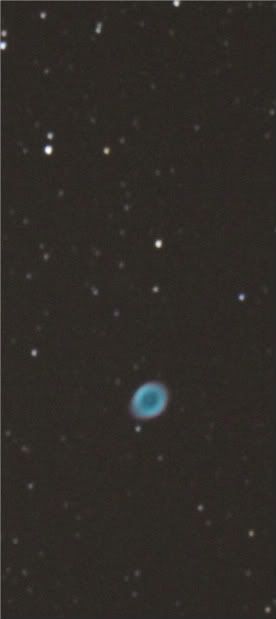 The Ring nebula. The remains of a dead star, its outer layers having expanded and detached from the remaning core.
M51, a collision of two galaxies 23 million light years away.
Raw picture of the Orion Nebula taken with a Canon 550D on a 10" Newton, on a Dobson mount. So very high ISO, 1 sec. exposure.

Hand me a light in this land of noise
A set of wings to flee this thicket of choice
The courage to whisper "Not to be"
To turn my back and leave all but me
Waste away in dream choose my own lie
Erase all time and your measuring eye
Sit in the grass take the weight off my feet
To watch it grow shall be my only deed
Close my eyes and feel the sun
Smile at the stars and to them run
In thought as I fall through their celestial snow
And wonder at everything that I do not know
Leave nothing behind for others to see
Content at being unknown me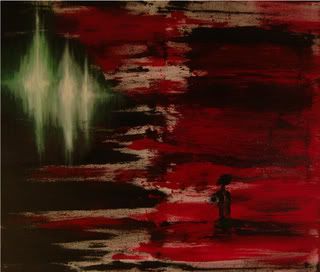 © Ulrik Fristed
Ok, so I tried to take a snapshot through my telescope, with my cheap 8 year old snapshot-digi-cam (handheld not mounted on anything). It is really hard since you can't see what you are looking at in the lense, but it actually turned out alot better than I thought it would. Well it is the Moon (surprise, surprise) seen through a 2" 26mm panview eyepiece with a 70 degree field of view. So actually when you are looking in it (without the cam) you can clearly see the entire moon. It is at 46 times magnification. When you get up to 480 times magnification you can really crater jump. But when the moon is as close to full as it is here you just get blinded, and pretty much just see a white desert. :)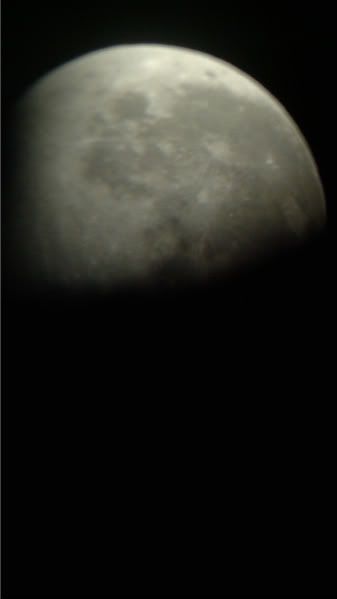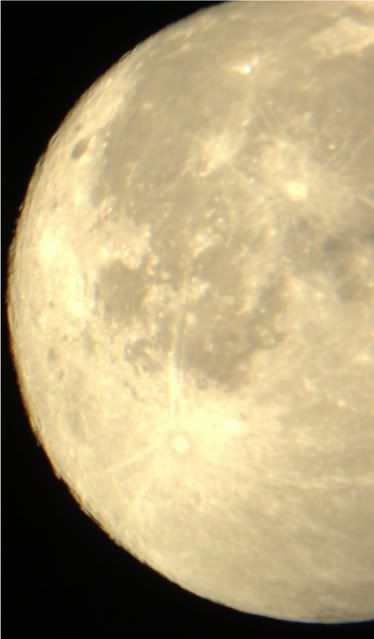 Fullmoon rising
A few bird shots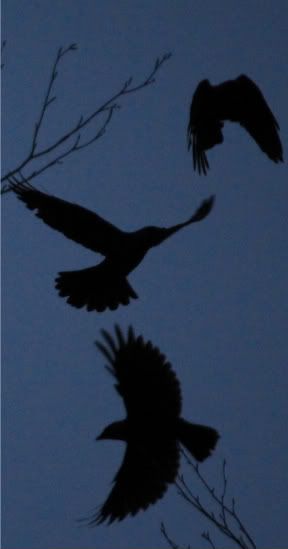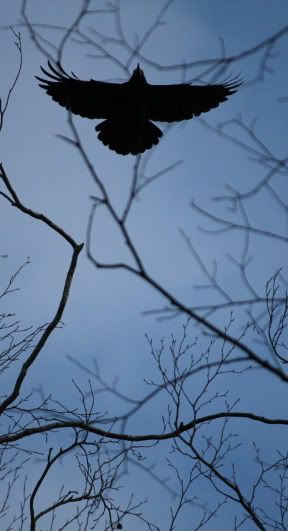 Two of my ten cats, Holmes and Blue Lou :)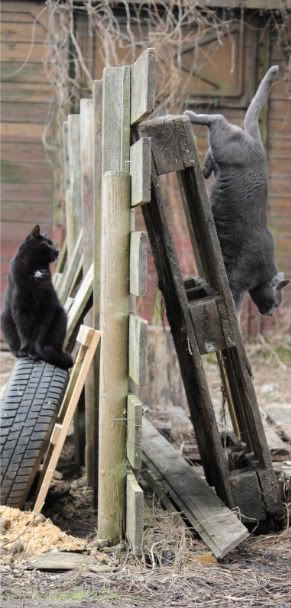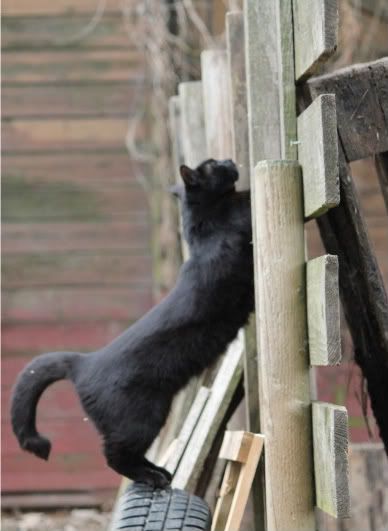 Late night down by the docks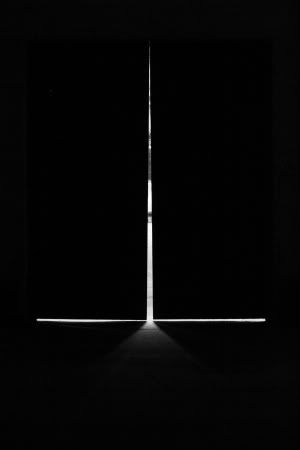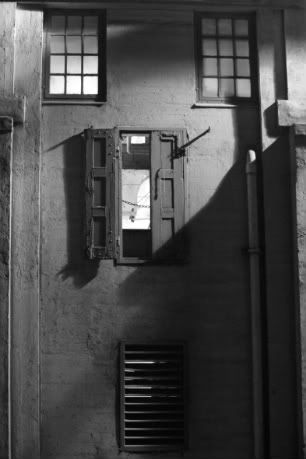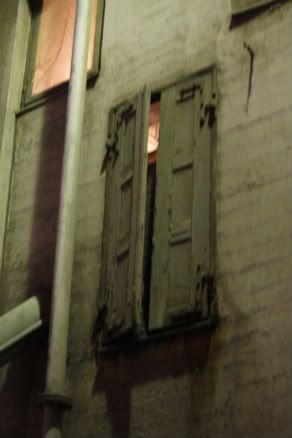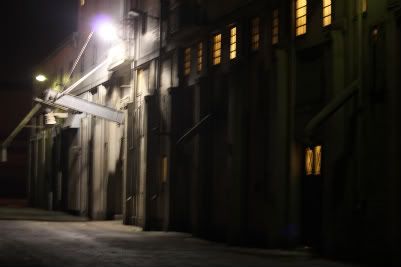 all photos, paintings and poems above are © Ulrik Fristed
http://lastfm.gammalyrae.com/output/collage/topalbums/grimmroot,overall,4,4,none.jpg
Attività recenti