RSS
Condividi
Dic 20 2009, 14:30
Well the year is almost over again and everyone is making lists of albums of 2009 so I'm going to too. This year I'm going do a top ten of
My Albums
which are the ones which I've went out and bought the real thing that you can hold in your hands. No downloads here if I couldn't be bother to find the CD it's not really here in front of me now so call me old fashioned. Plus a few other things which I think I'll start with now.
TRACK OF THE YEAR:
The Drones
Suicide is Painless
I've been waiting for this for a long time now. I don't know how many times I've watched the video for this song on JTV, it's a Triple J radio's Like A Version cover song. Volume five has just come out and I went out and got the CD just for this track, is that mad? It's got some of the most bleak and depressing lyrics ever written but The Drones members are laughing at them throughout the song which kind-off juxtaposed it. I've written a whole journal about this track earlier so have a look in my older posts if you want to know more.
EP OF THE YEAR:
Magic Dirt
White Boy EP
This EP was released after the passing away of Dean Turner which is the saddest news of the year because he was so young still, only 37. Dean was a founding member, bass player and their producer. Recording these last tracks which ended up being his last before he passed away Friday August 21st, 2009 and a statement from band said:
"For nine years, Dean battled an extremely rare form of soft tissue cancer called dermatofibrosarcoma protuberans (DFSP)... Being a very private man, Dean chose to fight the cancer in a quiet and dignified manner. He displayed great courage and incredible stoicism. And above all else he had an unshakeable positive attitude throughout his long ordeal.
White Boy
is from their last album. Two duets:
Summer High (featuring Rowland S. Howard)
and
Love Is The Armour (featuring Gareth Liddiard)
,
deep in a net of red
,
valley of the rose
plus the epic ten minute last song
Future Fuck
.
REISSUE OF THE YEAR:
Beasts of Bourbon
Box Set
with the first three albums:
The Axemans Jazz
,
Sour Mash
and
Black Milk
Finally you can get these albums on CD, they were deleted forever and these three albums are their best by far. The original line-up of
Kim Salmon
and
Spencer P. Jones
on guitars,
James Baker
on drums,
Boris Sujdovic
on bass and
Tex Perkins
on vocals. The little booklet that comes with the box is very cool too with a lot old photos which I haven't seen before and liner notes by all the band members, not some music critics talking wank.
DVD OF THE YEAR:
Nick Cave and the Bad Seeds
Your Funeral... My Trial (2009 Digital Remaster)
Do You Love Me Like I Love You (Part 4) by Iain Forsyth and Jane Pollard
I really hate music documentary DVDs most of the time and just can't sit through them most of the time. But these talking heads and how it's filmed and edited together is really, really, really cool.
Warren Ellis
also says this is his favourite Bad Seeds album and I have to agree with him. To have a new copy of it is great is wicked too because my old one is totally falling apart so beaten up.
LIVE ACT OF THE YEAR:
The Drones
Seeing them twice this year as a full band and then seeing
Gareth Liddiard
and
Dan Luscombe
playing acoustic too. These where unbelievable shows and I can't wait for the next time they come to town.
Havilah
winning my 2008 album of the year and now if you buy it you get a bonus disc of
Live At The Hi-Fi
which I downloaded because I wasn't going to buy the same CD twice but it a great live album so I do wish I had the real thing. The Drones are already starting to working on a new album.
MUSIC BOOK OF THE YEAR:
David McComb
&
The Triffids
Edited by Chris Coughran & Niall Lucy
A truly great book about one of the best Australian singer-songwriters and rock groups with all sorts of different writing styles, old color and black & white photos, drawings by
Martyn P. Casey
, and more all on beautiful gloss paper. This would have to be by far the best music book of the year. Nothing would be close to this and could be one of the best music books ever really. Check it out here:
http://www.fremantlepress.com.au/books/currentaffairs_culture_social_history/1104
WISHLIST OF THE YEAR:
FIVE
Rihanna
Rated R
The best pop album of the year.
FOUR
Kasabian
West Ryder Pauper Lunatic Asylum
The best rock group of the year.
THREE
Beak>
Beak>
The best side project band comes from
Geoff Barrow
of the legendary Portishead.
TWO
Fever Ray
Fever Ray
The best electronic artist of the year. The best
NIck Cave
cover with
Stranger Than Kindness
.
ONE
Rowland S. Howard
Pop Crimes
Rowland S. Howard first album in ten years so I really should have this already. Early this month, Howard admitted that he has had liver cancer for awhile and is now awaiting a transplant so wishing you to get well soon Rowland.
VIDEO CLIP OF THE YEAR:
Bob Dylan

Must Be Santa
It's the week of Christmas but this is so funny, Bob in silly hats and a wig, dancing a polka, standing next to Santa Claus at the end and he re-names the reindeers after Presidents of the United States if you listen carefully. This is the best track on the album, maybe

The Christmas Blues
is the other cool one or should I say the song I like best. It's directed by an Aussie guy called Nash Edgerton.
Check it out here:
http://www.youtube.com/watch?v=PBnob3c0IBg
ALBUMS OF THE YEAR:
TEN
Bob Dylan
Together Through Life
Coming at the tail end of my top ten this is the other Dylan album and not his Christmas one. Really not as good as his three previous ones but those are some of his best ever albums so it would be hard follow them. Most of it was written with
Robert Hunter
. The best track is

This Dream of You
is Bob's only "solo" song on this album but the whole thing is not bad for a 68 year old.
NINE
Marianne Faithfull
Easy Come Easy Go
I love a good cover songs album. Who else but Marianne Faithfull could get
Cat Power
, Nick Cave,
Rufus Wainwright
and
Keith Richards
to sing backing vocals. She sings two real duets with
Antony
on

Ooh Baby Baby
and
Somewhere
with
Jarvis Cocker
. My favourite cover on the album is the classic
Neko Case
song

Hold On Hold On
but this cover has Warren Ellis playing an epic electric violin solo at the end.
EIGHT
Various Artists
The Rockwiz Duets Volume 3 The Beat Goes On
Another great cover album full of duets this time from the Aussie TV show. With tracks like
Adalita & Gareth Liddiard
doing
The Saints
'
Messin' With The Kid
,
Amanda Brown & Glenn Richards
doing
Nancy Sinatra & Lee Hazlewood
's
Some Velvet Morning
,
Patience Hodgson & Broderick Smith
doing
MGMT
's
Time To Pretend
,
Eve Von Bibra & Jed Kurzel
doing
The Bee Gees
'
To Love Somebody
,
Kasey Chambers & Shane Nicholson
doing
Kylie Minogue
's
Can't Get You Out of My Head
,
Sophie Koh & Steve Kilbey
doing
The Go-Betweens
'
Streets Of Your Town
and so many more.
SEVEN
Nick Cave & Warren Ellis
White Lunar
I love Nick Cave & Warren Ellis but one disc of new stuff, another disc of tracks I've already got. And now The Road soundtrack which is coming soon or you can download now. They are really pushing it at the moment and Cave publishing his very silly dirty jokes book this year too.
Dirty Three
are touring soon and still hoping for a new Dirty Three album but it sounds like it's going to be a new Grinderman one. All the bitching to one side the second disc is some of the best music they have both done and by far the best thing Cave has done this year.
SIX
Titus Andronicus
The Airing of Grievances
My best newcomer of the year
goes to these guys and this is the best debut album in a long time. This was recorded in 2008 but not released here in Australia until the beginning of year. With
The Monitor
, the band's follow-up to The Airing of Grievances, will be out on March 9 which I hope that is here too and I don't have wait a year or something.
FIVE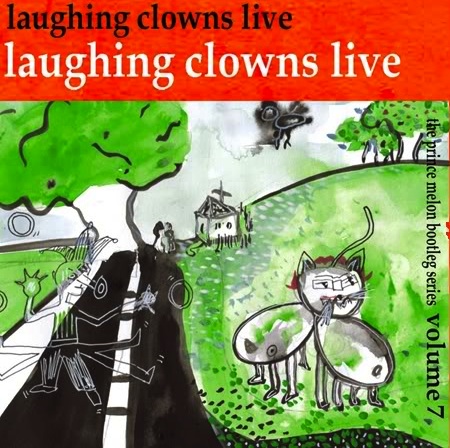 Laughing Clowns
Laughing Clowns Live
I love a great live album and this is the second one here, the first was the Rockwiz album. This is the seventh volume in the new prince melon bootleg series. If you didn't know Prince Melon is a nickname Ken West gave Laughing Clowns back in the late 70's and early 80's when they were around the first time, this is a reunion tour album. Ken West is now one of the men who runs something called The Big Day Out tour but his first job in the music business was manager, door man, lighting guy and all rounder for Laughing Clowns. It's a pity they're not on this years line-up but
my best reunion band of the year
is Laughing Clowns.
FOUR
Tom Waits
Glitter and Doom Live
Another live album but this is brilliant and wicked so it would be unbelievable to see Tom Waits live and this is most likely the closest I'll ever get. Better that his two other live albums 1988's
Big Time
and 1975's
Nighthawks at the Diner
and with
Tom Tales
a 1/2 an hour long track as a bonus disc which is classic in it's own right, he could be the best stand-up of the year.
THREE
The Mess Hall
For The Birds
After The Mess Hall winning a lot of award money from their last album
Devils Elbow
which payed for time and space to do this one which is even better and by far the best thing they have done and taking the two piece band format above and beyond anything that has been done before and others will now have to keep up with these guys,
my best band of the year
.
TWO
Bill Callahan
Sometimes I Wish We Were an Eagle
Bill Callahan was called
Smog
for years and years but went "solo" a couple of years ago and now has painted his masterpiece on his 13th album. From the beginning to the end this is one of the most beautiful and wonderful albums. Him adding the strings is a great addition, so
my male artist of year
is Bill Callahan.
ONE
Sarah Blasko
As Day Follows Night
What can I possibly say about Sarah Blasko's As Day Follows Night album that has not been said before now. More perfect that her last and grows more and more with each listen. She has painted her masterpiece on this only her 3rd album. From the beginning to the end is totally breathless record, so
my female artist of year
is Sarah Blasko and
my album of the year
is As Day Follows Night.
Commenti