Roadburn Festival 2012

DAY 1:
The Icarus Line
(full set)
d.USK/
Disembowelment
Horisont
Virus
Agalloch
(full set)
Om
(full set)
Hammers of Misfortune
Lord Vicar
Ancient VVisdom
(full set)
Ulver
Black Tusk
(full set)
Chelsea Wolfe
(full set)
14:15hrs. After parking my car I'm walking towards the 013 venue and I see the familiar and trusted sight: beards, the beer bellies, long hair, patches, band shirts and so on... I quickly get my wristband and walk into V39, the merch and distro place and before I knew walked out with 2 vinyl records:
Reverend Bizarre
- Harbinger Of Metal and the
Aluk Todolo
&
Der Blutharsch
collaboration LP.
Grabbed my first beer and off to The Green Room for the first band today:
The Icarus Line
. Don't really know the band besides checking a song or two out on Youtube. After watching the full set I can say it's not my cup of tea but it's good. The band's sound could be described as a kind of punky alternative rock. The singer could be a crossbred of
Iggy Pop
and
Scott Weiland
mostly because of his stage moves. The music is generally really good, the 3rd and the last song really get some feedback from the audience, especially the last song with an amazing tension build-up and a headbang burst out. After all the singer's gay-tendencies-over-the-top-moves kinda gets annoying after a while.
The Icarus Line
Off to Main Stage and
d.USK/dISEMBOWELMENT
has already started playing. I love the dISEMBOWELMENT's album, one of the best mixes of death and doom out there. Although this is not a reunion but more of a live tribute as they said it themselves since only 2 original members are involved in this project. Somehow I couldn't get into their tunes today. The transitions from doom to death parts and vice versa didn't felt that natural to me today. I stayed for 3 songs and decided to move back to the green room.
Horisont
was rocking hard there and the place was totally packed that you couldn't get inside. I watched through the door opening for 10 minutes and heard some great riffs and guitar playing but couldn't see the band besides the top of the haircut of one of the band members. Note to midgets, sorry… little people: if you are coming to roadburn and you want to see a band play at one of the smaller venues be sure to get there 2hrs in advance! Of to The Petronaat to see
Virus
and The Pertronaat is hell of a venue. Big old church with the stage on the first floor. It looks great and it sounds great. Virus had the house packed once again but I could stand in the back and watch a few last songs. It all sounded ok to me with a mix of everything: Avant-garde, progressive, folkish.. but nothing that really got me hooked to want more.
Virus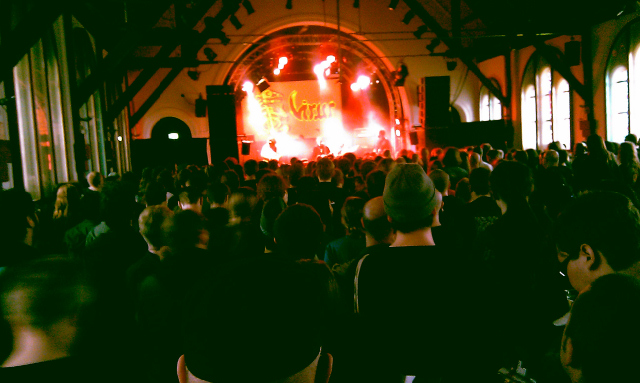 Agalloch
at the main stage. One of the bands I was really looking forward to see this year. They kicked off with a song from the last album and soon they created a great atmosphere. Beautiful landscapes projected on the background that suit the music very well. Really enjoyed the show and the band really sucks you into their sonic world and you start headbanging on the heavy parts and dream away on the atmospheric ones. Everything is waved perfectly into each other and before you know you are having a great time till the last note is played.
...waiting for Agalloch
OM
, another band that I didn't want to miss. What I love about this band is that their sound is just bass guitar and drums (with some thin layer of keys and a occasional guitar part by the keys man, who kinda looked like Morgan Freeman). This minimal approach has the maximum effect, the low bass riffs with that thin layer of keys is something I could listen to for hours and just like Agalloch they pull into their world (although slightly different one) and you stay there till the end! Great band and definitely ones of the best shows of this first day of Roadburn.
After OM finished their set I moved to The Green Room and saw 2 last songs from
Hammers Of Misfortune
, ones again it sound ok but not really mine can of beer. I came here to see
Lord Vicar
! The 2 albums from this band have been on heavy rotation in my car for a while. The traditional doom metal with some amazing guitar riffs, too bad when the show started the only thing I could hear is the bass. Don't get me wrong I like that bass to be hard but not if it swallows up all the guitar parts. I stayed for 2 songs hoping the soundman would fix that but since that didn't happen it was time to move on.
Ancient VVisdom
's debut album is something I have listen to very often and really started to liking it so found myself a nice spot in front of the stage. The band has a good catching sound with one acoustic guitar, acoustic bass, one electric guitar and some kind of drummer, I would describe it like campfire metal. But the most important thing to their sound is their singer, the man has a really good voice and a solid stage presence especially during the one song in the middle of the set when the rest of the band goes offstage and there is only the man, the guitar and clean raw voice. Solid!
Ancient VVisdom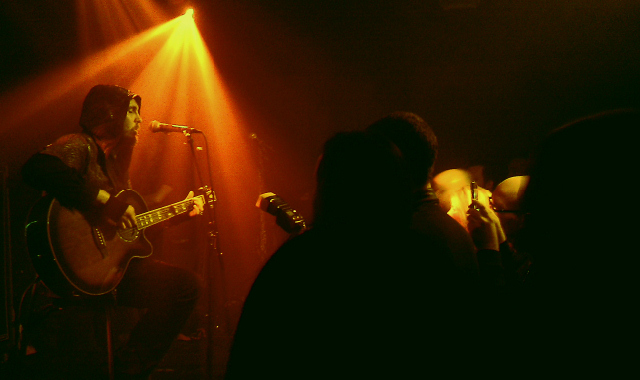 Ulver
at the Main stage. I stayed for a song or two waiting for Black Tusk to begin in the green room. I rather hear Ulver spit out something from their early days. These two song from their coverset I've heard were so polished and perfect and definitely good played but in a way also very boring, to me.
Black Tusk
…. Holy motherfucking god damn squirting tities hell! THIS IS SPARTA! What a show.. the smallest venue of the festival totally… I mean totally packed! I somehow squeezed myself in and saw this raw and dirty sludgy monster came and crush everything. The riffs, the drums and the vocals everything was just perfectly on the right volume, a precision bombing in a very chaotic sludgy manner. And as I looked around me all I saw were big smiles on people's faces, horns in the air and two lesbians making out. Best show of the day!
Black Tusk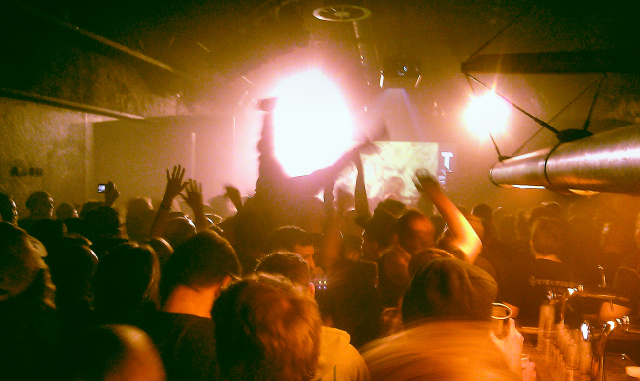 After the Black Tusk mayhem I decided to end the first day with something very different:
Chelsea Wolfe
. I think the best way to describe her for the people who don't know her is like the psychedelic version of Lane Del Rey. Only much better. Samples used (the Apple thingie didn't do his work perfectly since they had to stop with one song and I was sure Steve Jobs was bored and started haunting Roadburn) anyway the samples used create a soft and creepy darkness and the voice really completes that picture. The end of the show was kind of weird. The last song was nice atmospheric beautiful piece (like most of the set) and at the end they decide to go for the dramatic end… and In like 1 second they go from atmospheric to guitar noise, banging drums, chord strumming like they just finished playing Paradise City… totally out of character with the rest of their set. Anyway it was a nice end to a good day.. after 10 hours on my legs my back started to hurt so I jumped into my car and raced back to my own batcave.
DAY 2:
Wino
&
Conny Ochs
End of Level Boss
Hexvessel
Sólstafir
(full set)
YOB
(full set)
Black Breath
AUN
(full set)
Voivod
Huata
(full set)
The second day started with a good jam… traffic jam. Lost some time because of that so I missed the begin of the show of
Wino & Conny Ochs
. After finally arriving in Tilburg and standing in line to get into The Petronaat I was able to hear some songs. 2 guitars and 2 voices, that's all the use voor their stripped down country/folk style, it sounded all ok but nothing really special. After a few songs I moved to The Green room for
End Of Level Boss
, checked the band out on the internet and liked what I heard there but live was a bit disappointing. I liked the individual parts and riffs but didn't really got into the whole picture and after 20 minutes it was time to move on. I walked into the middle of
Hexvessel
's set at The Petronaat and stayed till the end. This is the best music to start a long Roadburn day: nice atmospheric songs, the sound perfectly balanced and it just sounded exactly right.
Hexvessel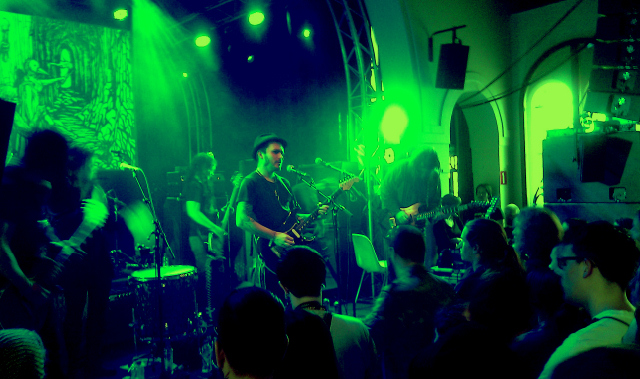 Sólstafir
… one of those bands I didn't want to miss this year. I got myself nice spot in front of the stage and got ready for the show. The band started with a long instrumental song and unlike some other well-known Icelandic artists these guys are not afraid to open up the overdrive/distortion and slap you in the face with some heavy parts. Their skillful use of dynamics, hard and soft parts, atmospherics and flawless playing are guarantee fun for the listener. Their set was 1hr and 45minutes and I think that must be the longest or one of the longest on Roadburn this year. The last 45 minutes I moved up to the balcony and found my self nice chair with a good view of the stage and enjoyed the rest of my stay in this great sonicshire.
Sólstafir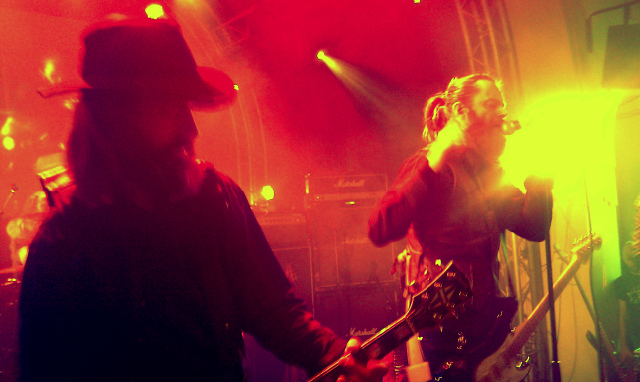 Yob
. Magic. God damn heavy magic. It's amazing how a band can start a show and within the first bar, the first chord struck, the first second gets all those heads banging. That thick guitar and bass sound was so goddamn perfectly crafted, tuned and balanced. It just sounded perfect and from the first note they took the packed main stage on journey through the riffloaded lands and at end of the show you just think… damn! this why I love fuckin' Roadburn!
Yob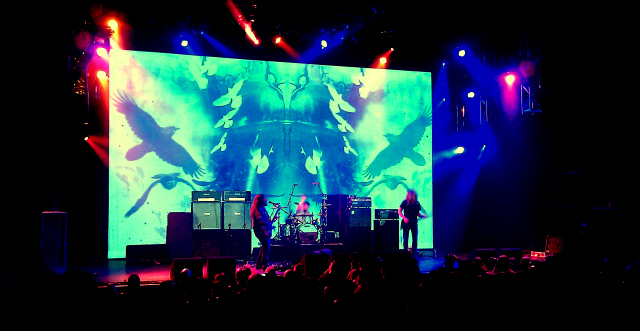 After Yob finished I walked to the bar in the foyer to get myself a drink and I heard some great tunes from The Green Room which was totally packed ones again.
Black Breath
was tearing the place apart and they had a good vibe going on there. It felt a bit like Black Tusk the day before. Since I couldn't get inside The Green Room I decided to get myself ready for
AUN
. Their set was one big drone of 40 minutes with some variation here and there but nothing drastic. It sounded to me like Sunn O)))-light. I saw lots of people walk away and at the end of the show the smallest venue of the festival was half-filled. I stayed the whole show but don't ask me why. I guess I like some dronevaganza now and then. Because AUN finished early I moved to the Main stage for some
Voivod
while waiting for the last band.
Aun

Voivod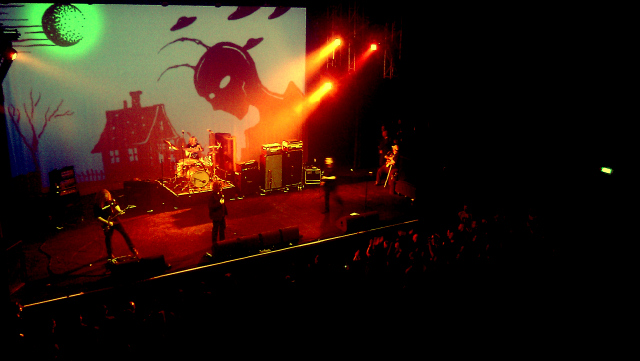 The last band of the day for me is
Huata
. Song titles like "Jozef Fritzl Syndrome" and "Rotten Dick" makes you think this is some porngrind-band that somehow got booked for the wrong festival. But these guys bring you DOOOOM (with lot's of O's). Singer dressed like a monk on bare feet with in his hand a bottle of some French liquor is preaching and screaming on top of some god damn heavy riffs. The heaviness of
Electric Wizard
meets the loudness of
Sunn O)))
, added to the riffs are some organ sounds played by the singer to complete the sonic madness. Visually you have on the background projected scenes of some weirdest occult porn.. and there you have it: heaviness & sickness packed and delivered in perfect manner. Together with Yob the best show of the day!
Huata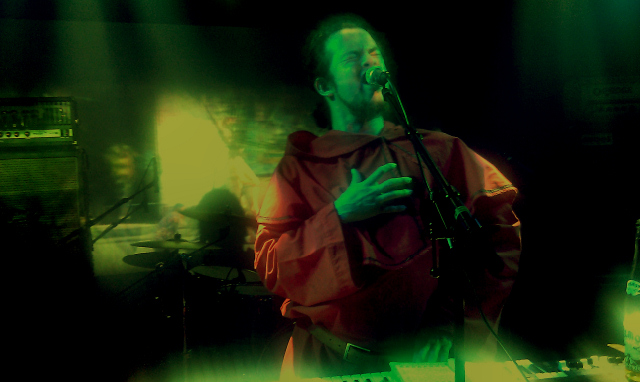 DAY 3:
40 Watt Sun
(full set)
Church of Misery
(full set)
Pelican
Alkerdeel
(full set)
Sleep
(full set)
Bongripper
(full set)
I actually wanted to start my day with
Mike Scheidt
but because of circumstances (read: waking up late) I straight went to the main stage for
40 Watt Sun
. I like their album
The Inside Room
and have been listing to it a lot so I knew what to expect: beautiful melancholic vocals and melodies on top some slow crawling riffs and that's exactly what I got. Solid show!
Next up at the main stage is
Church Of Misery
from Japan. Their stonerdoom gets the main stage packed within few songs after starting playing and that's very understandable since their doomloaded stoner is very well performed and in some way catchy too. Great vocals and the bassist holds the world record for the lowest strapped string instrument (pianos not included) since his bass guitar was hanging under his knees! Overall it was a great show that got me headbanging throughout.
Church Of Misery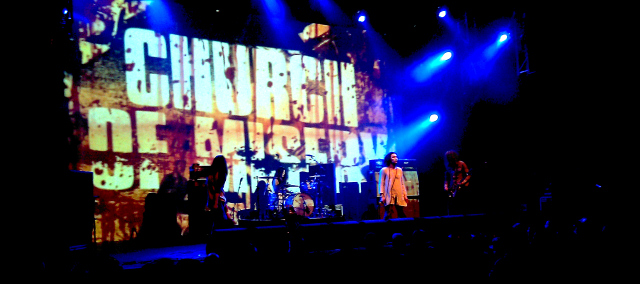 Pelican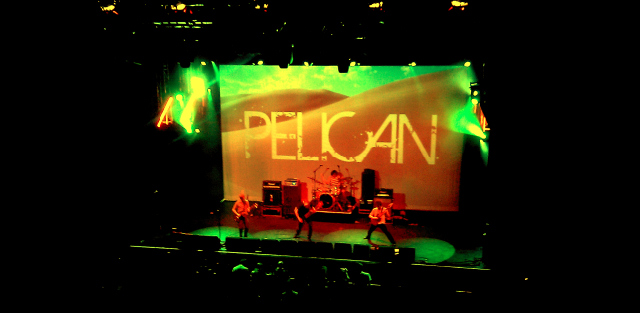 After Church Of Misery I went into the city for a decent meal and some merch hunting at V39 that resulted in seeing only last 20 minutes of
Pelican
and because I wanted to see Alkerdeel too I had to leave before Pelican finished their set since
Alkerdeel
were playing at the smallest venue it was necessary to be there on time. I luckily got myself a nice place just in front of the stage and put my earplugs in and damn did I needed them! A mix of everything dirty and brutal: death, crust, doom, sludge mixed and served loud.. very loud. Another great show today!
Alkerdeel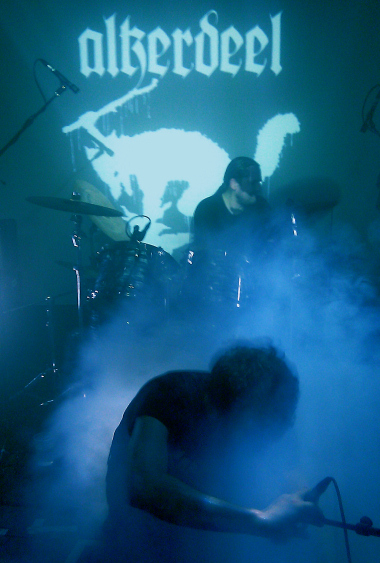 Now.. did I say Alkerdeel was loud. Well..
Sleep
, they are well-matched to say the least. A roaring and thundering bass combined with guitar sets the mood and draws you in and does not let you go. The main stage was totally packed for these stoner legends and they delivered it… hard!
And now it was time for
Bongripper
. This band is probably my favourite doom band these days. Their 2010 album
Satan Worshipping Doom
got me hooked to this amazing band and that album is for me personally up there with the Sleep's
Dopesmoker
and Electric Wizard's
Dopethrone
.. a classic! Their back catalogue has some great gems too. The albums
Hippie Killer
and
Hate Ashbury
are on heavy rotation in my cd player. Now when you are really into a band and you are really excited to see them live but also bit afraid, can they deliver? Won't they disappoint? Well… I walked out the venue with a big smile on my face.. Oh My Fucking God! This was amazing! These guys can write some riffs, it's a one big fine grinding doomriff mill machine. The repetition although always with some different accents numbs and takes you to a fine place where you won't mind to stay for a long… long time! This was the show of the day for me and The Afterburner show is something I definitely won't gonna miss. Hail Satan… Worship Doom!
Bongripper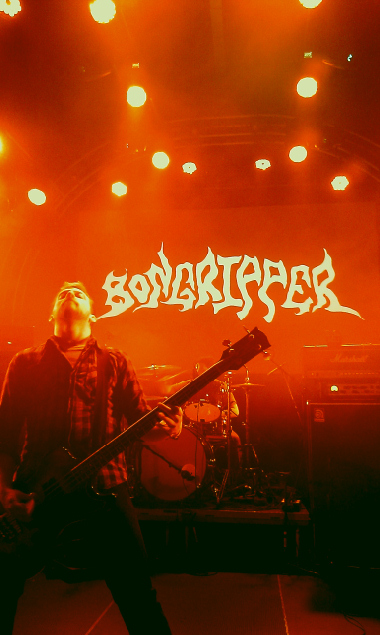 DAY 4:
Electric Orange
Bongripper
(full set)
YOB
(full set)
Dragged Into Sunlight
Coroner
Bong
Black Cobra
The fourth day on planet Roadburn. Tiredness is starting to kick in so it's time to start the afterburner! First band for me today is
Electric Orange
and I kinda really liked this band! Nice blend of psychedelic rock, stoner and krautrock. On the background some random videos with a sixties/seventies feel, it sets the mood for the music well. Watched something like 30 minutes of their show and then went into the city for a nice and fatty pizza.
Bongripper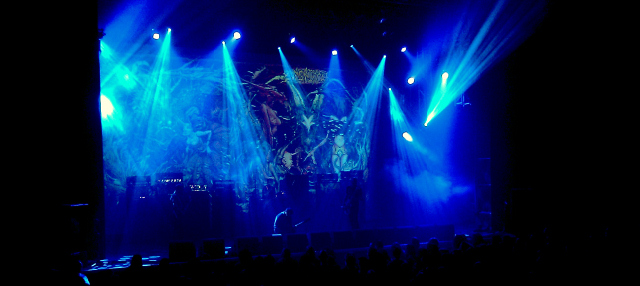 Bongripper
is next and this time they are playing at the main stage. Seeing this band play twice within 24hrs period is just awesome. Today they will be playing
Satan Worshipping Doom
in it's entirely and I'm siked! This was again the show of the day for me just like yesterday, they came and they ripped the place apart. I hope to see them coming back to Europe some day again and thanks to Walter for bringing them to Roadburn this year!
Yob
was next and today they are playing their 2003 album
Catharsis
in it's entirley. Solid show today but to be honest I liked their show on the second Roadburn day more but that's probably because I like their recent work much more. Still a very good show and a great band.
Yob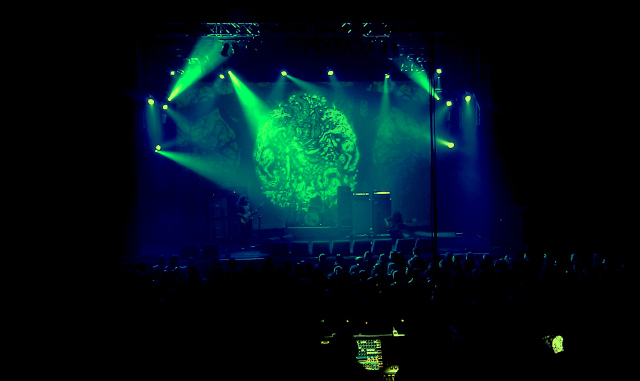 The rest of the day was spend checking some bands out that I didn't know that well. Watched 10 minutes of
Dragged Into Sunlight
, or should they be called Dragged Into Fog? The place was filled with fog you couldn't see a thing but it also had it's charm. In those 10 minutes I heard doom metal, some grind, clean guitar riff and frantic vocals. Sounded very interesting and will be checking it out some more at home.
Coroner
at the main stage, thrash metal. It was ok and good but sounded a bit dated to me…
Black Cobra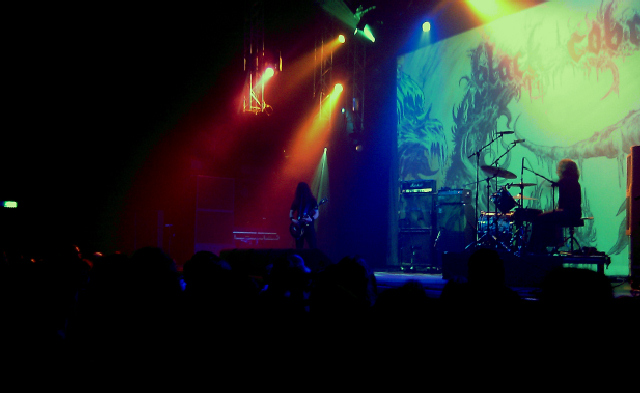 Bong
… well that was loud! And since I forgot my earplugs today I only lasted 20 minutes at their show but I loved how they slowly crafted their massive wall of sound. Impressive! And then:
Black Cobra
, without the doubt surprise of the day. Just two guys onstage, drummer and a guitar player bringing mayhem and a hell of wall of sound. Dirty sludge played hard and fast. What a great band to end this great festival!
Four days on planet Roadburn were fun, I saw some great bands, spoke to people from all over Europe and above all had a fucking great time. Thanks to Walter and all other people who are making this festival happen every year. It's one hell of a party! 2013… Roadburn…. Here I come!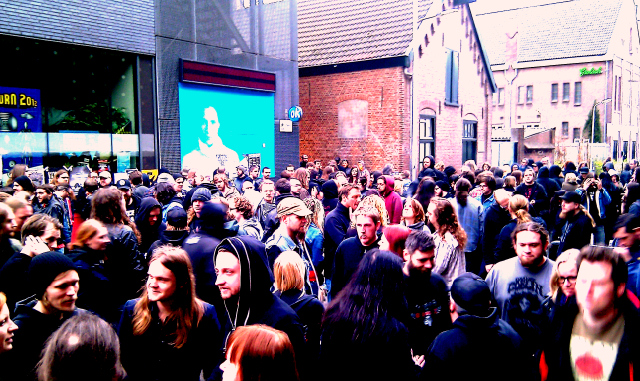 \m/