BAZMAC, 38, Maschio, Regno Unito
"To wish you were someone…Ultimo accesso: Maggio 2013
1

8

4

3

6

ascolti dal 1 Feb 2010
428 brani preferiti | 0 messaggi nei forum | 7 playlist |

96 messaggi in bacheca
Aggiorna |


Feed
| | | | | |
| --- | --- | --- | --- | --- |
| 1 | | | | |
| 2 | | | | |
| 3 | | | | |
| 4 | | | | |
| 5 | | | | |
| 5 | | | | |
| 7 | | | | |
| 8 | | | | |
| 9 | | | | |
| 10 | | | | |
| 11 | | | | |
| 12 | | | | |
| 13 | | | | |
| 14 | | | | |
| 15 | | | | |

Feed
| | | | | | |
| --- | --- | --- | --- | --- | --- |
| 1 | | | | | |
| 2 | | | | | |
| 3 | | | | | |
| 4 | | | | | |
| 5 | | | | | |
| 6 | | | | | |
| 7 | | | | | |
| 8 | | | | | |
| 9 | | | | | |
| 10 | | | | | |
| 11 | | | | | |
| 11 | | | | | |
| 11 | | | | | |
| 11 | | | | | |
| 15 | | | | | |
Descrizione
When it rains,look for the rainbow.When it's dark look for the stars.
A mans life is what his thoughts make of it.
Marcus Aurelius.
Definition of a gentleman:Someone who knows how to play the bagpipes, but doesn't
As you can tell. Iike good humor.
I'm yet to find my role in life.I hate to upset people.Am always the easy going one.Hate arguments.
I seem to worry to much about nothing.Silly I know.Never want to let people down.love to share what I have to offer.Always remember someone telling me.A person living on the street is not there by choice,you never know whats going to happen to you in life.Don't look away and ignore them.Say hello.Were all human.I feel i'm some one that likes to please others just to see a smile.
Money has made the world a greedy place.human kindness is the only currency that should matter.
Thank you for taking the time to have a look at my page.Take good care of yourself
P.S
I'm not a hippy or live off veg.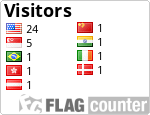 http://gymkhana.iitb.ac.in/~hostel5/portfolio.php_files/lyric_music_by_plaxy.jpg
Attività recenti