Maschio, TurchiaUltimo accesso: mese scorso
5

9

4

2

2

ascolti dal 2 Nov 2007
253 brani preferiti | 0 messaggi nei forum | 4 playlist |

36 messaggi in bacheca
Aggiorna |


Feed
| | | | | |
| --- | --- | --- | --- | --- |
| 1 | | | | |
| 2 | | | | |
| 3 | | | | |
| 4 | | | | |
| 5 | | | | |
| 6 | | | | |
| 7 | | | | |
| 8 | | | | |
| 9 | | | | |
| 10 | | | | |
| 10 | | | | |
| 12 | | | | |
| 12 | | | | |
| 12 | | | | |
| 15 | | | | |
| 16 | | | | |
| 16 | | | | |
| 16 | | | | |
| 19 | | | | |
| 19 | | | | |
| 21 | | | | |
| 21 | | | | |
| 21 | | | | |
| 21 | | | | |
| 25 | | | | |
| 26 | | | | |
| 27 | | | | |
| 27 | | | | |
| 29 | | | | |
| 29 | | | | |

Feed
| | | | | | |
| --- | --- | --- | --- | --- | --- |
| 1 | | | | | |
| 2 | | | | | |
| 2 | | | | | |
| 4 | | | | | |
| 4 | | | | | |
| 4 | | | | | |
| 4 | | | | | |
| 8 | | | | | |
| 8 | | | | | |
| 8 | | | | | |
Descrizione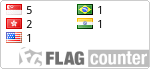 I am Atacan77. Before the universe was, I am. I made the suns. I made the worlds. I created the lives and the places they inhabit; I move them here, I put them there. They go as I say, then do as I tell them. I am the word and my name is never spoken, the name which no one knows. I am called Atacan77, but that is not my name. I am. I shall always be.
All time faves (in no particular order):
David Rovics: For the moment
Leeway: Open mouth kiss
Metallica: Master of puppets
Beastie Boys: Check your head
Life of Agony: The river runs red
Nirvana: Bleach
Lag Wagon: Hoss
The Sisters of mercy: First and last and always
Prince: Love Sexy
Only living witness: Innocence
Crowbar: Crowbar
Down: Nola
Pantera: Vulgar Display of Power
Acid Bath: Paegan Terrorism Tactics
Corrosion of conformity: Deliverance
N.W.A: Niggaz 4 Life
Fireside: Fantastic Four
The Notwist: Neon Golden
Jeru the Damaja: The sun rises in the east
Sick of it all: Just look around
Portishead: Dummy
Suede: Coming up
Megadeth: Countdown to Extinction
Delasoul: Three feet high rising
At the gates: Slaughter of the Soul
Ice-Cube: Amerikkka´s most wanted
Skid Row: Slave to the grind
Zeki Müren: Eskimeyen Dost
Cake: Fashion Nugget
Gunshot: Patriot Games
Dr Dre: The Chronic
Hijack: The horns of jericho
Big Chief: Platinum Jive
The Smiths: The Queen is Dead
The Cure: Disintegration
Earth Crisis: Firestorm Ep
Barkmarket: Gimmick
Cat Stevens: Tea for the tillerman
Tarkan: Ölürüm Sana/ Karma
Blumfeld: Testament der Angst
Morrissey: Viva Hate
Danzig: Danzig
Neurosis: Through silver in blood
EMF: Search and Destroy (ep)
Yasar: Divane
Nine inch Nails: The fragile
The afghan whigs: Gentleman
One inch punch: Tao of the one inch punch
Slo-Burn: Amuse the amazing
Orhan Gencebay: Bir teselli ver
No Remorze: The End
Eminem: Marshall Mathers Lp
Downset: Do we speak a dead language
Suicidal tendencies: Lights, camera and revolution
Social Distortion: White light, white heat, white trash
Shai Hulud: Hearts once nourished with hope and compassion
The Housemartins: Now That's What I Call Quite Good!
GZA: Liquid swords
He is Legend: I am Hollywood
Kyuss: Sky Valley
2pac: All eyez on me
Silverchair: Neon Ballroom
Baris Manco: Nostalji
Guns n´ Roses: Appetite for Destruction
Eric B and Rakim: Paid in Full
Mucky Pub: Lemonade
Ignite: Family
Paris: Sleeping with the enemy
Glassjaw: Worship and Tribute
Deftones: White Pony
The tea Party: The edges of twilight
Refused: The Shape of Punk to come
Weezer: The blue record
Shihad: Killjoy
Tool: Undertow
The Doors: Strange Days
Public Enemy: It takes a nation of millions to hold us back
Killa Instinct: The penultimate sacrifice
Battery: Until the end
Rocket from the crypt: Group sounds
The Streets: Original pirate material
Ben folds five: Whatever And Ever Amen
Snapcase: Lookinglasself
Carcass: Heartwork
[atacan güzelsoy]
At the drive-in: Relationship of Command
The Obsessed: The Church within