Rik, 34, Maschio, Australia
www.riksta.netUltimo accesso: Gennaio 2015
8

3

0

0

3

ascolti dal 21 Giu 2006
0 brani preferiti | 13 messaggi nei forum | 0 playlist |

15 messaggi in bacheca
Aggiorna |


Feed
| | | | | |
| --- | --- | --- | --- | --- |
| 1 | | | | |
| 2 | | | | |
| 3 | | | | |
| 4 | | | | |
| 5 | | | | |
| 6 | | | | |
| 7 | | | | |
| 8 | | | | |
| 9 | | | | |
| 10 | | | | |
| 11 | | | | |
| 12 | | | | |
| 13 | | | | |
| 14 | | | | |
| 15 | | | | |
| 16 | | | | |
| 17 | | | | |
| 18 | | | | |
| 19 | | | | |
| 20 | | | | |
| 21 | | | | |
| 22 | | | | |
| 23 | | | | |
| 24 | | | | |
| 25 | | | | |
| 26 | | | | |
| 27 | | | | |
| 28 | | | | |
| 29 | | | | |
| 30 | | | | |

Feed
Descrizione
I love my music!
Please note a lot of the music I listen to does not, and will not, show up here, unless somehow I can hook all my vintage audio equipment into here to scrobble the music I listen to from vinyl records, its not often I play MP3 or CD anymore.
Crank the good stuff, and the bad stuff, and even the rubbish :)
Feel free to send me a friend request or shout any time!
I am the one & only Riksta as heard on the Audiocrush podcast, episodes 13 & 16. The traffic lights are green!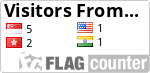 Attività recenti
ADLRiksta e wwsd sono diventati amici.

Gennaio 2014

ADLRiksta ha aggiornato il suo profilo.

Febbraio 2013