RSS
Condividi
Gen 24 2012, 2:40
Serengeti
-
Family & Friends
Intelligent poetry from a percipient tongue, what more could you want? Yes that question is rhetorical. Serengeti's rap skills are humorous, modern, hip and thought provoking but primarily relevant to the world we live in. The album was produced by
Why?
frontman Yoni Wolf, and this is evident in the sullen jazzy instrumentation, which plays a key role in the background to guide the listener along through the cave of rap. Great visulisation, use of metaphors, joyful hooks and stories are all packed in neatly. Family & Friends is a must listen album that all hip-hop fans who have a few brain cells and no bling on their wrists. Shakespeare would spin in his grave, if we knew where he was buried. A ground-breaking virtuoso in the rap game.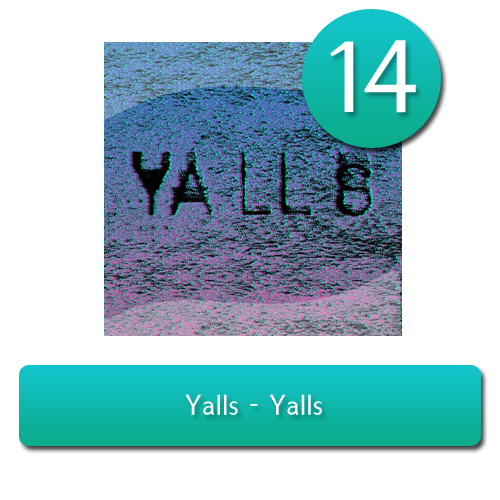 Yalls
-
Yalls
Weird, weird, weird. Prepare your facial muscles with grunts and widened eyes before listening to this album. This would be the album chosen to accompany a film about colour changing water. Yalls' versatility will surprise at first and means that he stands apart from the rest of the crowd at the musical subway station. Tracks like

Germs
are proof of the creepy seductiveness within the album. There's really nothing else out there that gives as much depth and meaning in a charming and heart-warming style enveloped in a sandwich of rarity. The album's allure comes from a tender place but still mysterious enough to elude the mainstream by miles, miles, miles.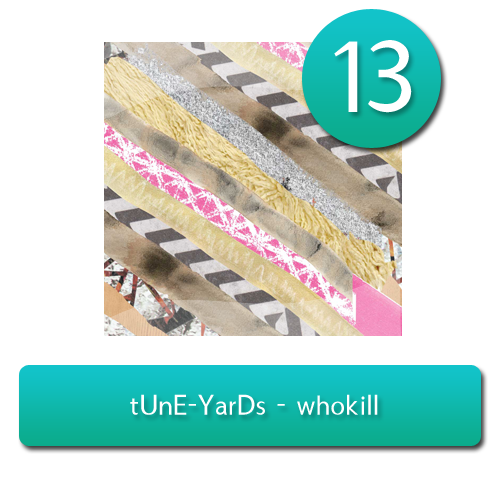 tUnE-yArDs
-
Whokill
After listening to this album for the first time, it was clear why the stylization of the band text letters was so off putting and annoying to typographers in high buildings. tUnE-YarDs are the sort of crazy art project that would of sounded awful in plan but in action has bloomed in to something beautiful. Hypocrites would laugh towards Merrill Garbus' project at first, but in their minds will not be able to help but fall in love with the allure and become entrapped in lust of her quirky nature.
Bizness
is a fine example of the album's uninhibited, wild and creative psyche. Garbis ignites the north-American underground nu-funk scene with her llama voice and diversity of instruments. Elements of R&B, Folk, Funk and Afro-pop all combine together to make this one of the most enigmatic and magical sounding albums of 2011.
Toro y Moi
-
Underneath the Pine
American Apparel under cover model Chaz Bundick continued 2011 in a similar fashion as he did in '10. Following on from his album
Causers of This
, which I awarded the 6th best album last year and impressive
Freaking Out
EP that was an enjoyable highlight this year, all thus helping Toro Y Moi get the nod ahead of the honorable mentions below. Underneath The Pine displays the musical direction of Bundick, as he focuses less to the 'chillwave' aesthetic sounds and incorporated an auxiliary funky and electro pop sound. Toro's music is farther polished, accomplished and richer sounding, but whether this is a positive thing is debatable as the album does get a bit boring after a while, like looking at someone's sexy parts for more than 4 hours.
How I Know
is one of the album's strongest tracks, beautiful lyrics mixed with rising charm. The album perfectly combines a retro sound that somehow feels futuristic. This is his worst release to date but having said that it is still a very impressive effort. What's next from Toro Y Moi?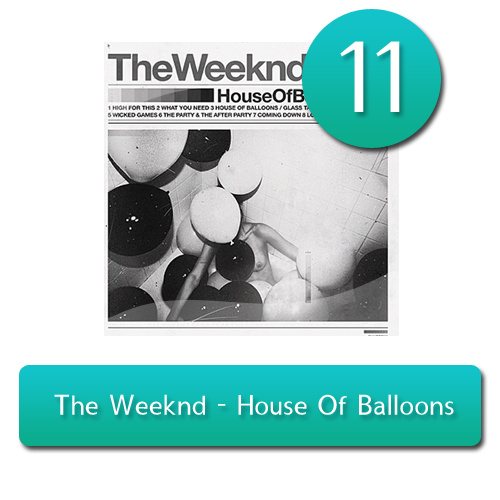 The Weeknd
-
House of Balloons
Rhythm and Blues was jiggled up in 2011 by the Toronto based genius of his time Abel Tesfaye. House of Balloons is not only subversive within its own genre but in all modern music. Dirty R&B would be the best way to describe The Weeknd's sound if you were at a party and someone with annoying eyebrows requested to know. House of Balloons is full of samples, cutting-edge techniques and naughty lyrics. Playing with tempos and tones keeps the album not only interesting but engrossing, aiding listeners to once again appreciate a genre that some would agree has remained stagnant since the mid-90's. When I first heard
House of Balloons / Glass Table Girls
, my mind was blown like a piece of toast that had been left under a spaceship. Truly fashionable stuff.
WU LYF
-
Go Tell Fire to the Mountain
Manchester based heavy popers gifted listeners with the greatest musical adventure on offer from the United Kingdom in 2011. Go Tell Fire to the Mountain is an album that demands to be listened to all the way through for it to be nutritious to a wary mind. The journey takes one through a blaze of feral emotions, haunting howls and cries of being alive with blood in veins and tales behind eyelids. WU LYF capture in sound, human kind's animal instinct to survive and prosper, there is a sense of 'togetherness' within the music that goes amiss in 99.2% of rock bands. In places the instrumentation is similar to
Modest Mouse
, with dazzling drum loops and twitchy guitar chords. The voice of Ellery James Roberts is scarily wonderful and absorbing as he screams callously vague lyrics. After listening to this album I felt like I had grown a monster in my stomach that I had to yell to get out. WU LYF have created an intelligent and abstract form of rock that subtly evokes positive feelings about life.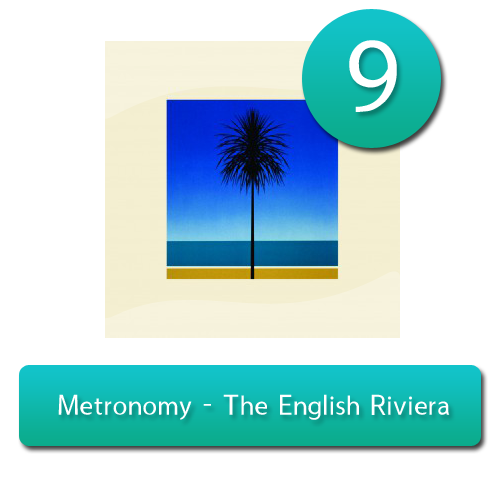 Metronomy
-
The English Riviera
Mercury prize nominated and habitually-heard-in-backgrounds-of-lifestyle-documentary-television-shows renowned Metronomy returned in 2011 with a adjusted line up and a polished sound to their 'funky body swaying music'. It's of no wonder that the music industry was continually typing all the letters of their band name in the correct order this year. A respectable album for middle aged chemistry teachers to admit they adore just as much as hydrogen. Metronomy's net cast wider and longer than ever before with The English Riveria. Tracks like

The Look
and
Corinne
display the band's flexibility in all things syncopated. If English Riviera was transformed in to a town, I'd bet it would be full of rich lovers who drink continental coffees and cocktails all day long in swanky cafés wondering the meaning to life.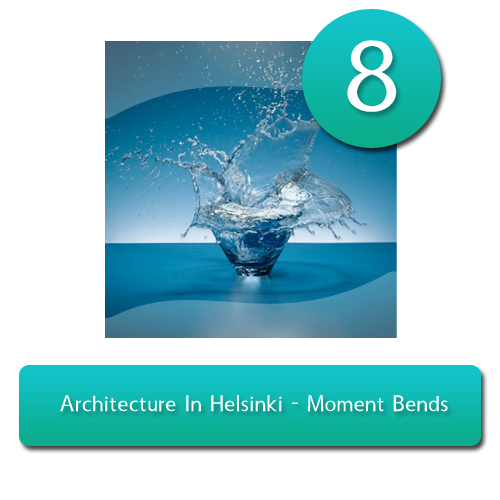 Architecture in Helsinki
-
Moment Bends
Australian indie-boppers Architecture in Helsinki developed their sound to suit society's moods in 2011. Moment Bends is danceable and eye-popping, the mixture of male/female work well together and add charm to the band's sound. The use of drum machines and synths help translate an almost 80s pop sound stuck 20 years into the future. The album is easy to listen to and although it may become tiresome like a rhino hitting you with it's horn perpetually, it's stronger songs like

Escapee
and

Contact High
give the album the edge to make it into the top 10.
Panda Bear
-
Tomboy
The hypnotizing rhythmic solo project of
Animal Collective
co-founder Noah Lennox has done nothing but impress ears over sad oceans and dull lands. Tomboy is a masterpiece in avant-guard musical creation. Following from his previous two albums Lennox finds his voice further more elevating the mind and heart in to a utopian place of lucid dream music. Beach-Boy-like harmonies and waves of emotion offer the listeners' mind to an abstract portal to dive within. If you want to dream about holding hands with a recently radiant lover and summer ice creams sucked in slow-motion – getting stuck in a zone of future nostalgia for a night then this is the perfect album for the occasion. Tomboy is like a strangely attractive version of its cousin
Merriweather Post Pavillion
that works selling sofas and slightly broken furniture.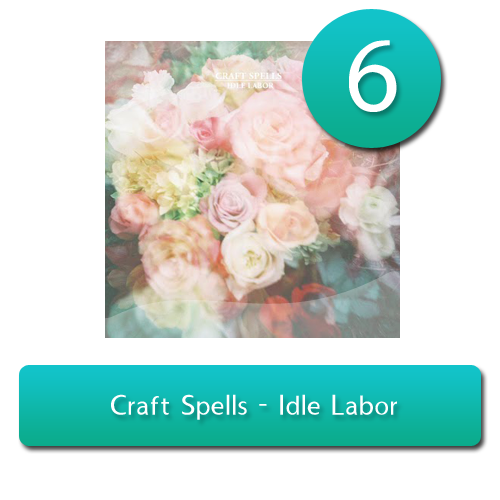 Craft Spells
-
Idle Labor
If you placed Joy Division, the year 2011, alphabet spaghetti and sugar free wine-gums in to a vicious blender and kept that baby spinning all night… Craft Spells would be the final result of the smoothie. Although using a predictable and obsolete style the California outfit manage to make music that is pleasing, relaxing and comforting. Idle Labor is the perfect album for many occasions from missing lovers; picking noses; counting coins; performing finger dances and kicking balloons around an empty hallway. Craft Spells' sound has charm and kindness which has made a lot of people smile slowly with others, with pets and on their own this year.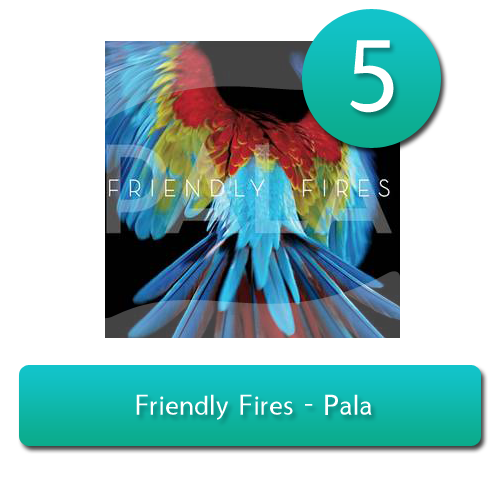 Friendly Fires
-
Pala
80s pop mixed in with a tropical twist is the perfect way to describe this album to a person with a short attention span. Pala is one of those albums that does not offer any major surprises but delivers track after track a pleasing and warm pop sound to the listener. While some of the album sounds indie the rest sounds very neon-futuristic. Friendly Fires have taken the best direction possible after their debut album, meaning that Pala has spread its wings and is now flying high.
Shabazz Palaces
-
Black Up
Shabazz Palaces create some of the most interesting music I've ever heard in my life. Black Up is an untamed hip-hop record that smashes the conventional template of urban music. It does takes a while to knock down the wall of your musical inhibitions and acquire your taste to truly appreciate the music of the duo, but once you do, you will feel like you understand something greater than expected. Each song is fascinating, emotive and unpredictable, ending up somewhere vastly different from where it began.
Sub Pop
were so intrigued by the duo that they're the first hip hop band they have signed to their label. Black Up is certainly an album I never expected to like but impressed me from start to finish. The lyrics aren't obviously special, but the delivery and mix with erratic beats and bass combine to delightful results.
Washed Out
-
Within and Without
Washed Out released their debut long play this year after two successful EP's in '10. Like
Toro y Moi
, Earnest Greene has veered away from the
chillwave
aesthetic and found a sound unique to his own. Within and Without is the perfect album to sink into your mattress to, or levitate above your pillow, if you have that ability downloaded in your human system. Greene has created a elegant, subtle and flourishing album that rewards more with every listen. A truly admirable effort from the much hyped on the blogs artist. The music takes the mind to a relaxed and reflective place. Washed Out are unlucky to miss out on the top spot as this is a really remarkable release from them this year. The soundtrack to adorn many lovers' tongue-locking sessions, as the music would suggest more than the album artwork. Perfect, or as the French say when speaking English correcly… perfect.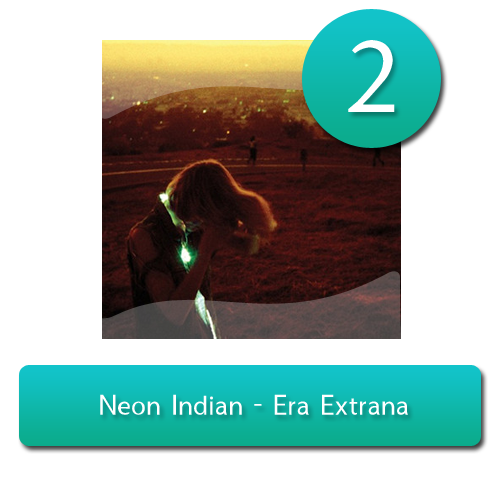 Neon Indian
-
Era Extraña
Was the world expecting Neon Indian's sophomore album to be this brilliantly great? I certainly wasn't. Era Extraña is wonderfully caught between a 80's imagined future and the present, the album sways our kneecaps from side to side, and makes our palms want to hold the flesh on the back of hip-bones. If I ever needed a soundtrack for falling in love in a chemistry class or swimming pool, this would be it. The themes of love and lust make it simple for any non-robotic to adore and relate to. The hazy sounds mixed with twinkles of space combine fluidly to give the album a sense of positive nostalgia. I get excited every time I listen to Era Extraña, this is the album 2011 didn't know it needed, but desperately did.
M83
-
Hurry Up, We're Dreaming
From the moment
Zola Jesus
howls on the opening track

Intro
- the listener knows deep down in the back of their throat, that they are set for a spectacular adventure with Hurry Up, We're Dreaming. What's even more remarkable is that the album is a double long play, 22 tracks of soulful chants and music at its best. The album is tender, but full of energy, possibility and life – Anthony Gonzalez's voice is more powerful and poignant than on previous albums. After the critical acclaim of
Saturdays = Youth
, I'm sure many people were expecting a drop in form from M83, but on the contrary – they have improved and excelled once again, arguably creating one of the best albums of all time. Tracks like

Reunion
where the yelps of ("You make me feel my soul") reemphasise why messier83 reach somewhere visceral in the body and mind that one didn't know was alive. This album makes me feel alive more than ever and creates fresh emotions under rib-cages. Hurry Up, We're Dreaming captures hope, love and dreams and transforms them in to something tangible. With this album M83 have undoubtedly elevated themselves into one of the best musical acts of all time.
Conclusion:
This year was full of hope and expectation, some of it resulted in let downs, but in a few occasions I was pleasantly surprised by the quality of some acts. The top 3 albums are all of remarkable quality and I'm sure I'll be listening to them for years to come. There were many musical acts who bloomed and I'm excited to see the direction music will take in 2012, especially in the urban section. Sadly I didn't listen to much punk or hardcore this year, it was just something I struggled to listen to, apart from one album I just felt there was nothing fresh or interesting in the genre.
Honorable Mentions:
Foster the People
-
Torches
James Ferraro
-
Far Side Virtual
SBTRKT
-
SBTRKT
Jay-Z & Kanye West
-
Watch the Throne
The Lonely Island
-
Turtleneck & Chain
Pictureplane
-
THEE PHYSICAL
Set Your Goals
-
Burning at Both Ends
COOLRUNNINGS
-
Dracula is only the beginning
Hudson Mohawke
-
Satin Panthers
Commenti